Fun Letter C Printables : 3 Beginning Sounds Activities
Are you trying to introduce letter C to your kids? Then I have a perfect preschool printable pack for you!
I created this Beginning Sound Letter C printables activity to help my kids get familiar with how the letter C sounds, and what object does it represent.
I am trying to find a fun way to guide them to learn to read.
Thankfully my kids love it!
Later they began to make the sound /c/!
Hence I thought it would be great to share this printables with all of you!
Let me share with you a bit about the activity in this pack.
Beginning Sound Letter C Printables
To help your kids get a deeper understanding of the letter C sound, we are going to make cut and paste activities!
Your little kids will find it fun and engaging!
P.s: Check out our Letter A Beginning Sounds activity here
Activity #1: Cut and Paste the Letter C Pictures
For the first Letter c printables activity, let them cut all the pictures while making the /c/ sound and call the images.
I put all the things that begin with the letter C because this printable is meant for early readers, who still have to learn the concept of beginning sounds.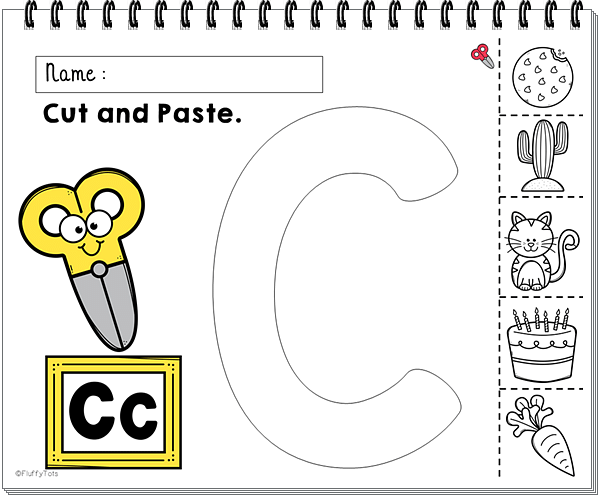 You can introduce them with /c/ sound while your kids are coloring.
Let them know that this is /c/ cat, /c/ cow, /c/ crayon, /c/ cake, /c/ carrot, /c/ cookies and /c/ cactus.
Also, let them hear the beginning sound. You can try to ask them, 'Do you hear I made the sound /c/ for cat?'
This would help them to associate the sound of the letter C, and the images.
Although there will be times that your kids seem to be so into their work, as if they don't listen to you saying the sounds; don't worry.
They are actually listening and they will eventually follow you.
Activity #2: Cut and Paste Different Looks of Letter C
Next is, we are going to get familiar with the different looks of the letter C.
I love doing this activity with my kids so that they won't be confused by the many looks of the letter C.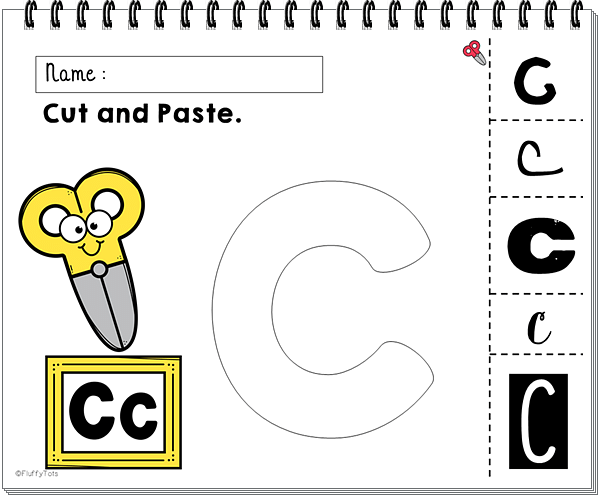 Usually we will encounter letters of different looks on billboards, magazines, or books.
Tell them, that this is all letter C. It can be C even if it is in a heart, or if it has stripes in it; as long as it looks like C.
Activity #3: Letter C Letter Hunt Activity
Finally, your kids will have fun hunting for the letters.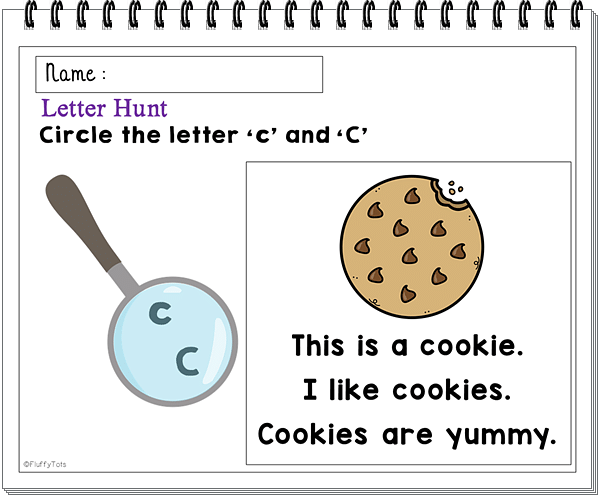 This Letter C activity helps your little kids to recognize letters in their storybooks right away!
Letter C Activity Age Appropriate
If you are wondering what age might be appropriate for this activity, I would say, if your kids are able to hold the crayon and scissors by themselves; then they are totally ready.
Hannah, my 3+ years old loves to do this. She loves the cutting and pasting works.
We did make some /c/ sounds, but she's not that too interested in learning the letter C sounds. But I know she is learning about it every time I say the sounds aloud.
Just don't push the kids too hard to get the beginning sounds concept soon. Let them have fun and do more related activities with them.
Eventually, they will get there. Kids learn best through play.
Be sure to click here to download your Beginning Sounds Letter C mini-freebie.
Have fun!
Shop for More Letter C Activities
For more fun Letter C activities, grab your Letter C activity packet from my shop here.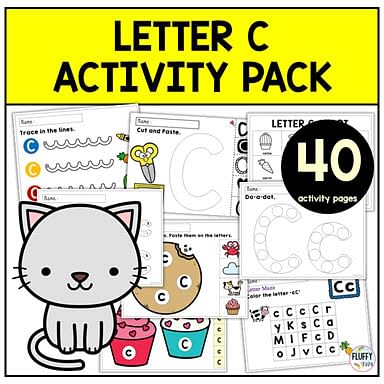 More Letter Activities