60+ Pages Crazy Fun Winter Penguin Pre-Writing Tracing Activities
Winter is well known for Penguin theme season. And also exciting winter sports!
This year's winter will be absolutely different, but, hey, let's make it fun and memorable for your little ones!
In this post, I'm going to share with you about fun winter tracing activities that you can enjoy doing with your kids during the holiday season.
Or if you are looking for filler printable activities for your nieces and nephews to do when they're having a sleepover at your place, these will be handy too!
At least these winter tracing worksheets will help them to stay off the screen for a bit off time, and who knows help your families bond even more ?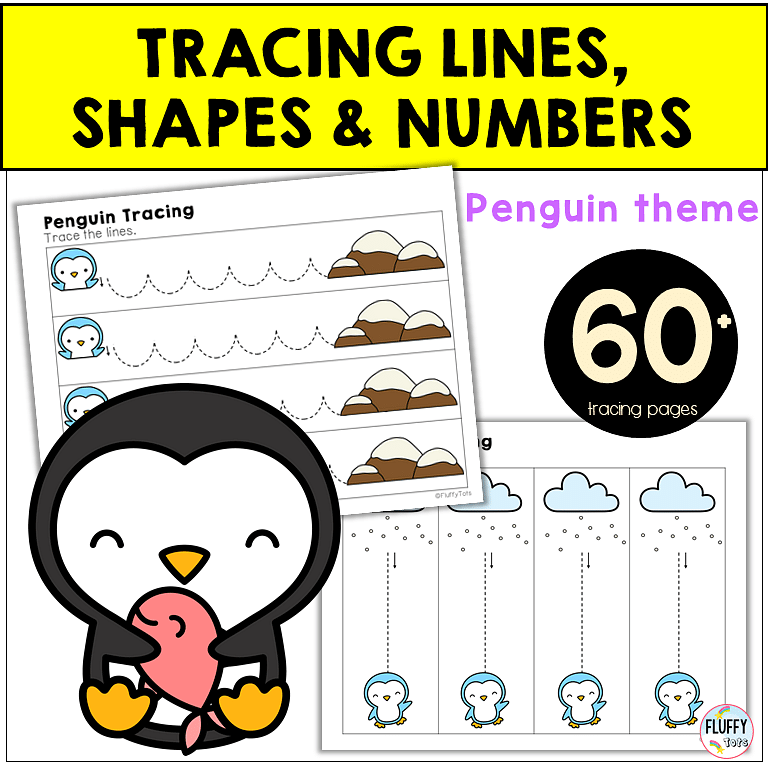 Winter Pre-Writing Tracing : No Prep
But first, onto the preparation of this activity.
This is a 'No Prep' kind of thing.
What is 'No Prep'?
It means that you don't have to prepare anything to make this activity engaging.
Just click on the print button, grab some crayon, and you are so ready to go…
You don't have to pre-cut anything, or laminate anything. Super great for last-minute activities!
One tip for you if you wish to reuse the printed activities – Sheet protector :
Grab a sheet protector.
Slip the activity paper into the sheet protector. There you go!
Have your kids trace the Winter tracing activities using markers on the sheet protector.
Now, let me share with you the sneak peeks of this exciting WInter Pre-Writing Tracing.
7 Sets of Penguin Tracing Worksheets for Winter Theme Activities
There is a lot of adorable and fun penguins awaiting your little ones in this tracing packet.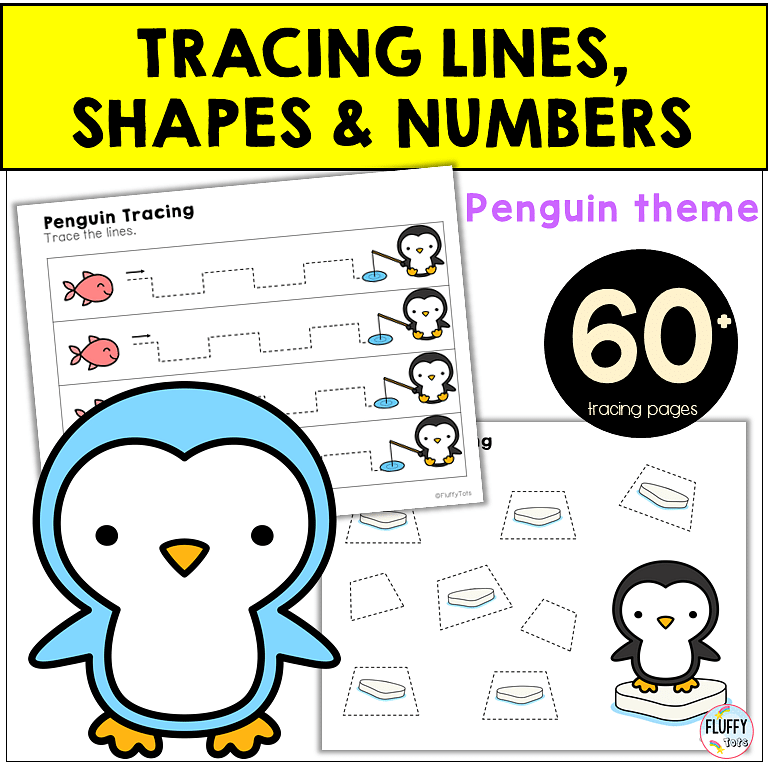 See the picture above? The Penguins are so adorable and fun, right?
Imagine your little ones tracing their walking line.
You can even add more fun by doing pretend 'Penguin-walking' with your kids after doing tracing!
Winter Tracing #1 : Horizontal Lines
The first Winter pre-writing worksheet is about tracing the most basic line, which is the horizontal lines.
Let's help the Fish swim to the Penguin!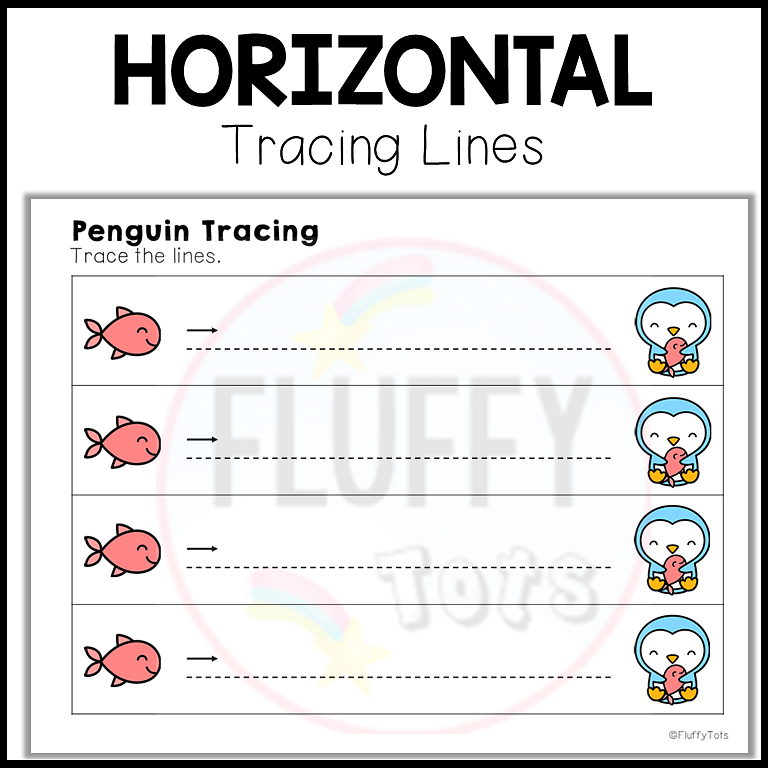 Winter Tracing #2 : Vertical Lines
Then, have your little ones trace the vertical lines.
Imagine we are tracing the Snow falling down the line. How fun!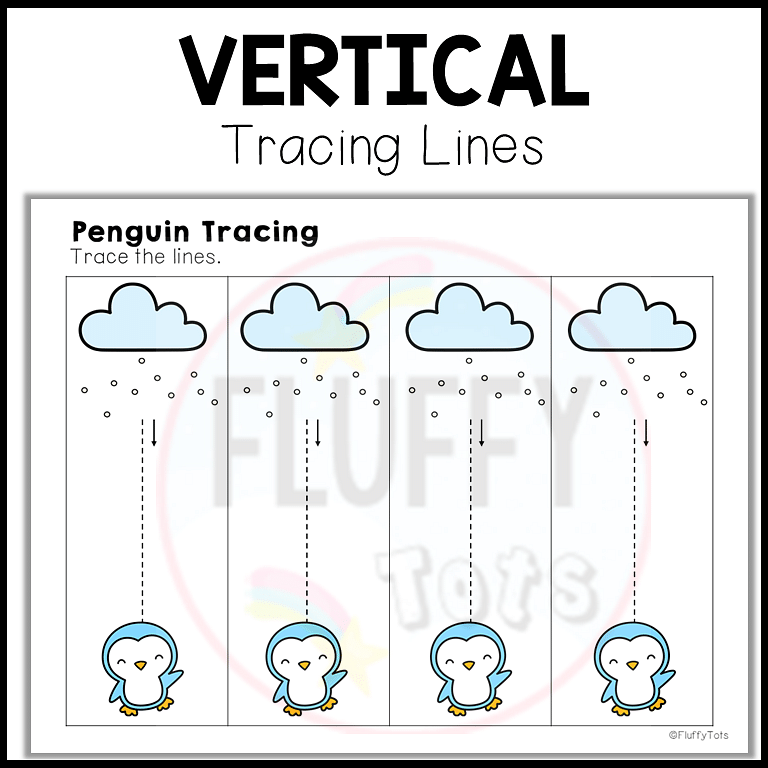 Winter Tracing #3 : Castle Lines
Castle lines are a combination of tracing horizontal lines and vertical lines.
It is a bit tricky but you can show your kids that you can do it by tracing the lines slowly, and do it one at a time.
In the picture below, you can see that it looks like the baby Penguins are walking towards the igloos sideways in the castle line path.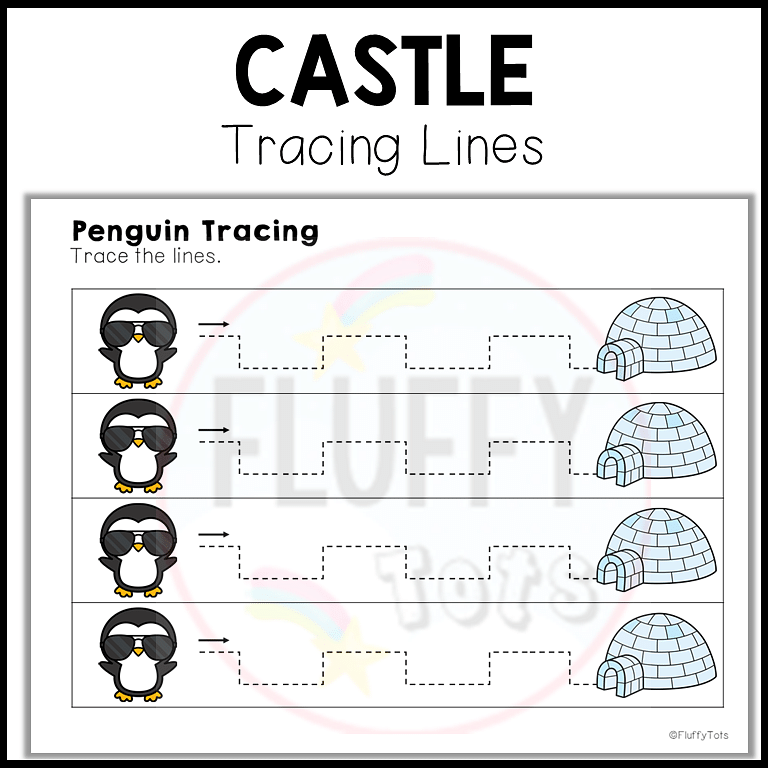 Winter Tracing #4: Diagonal Lines
Diagonal lines are among the easiest lines for my kids to trace.
Many times they would draw random diagonal lines just for fun.
In this packet, we are going to trace the fishies to meet their Penguin friend!
Or, you can create a story that well, those Fish are saying hello to their Penguin friend!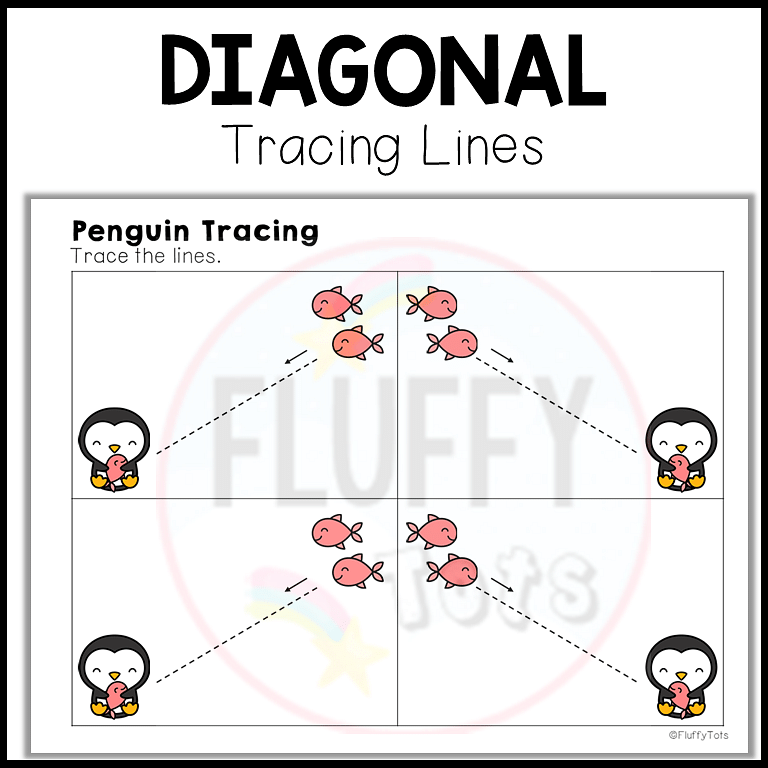 Winter Tracing #5 : Zigzag Lines
Zigzag lines are a combination of 2 diagonal lines.
They are tricky like that of castle lines, but you can show your little ones that they can start it slowly by completing one line at a time.
Can you see the Penguin driving its little car in a zigzag line? So adorable and so much fun, right?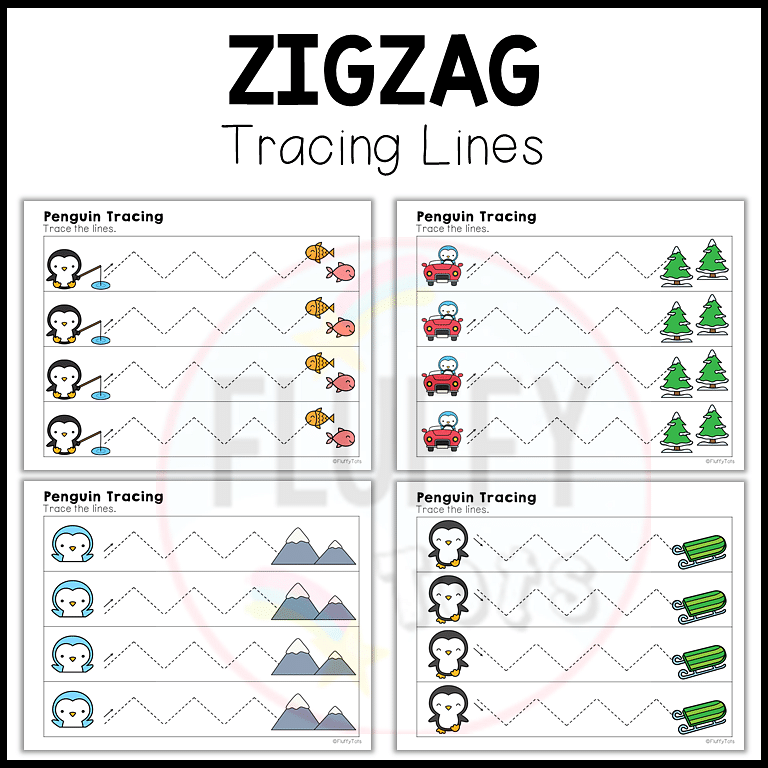 Winter Tracing #6 : Shapes Tracing
To spice up your Winter tracing activities, I'm adding shapes tracing activities as well!
My kids love this because after they trace each of the shapes, they can cut the shapes out and paste onto their scrapbook-like for keepsake.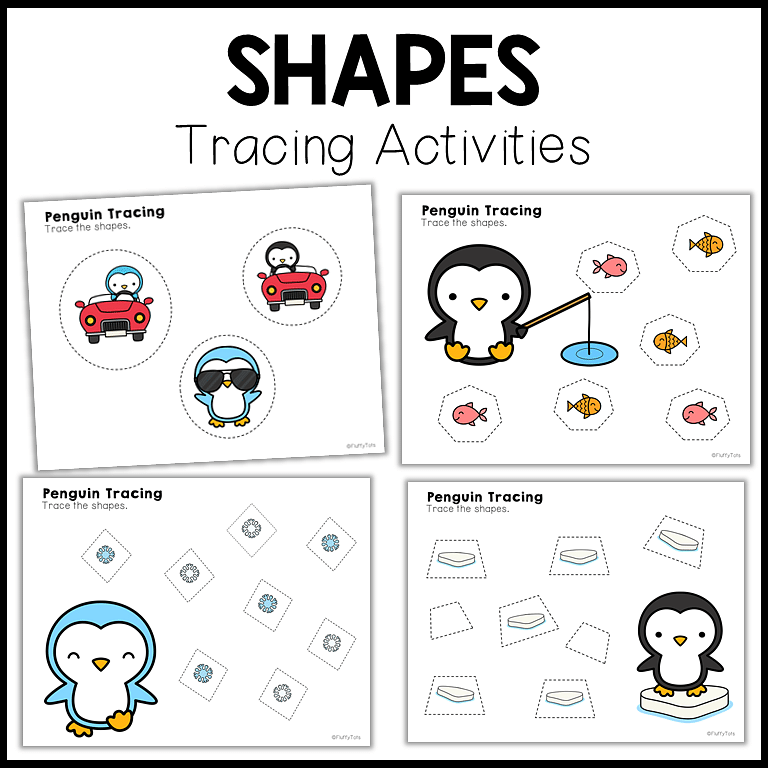 Winter Tracing #7 : Number Tracing
Let's be honest, tracing numbers are fun when the numbers are accompanied by adorable stuff; like these adorable Penguins.
In this activity, your kids will be having a blast tracing the numbers while counting the Penguins!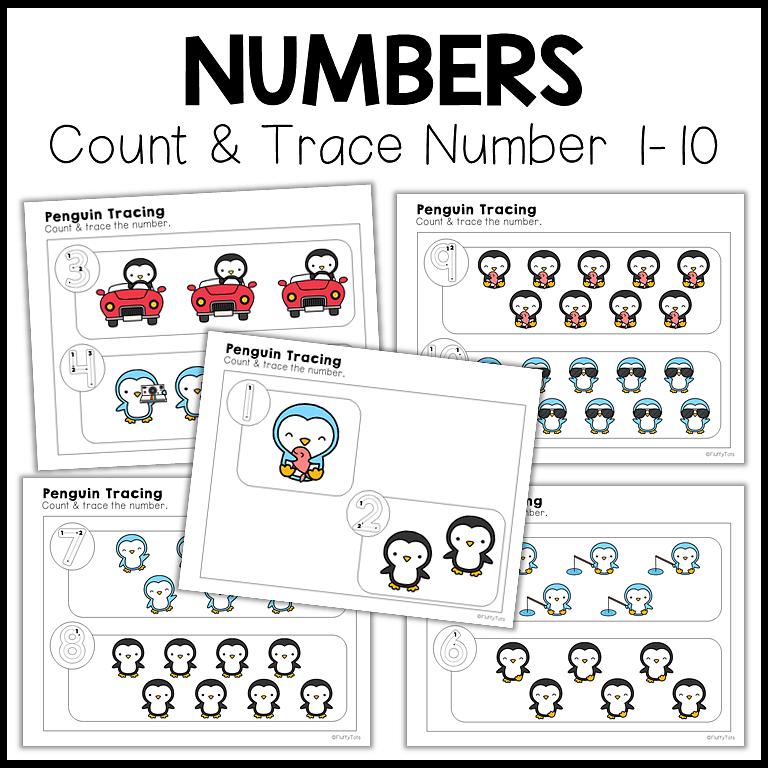 There are many things to count in this activity, such as the baby Penguins, their little Fish friends and more!
Tips : You can also turn this tracing printable into a Winter counting mat.
The way my kids are doing it, they first trace the Winter numbers.
Then they grab their block cubes at put each one of the cubes onto the Penguins.
I think they are playing 'feed the Penguin with the block cubes'
This is great activity because kids are learning one-to-one correspondence while counting with it.
Ready for fun Winter tracing activity?
Shop Your Penguin Tracing Pack
Head over to our Teachers Pay Teachers Store or click the button below to grab your instant download!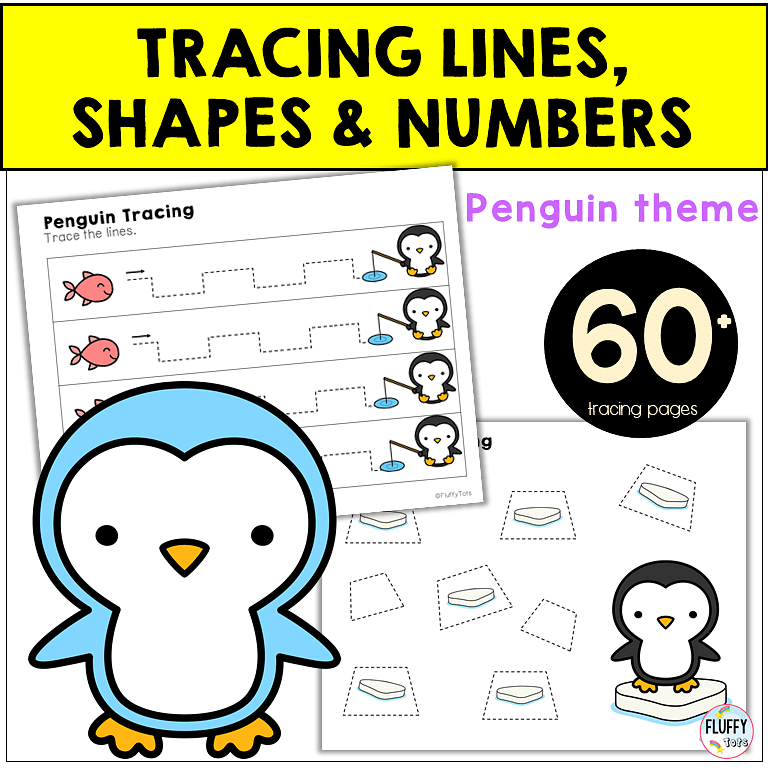 Happy holidays and have fun!
More Penguin Preschool Activities
For more Penguin theme preschool activities, keep on reading our posts below: