78 Pages of Alphabet Tracing Worksheets with Fun Penguin-Theme
"I don't want to do this anymore.." complained my kids every time I asked them to do the alphabet tracing worksheets.
They don't fancy repeating tracing the same letters all over again, line by line.
I didn't complain when I was a kid.
I wish I can say to them, "I know this practice bore you, but hey, you have to do it! Tracing letters will help you to write on your own."
But we know kids, right?
If an activity doesn't give them any meaning or is not colorful and fun, they won't just buy it.
So what I did was, created our version of the alphabet letter tracing worksheet.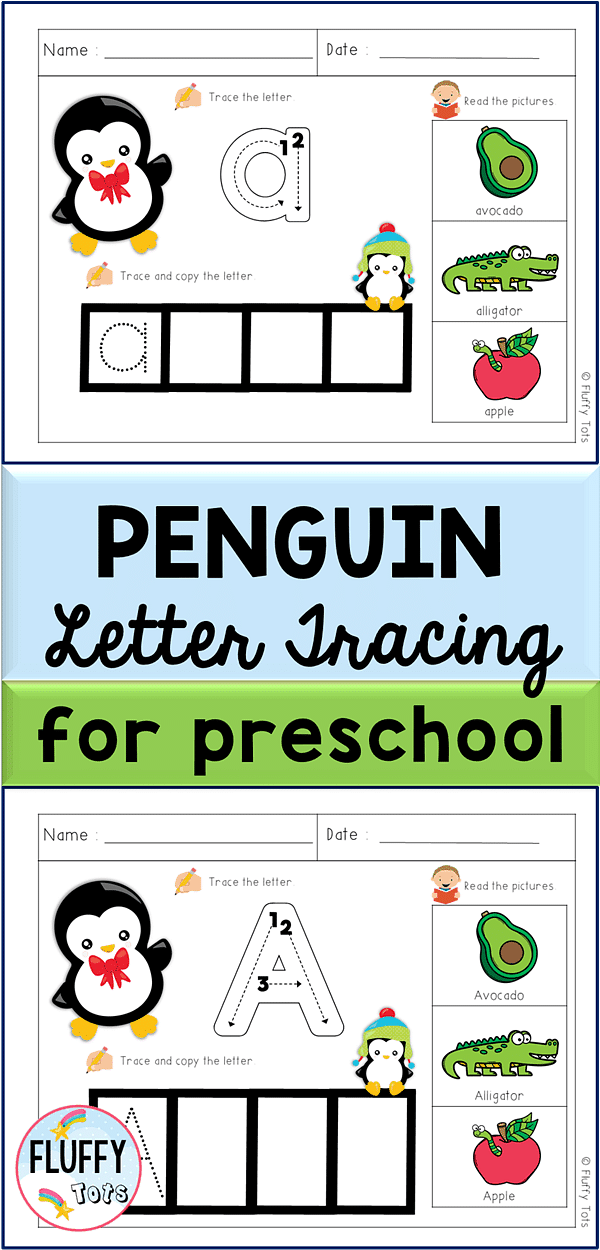 This alphabet tracing page has a few pictures and a variety of tracing activities.
And bam! My kids.love.them!
And that's why I'm sharing our alphabet printables with you.
Especially if your kids don't like to do repetitive letter tracing and you wish if only there are alphabet tracing pages that are exciting.
How to Use Our Alphabet Tracing Pages
Before you scroll to grab our alphabet tracing pages, let me share a bit about how to use it.
The 3-Steps of Learning Alphabet
I found that little kids learn their alphabet letters in baby steps.
We know that letters from A to Z have 52 letters altogether, this is combining uppercase and lowercase letters.
Imagine if you have to learn a foreign language, and you have to memorize 52 different symbols before being able to read the text.
Whoa! That's a lot, right?
I did try to learn a foreign language, and oh boy, 10 characters are already a lot. Talk about 52? I need some fancy, exciting activities to keep me learning!
In this alphabet tracing packet, I've broken down the tracing into 3 simple steps.
Step #1: Tracing ONLY the uppercase letters for letter A to letter Z
Step #2: Tracing ONLY the lowercase letters for letter 'a' to letter 'z'
Step #3: Tracing BOTH uppercase and lowercase letters for letter Aa to letter Zz
Actually, it's up to you whether you want to start tracing with uppercase letters or lowercase letters.
As long as we didn't mix both uppercase and lowercase letters at the early of learning letters, it's fine.
Why Did I Start Tracing With Uppercase Letters
I started with uppercase letter tracing because most of the uppercase letters are easier to draw.
As you can see below, uppercase letters are formed with easy straight lines. Those lines that our kids start to scribble while they are toddlers.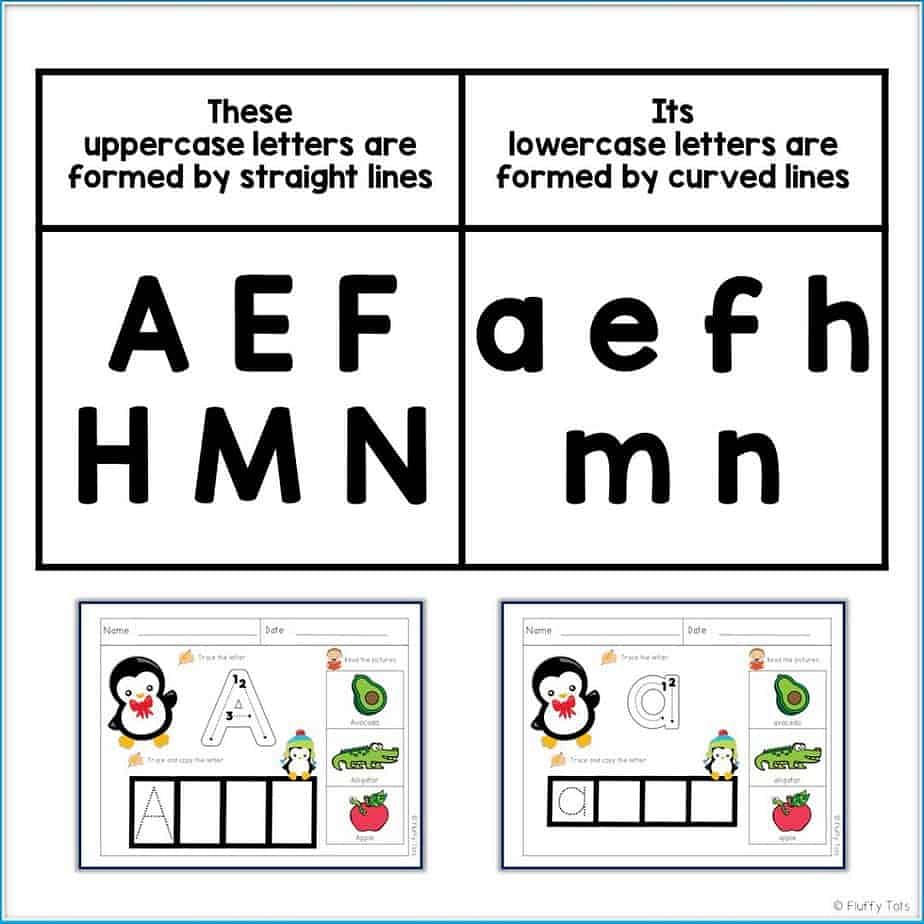 Lowercase letters are a bit tricky because they have more curves.
My kids found it challenging to trace the lowercase letter 'a' compared to tracing the uppercase letter 'A'.
That's why I started with tracing uppercase letters, it's because the lines are easier for little kids.
Activity #1: The Pictures in The Alphabet Tracing Pages
There are 3 pictures on each of our alphabet tracing pages.
These pictures are one of the reasons my kids wanted to trace the alphabet.
Before we begin to trace the letters, we 'read' the pictures first.
You might ask, but my kids can't read yet.
That's okay. Your little one doesn't have to know how to read the word.
Just point to the picture, and let them guess, what is the picture?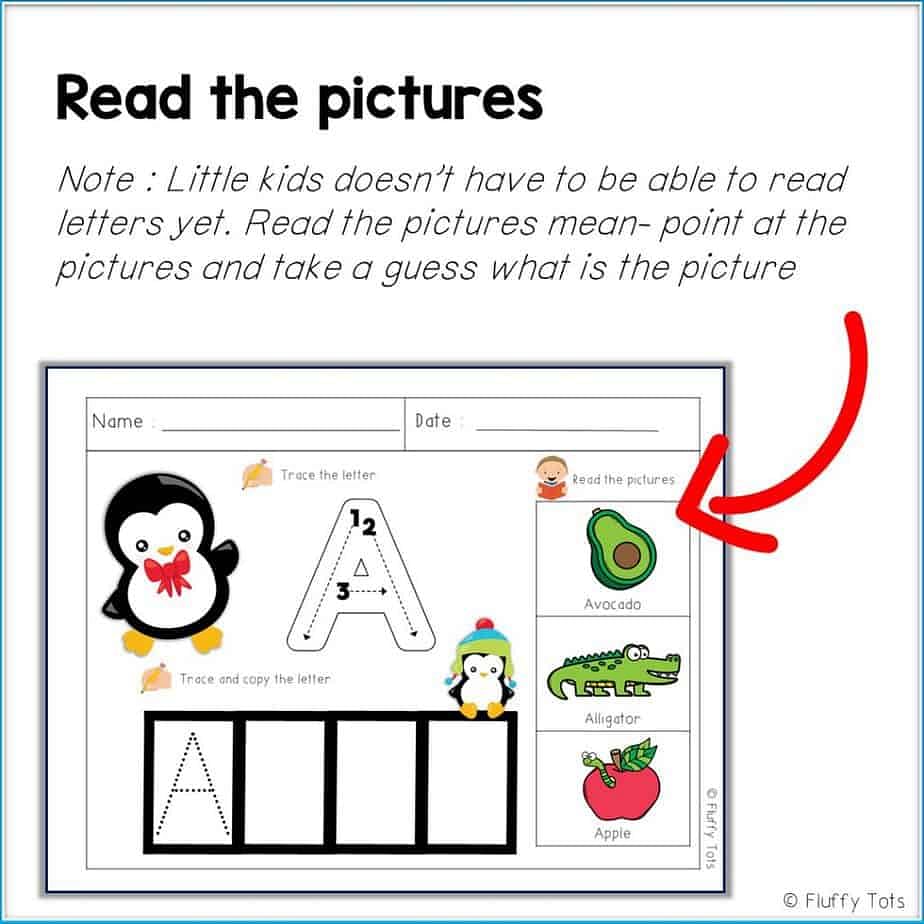 For example, in the letter A tracing page above; first, point at the picture and read with your kids "A is for avocado. Oh, A is also for apple. Do you love apple?"
Then discuss with them about the sounds that you might have heard from the words, "Can you hear the 'eh' sounds in the apple or avocado?"
It's okay if they can't hear any letter's sound, but it's sure fun to sing a song with them, right?
Try to sing the letter 'a' song with them, "Let's sing, A is for Apple. Eh eh eh!"
Note: 'Eh' here is the sound that letter 'a' is making. It's simpler and more understandable for moms like me when I write 'eh' rather than writing /a/ ????
Activity #2: Tracing and Copying the Alphabet
Once you have done reading the pictures, have your kids trace the letters.
I used to associate the letter and the pictures.
"Let's trace the letter that's in the Apple words. Can you try to trace it?"
The Tracing Boxes and Lines
These different tracing modes excite my kids.
In the below letter A tracing page, there are big uppercase letter A with a few guided arrow.
Have your little ones trace the letter corresponding with the numbered arrow. These guided arrows are also setting an idea to them about how to construct the letter A.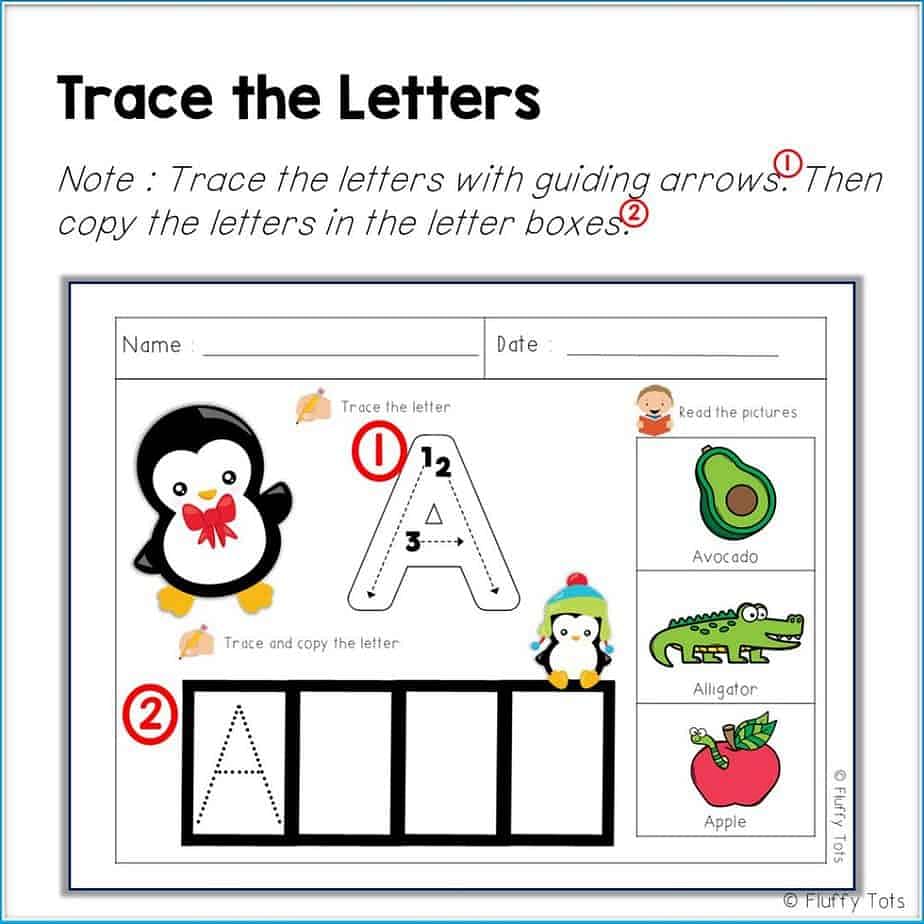 Once they have completed tracing the big letter A, have them trace and copy the uppercase letter A in the given boxes.
Usually, these little practices are quite enough for the day for my kids.
But if they have the mood to practice more by themselves, they would flip the paper and trace the letters from the backside. Ha!
You can also print a few copies for your kids to trace more if they wanted to.
Activity #3: Color the Pictures
The last activity is about to trace the letters and color the pictures.
This only comes with tracing alphabet both in uppercase and lowercase letters.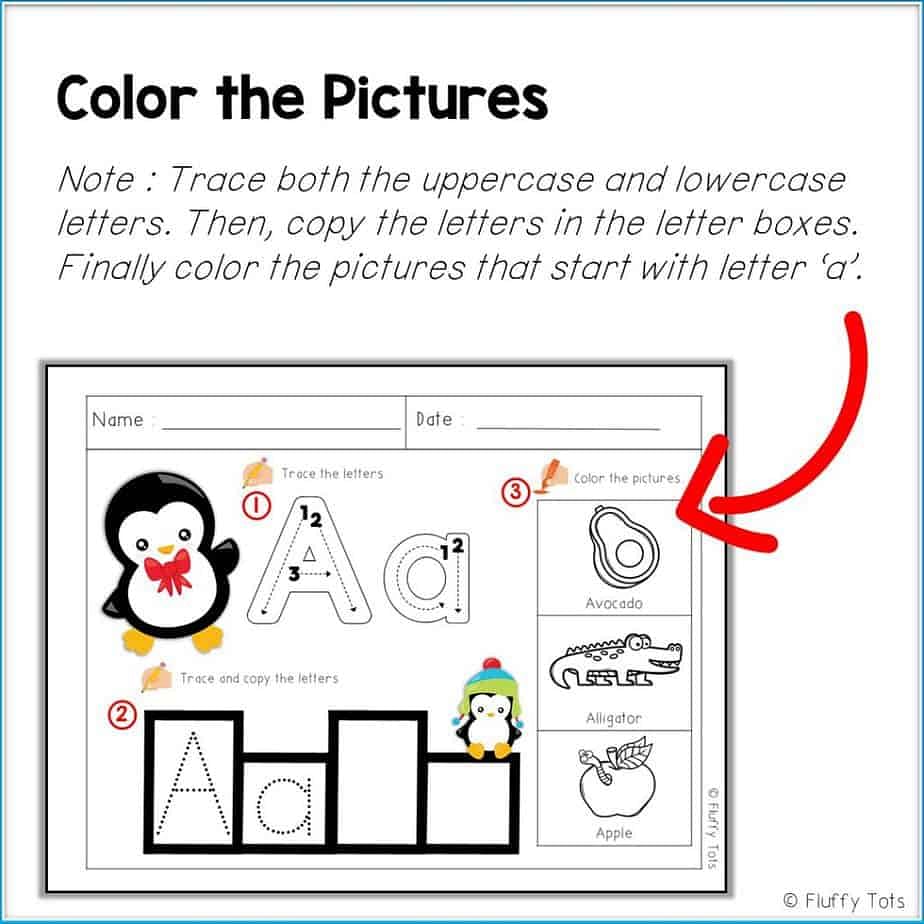 This is a kind of reward for my kids, that once they have traced the uppercase letter page and the lowercase letter page; they've got to color the pictures on the uppercase lowercase alphabet tracing printable.
Ready for alphabet tracing fun?
Shop Your Penguin Alphabet Tracing Pack
It's time for fun trace and color activities!
Shop your Penguin Letter Tracing here.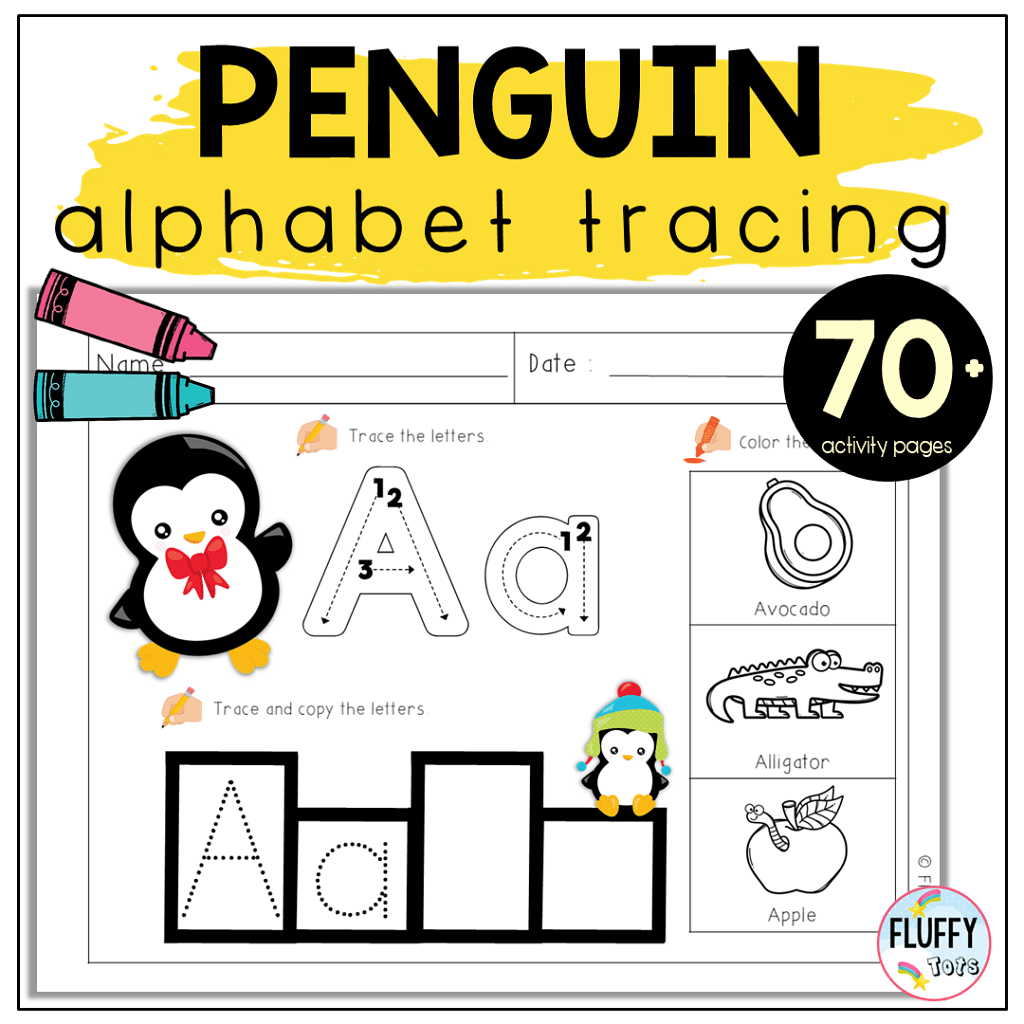 Have fun!
More Penguin Preschool Activities
For more Penguin theme preschool activities, keep on reading our posts below:
More Tracing Letters Activities
For more themed tracing letters activities, keep reading these blogposts: