Fun Penguin Tracing Lines and Shapes for Preschool Activities
Are you looking for tracing activities with penguin theme for your toddler and preschool kids?
Whether it's for your winter theme week or polar animals activities, your kids will definitely love this Penguin Tracing worksheets pack.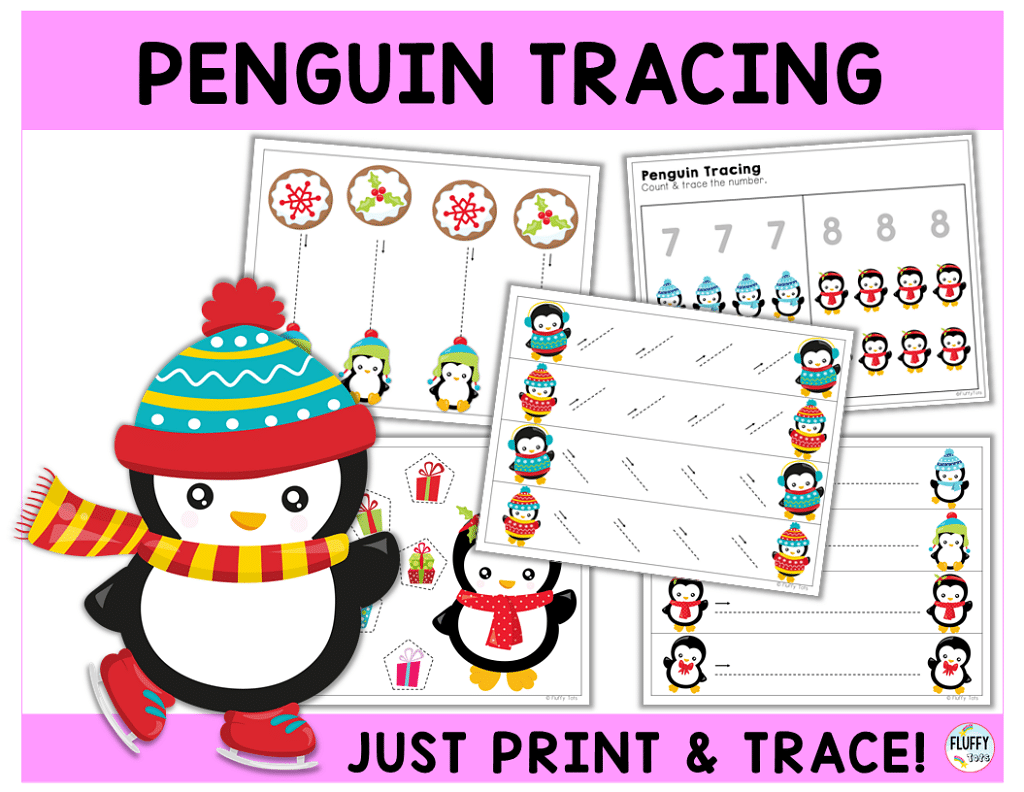 Let me share a sneak peek about the activities included in this winter tracing printable pack.
Tracing Lines with Penguin
Your kids will be excited to meet adorable baby penguins in these Penguin worksheets.
Grab your crayons and let them trace their heart out.
Tracing lines in this resource include tracing horizontal lines, tracing vertical lines, and diagonal lines.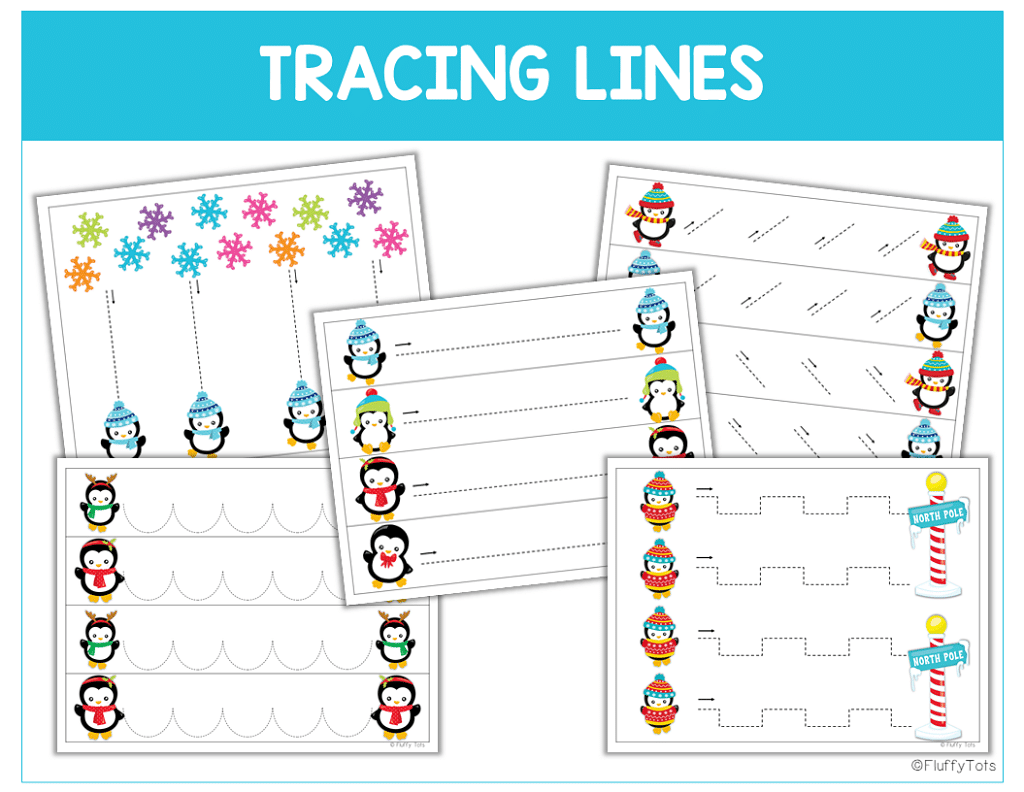 Let's take a look at some of the tracing lines included.
#1: Horizontal Lines
Below are tracing horizontal lines. While it looks simple, the lines are a bit long for beginners.
You've gotta cheer your kids to trace the line slowly.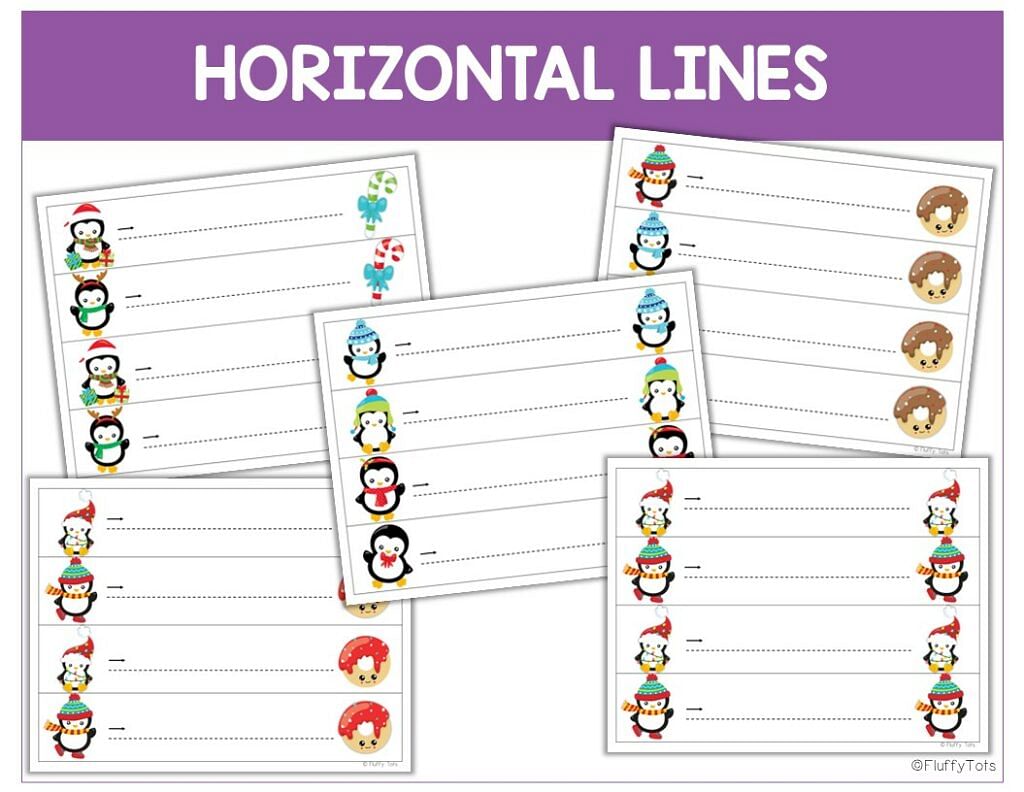 #2: Vertical Lines
Below is vertical line tracing.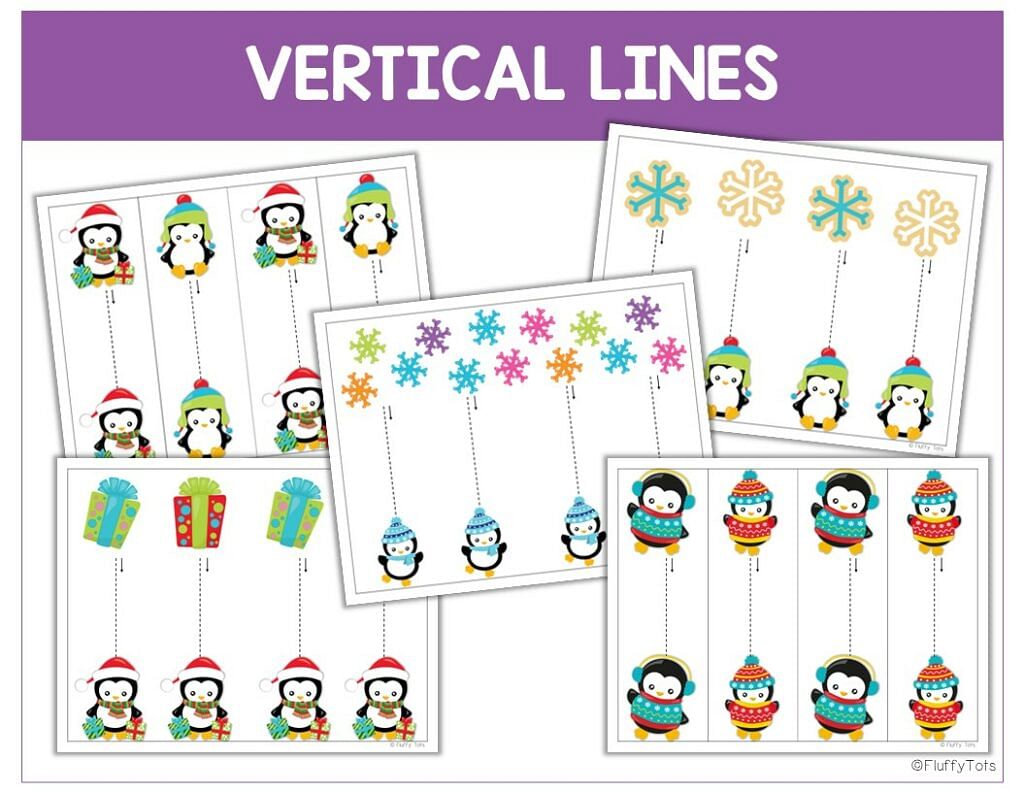 It's fun tracing colorful snow down to the dancing penguins.
#3: Castle Lines
Tracing castle lines is about tracing the combination of mini-horizontal and mini-vertical lines.
But what makes it more fun is these adorable baby penguins waddling to get their snow cookies or to the North Pole signs.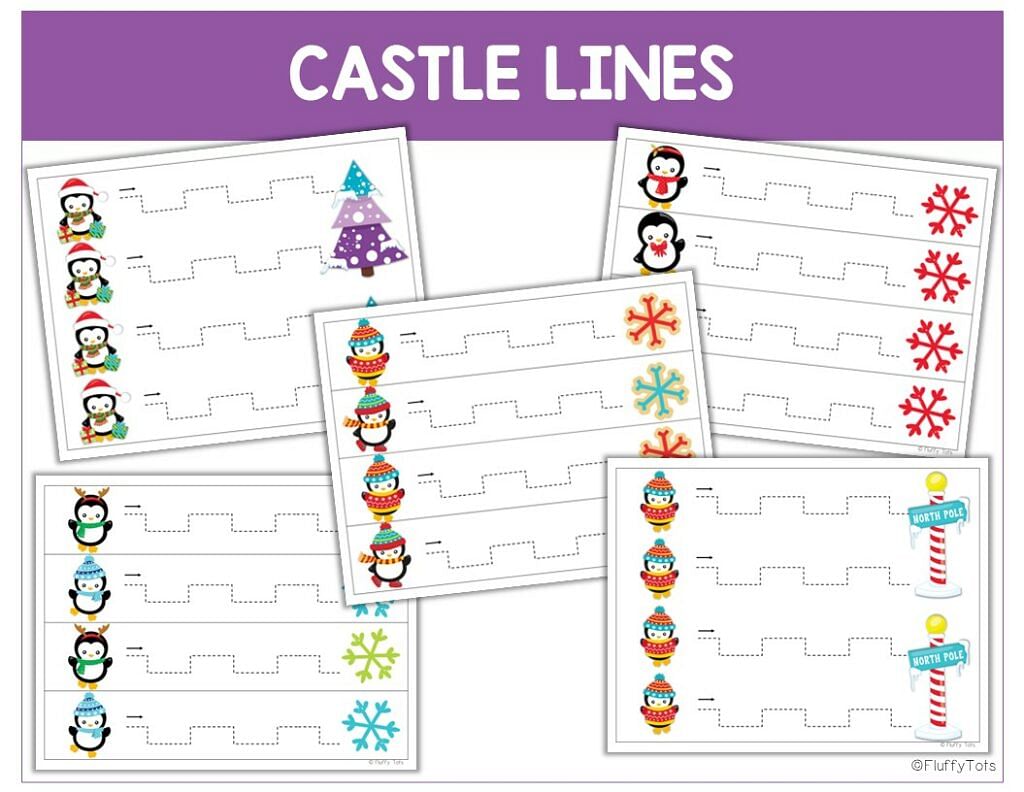 #4: Diagonal Lines
Tracing diagonal lines is a bit easier because the lines are shorter, it doesn't require much endurance.
Diagonal lines make up the letter 'k', 'w', and many other uppercase letters.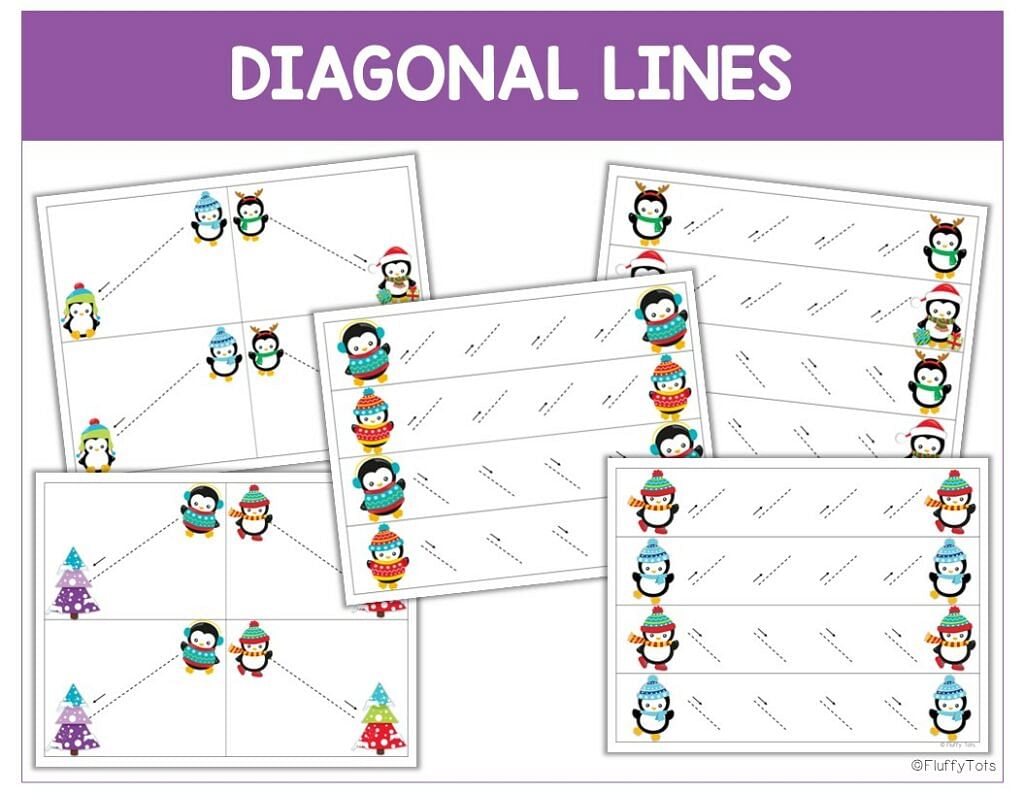 Your little learners will get to trace diagonal right and diagonal left lines.
#5: Zigzag Lines
Let's have fun tracing the zigzag lines with adorable baby penguins.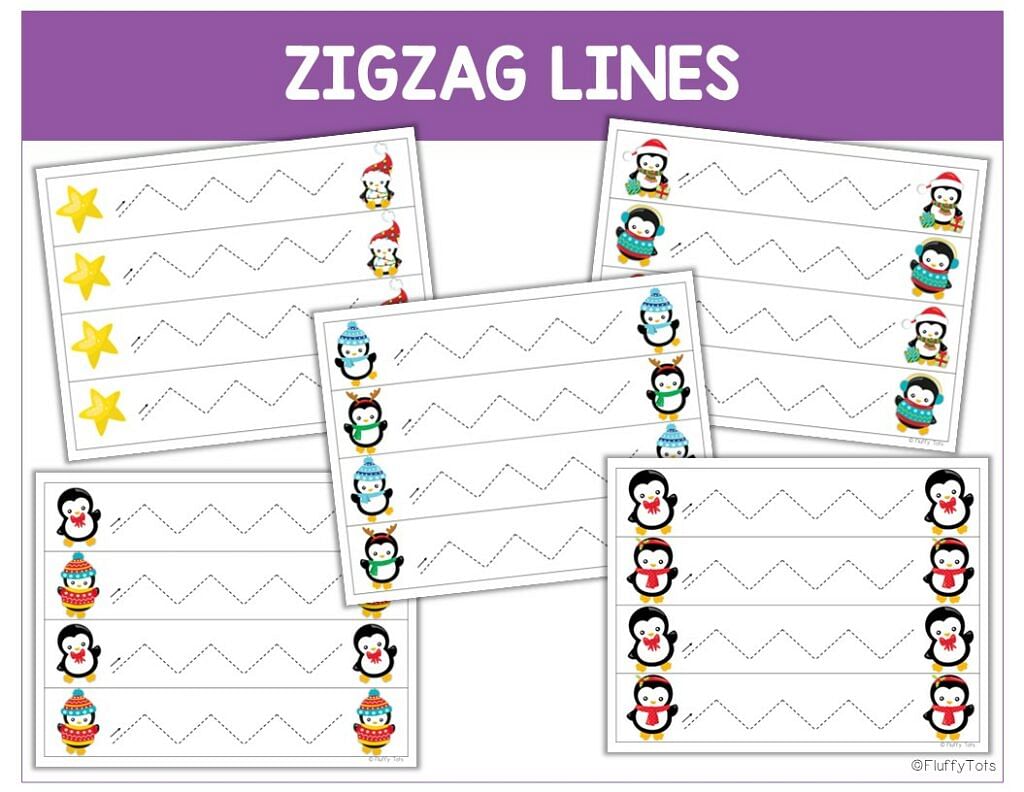 Tracing Wave Curved Lines
Curved wave lines are the foundation of many lowercase letter formations.
You know curve lines form letters like 'B', 'C' and 'g'.
But tracing this kind of line is a bit tricky.
To encourage your children to trace these difficult lines, we provided adorable baby penguins to cheer them on.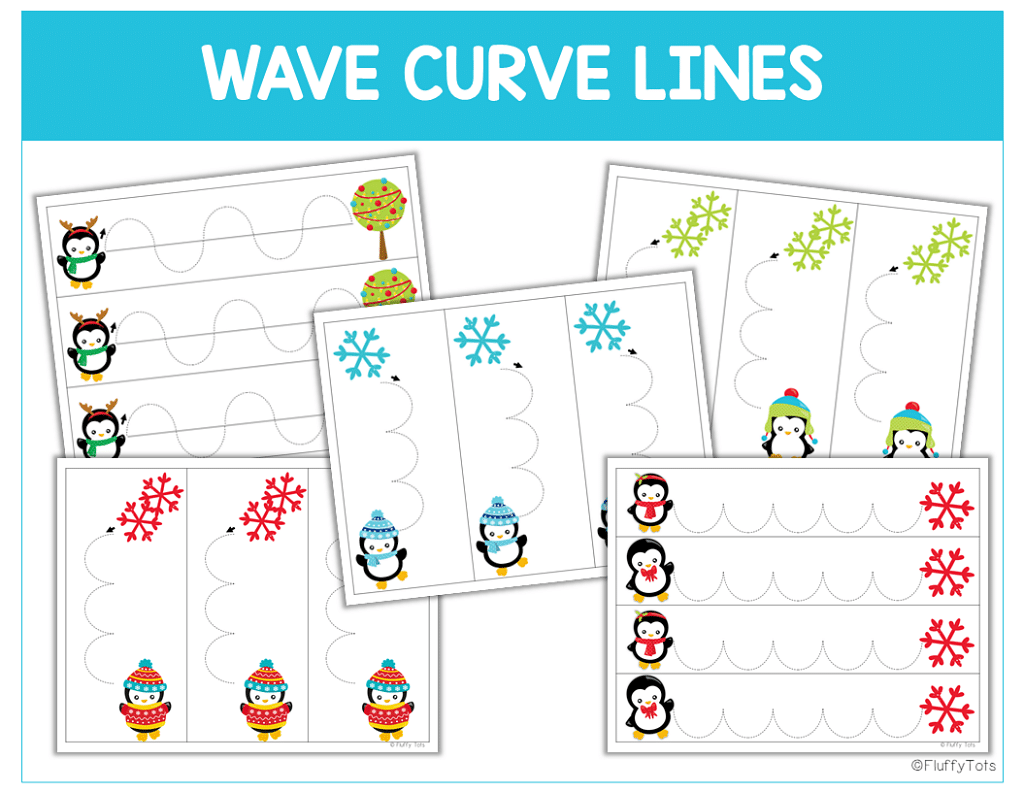 There are two types of wave curved lines:
#1: Vertical Curved Lines
These lines are curve lines but vertical.
Just follow along the arrow and tracing lines.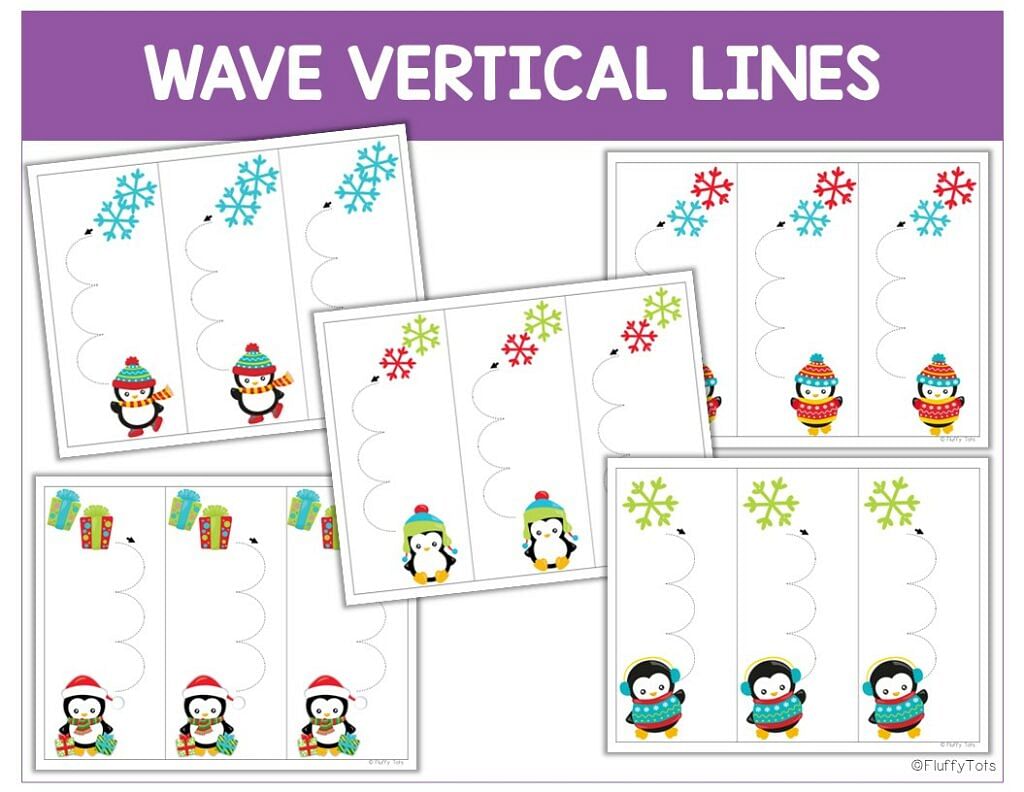 #2: Horizontal Curved Lines
If you look closely, some of the lines look like it's hopping to the other ends, and some of the lines look like they are smiling along the way.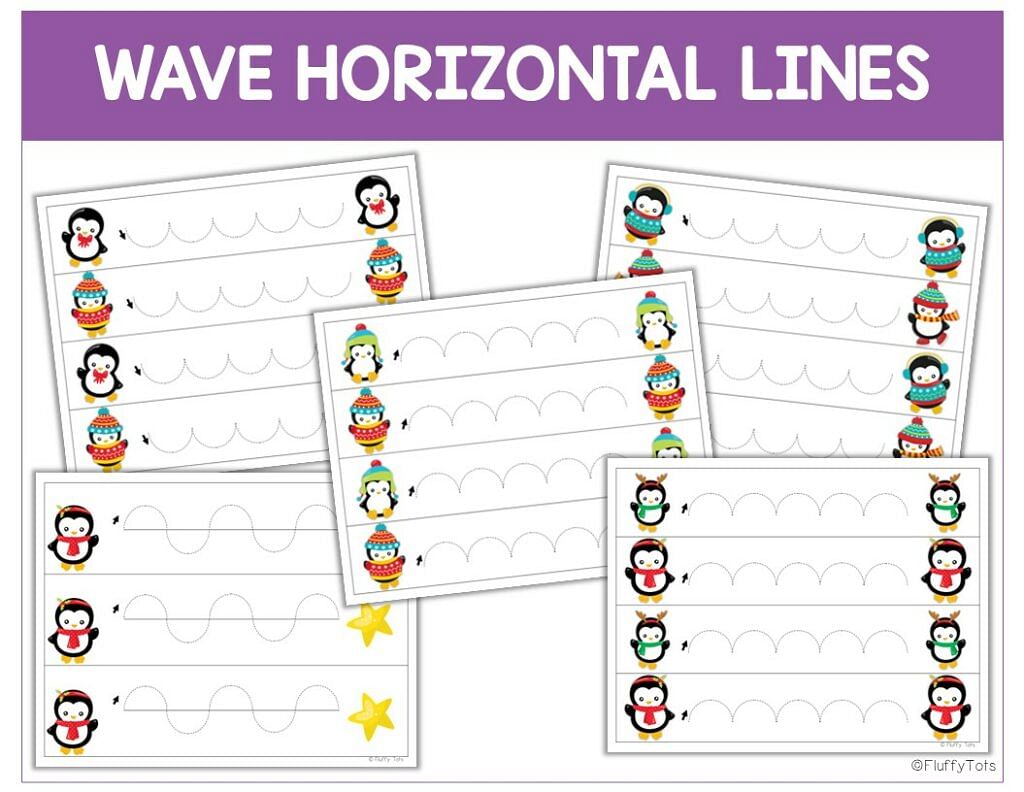 Penguin Tracing Shapes
Tracing empty shapes can be boring for little kids.
In this resource, your little ones will get to trace the shapes that have adorable images in them.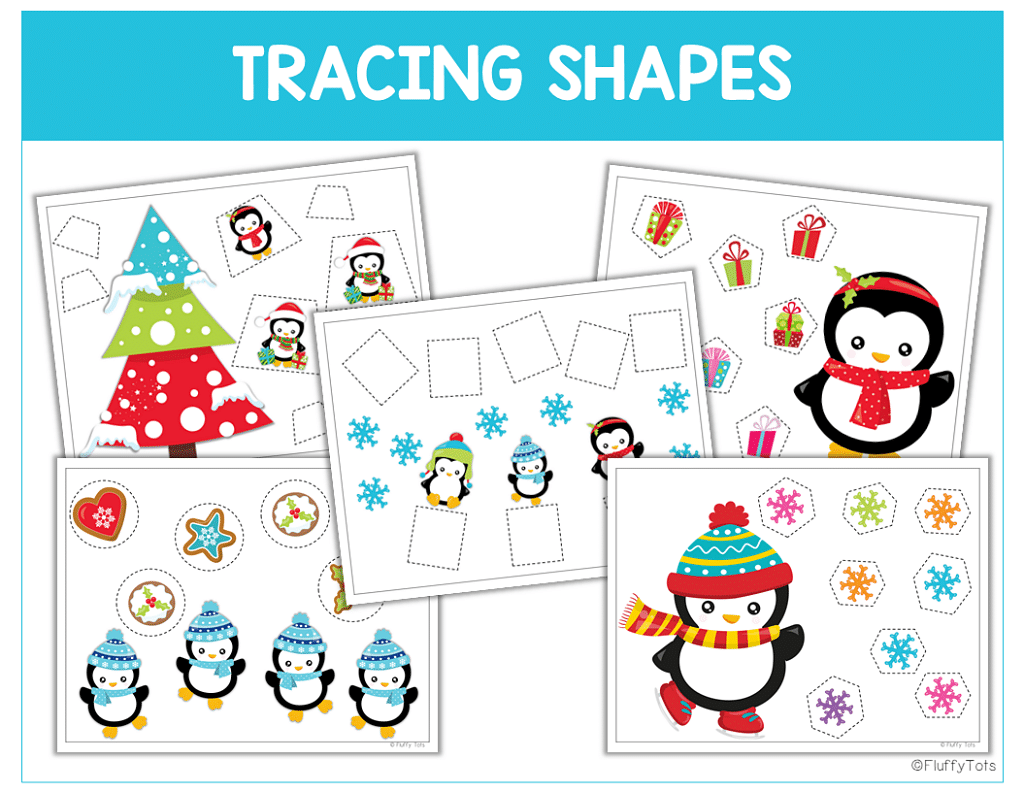 Tips #1: Start with circles
The easiest shapes that little kids can draw or trace are the circle shapes. You might want to start with circles.
Then, move to the square and trapezoid shapes. These have 4 sides.
Tips #2: Cut the shapes
To add some fun, let your kids cut all the shapes out and make a little booklet out of it. That will be an exciting extra activity.
Tracing Numbers (and counting the baby penguins)
Let's have fun counting the penguins in these penguin tracing pages.
Have your kids count all the baby penguins and trace inside the grey numbers.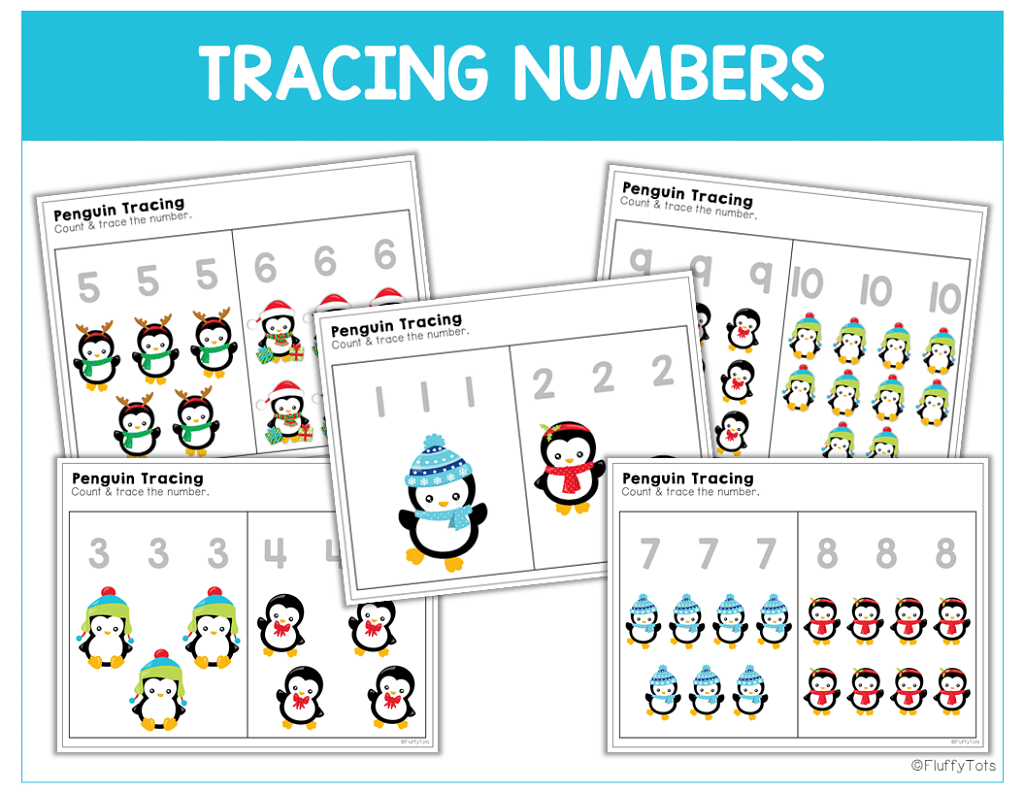 In this activity, your kids will get to count the baby penguins and trace their numbers.
You can also use this as:
Winter counting mats – laminate the pages and roll playdough to feed the penguins.
Number charts to put on your wall – Put them on your wall or on your kids' bedroom door. Then practice counting the penguins daily.
Penguin Tracing Words
For little toddlers and preschoolers, it's much easier for them to trace on the lines.
In this activity, your kids will get to trace the letters that form the word.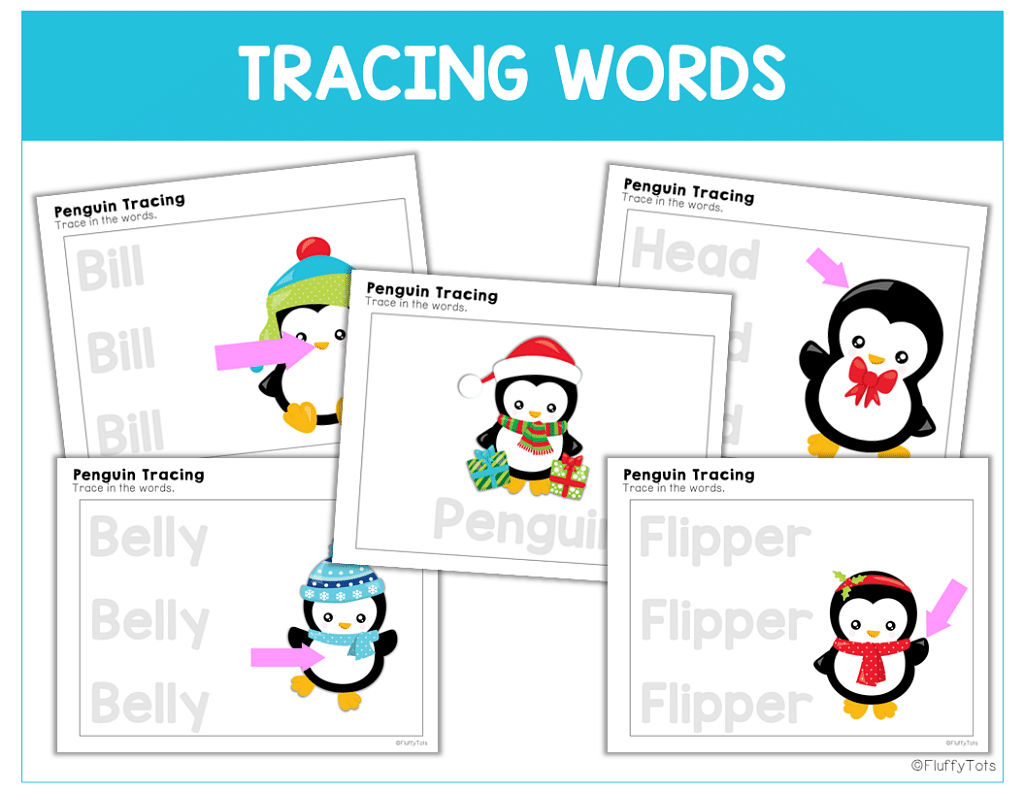 The words included are labeling of the penguin body parts; this includes tracing the word :
Bill
Penguin
Head
Flipper
Belly
You can also use these activity pages as a way to introduce the penguins' body parts.
PS: Staple these pages together and turn them into a penguin body part booklet. Your kids are going to love it.
4 More Fun Ways to Use the Penguin Tracing Pages
Apart from tracing the lines, you can also use these tracing pages in more ways:
Use different colors to trace the many lines on one page, or
Trace using a highlighter, or
Cut along the strips, or
Roll playdough to form along the lines
If your kids are done with their tracing and wish to repeat the pages, you can re-print these activity pages as many times as you wish.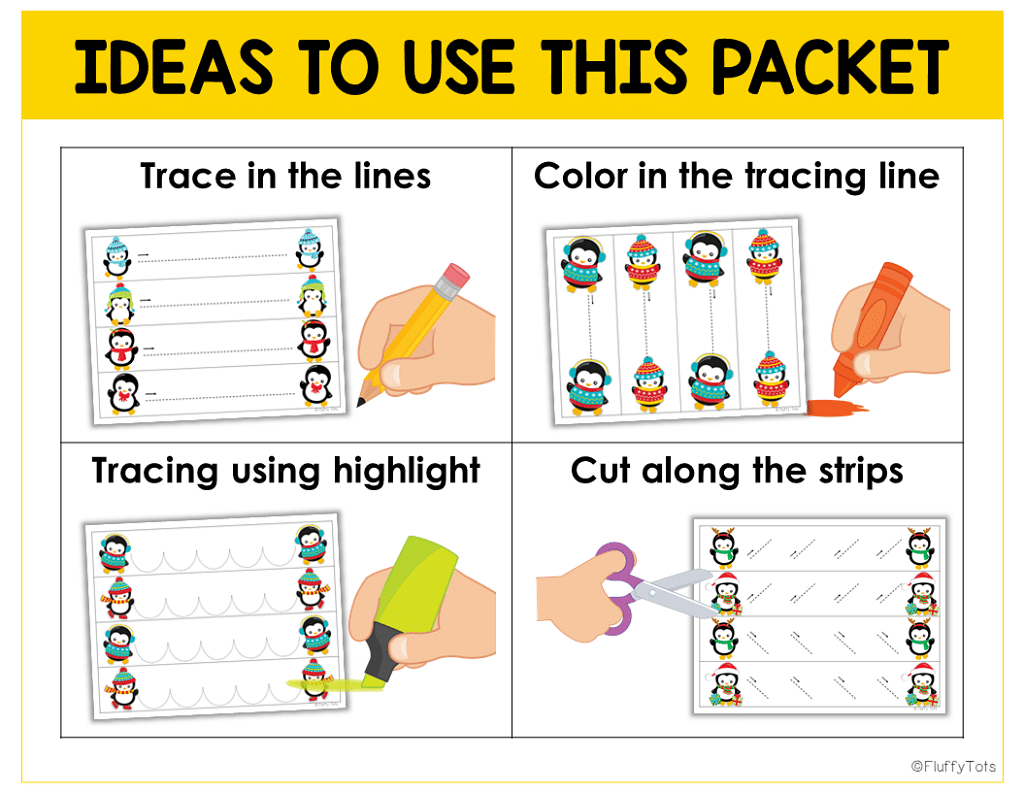 Ready for fun Penguin activities?
Shop Penguin Tracing Worksheets Pack for Winter Theme Activities
Click here to shop and download the Penguin Tracing Worksheets Pack right away!
It's time to have some winter Penguin fun.

More Penguin Preschool Activities
For more Penguin theme preschool activities, keep on reading our posts below: