4 Adorable Penguin Theme Preschool Activities & Books
My kids used to obsess with Happy Feet 1 and Happy Feet 2 that our heads are singing the song in our sleep!
But really, Happy Feet also shares many things about penguins that made me Google the types of penguins and how penguins lay their eggs.
They are kind of different from typical animals because the father is the one protecting their egg, while the mom with its friends are going out for food.
4 Penguin Theme Preschool Printables Packets
If you're looking for penguin theme activities to complement with watching penguin movies, or for your winter lesson plan, check out our easy-to-use penguin printables below.
Just print any of the penguin worksheets packets below, and you're all ready to go.
#1: Penguin Tracing Activities
Let's have fun practicing pre-writing tracing with this Penguin tracing lines and shapes packet.
Your little ones will enjoy tracing the adorable baby penguins dancing their way on the ice, the snow falling on the baby penguins and more.
There are also tracing shapes with penguin; that includes tracing circles, triangles, square and more.
#2: More Penguin Tracing
The previous tracing packet is packed with festive vibes. You can see the adorable penguins wearing green and red hats and scarves; some have lights.
But this Penguin tracing packet is plain and simple.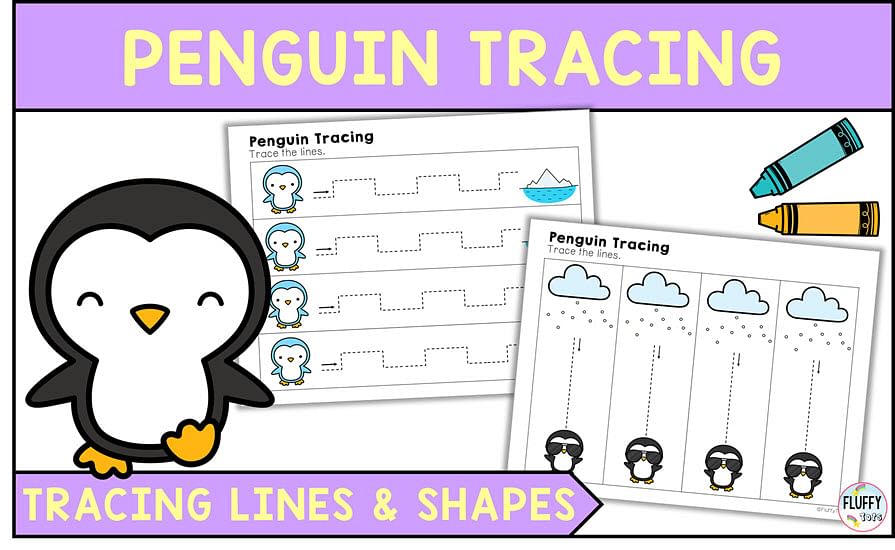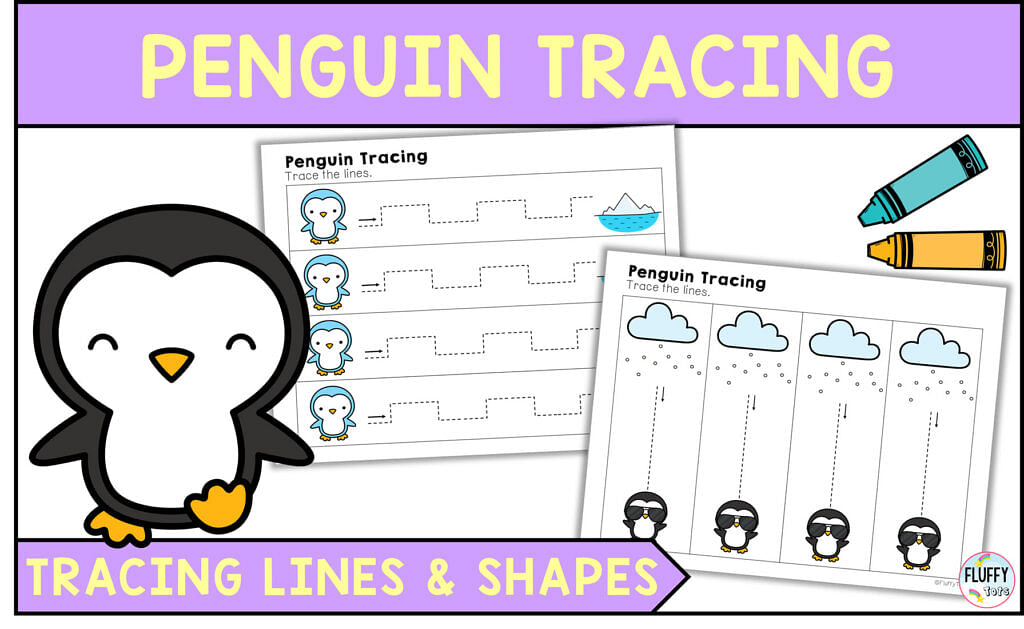 There are blue penguins and black penguins.
Your kids will get to trace the same lines and shapes but with different sets of penguins.
If you're looking for tracing pages with lots of options, grab both packets; it'll excite your kids to get different penguins to trace every other day.
PS: Some of the penguins in this packet are wearing sunglasses, some are driving cars and some are fishing.
#3: Penguin Letter Activities
My kids aren't so much into tracing letters with drilling style.

So I thought why don't we do letter tracing, but with a variety of activities, because many times little kids can get motivated just because their favorite animals accompany them.
In this Penguin Letter Tracing packet; your kids will enjoy tracing with the guided arrow, tracing in the letterbox, and copying the letters, all with the accompaniment of the adorable baby Penguins.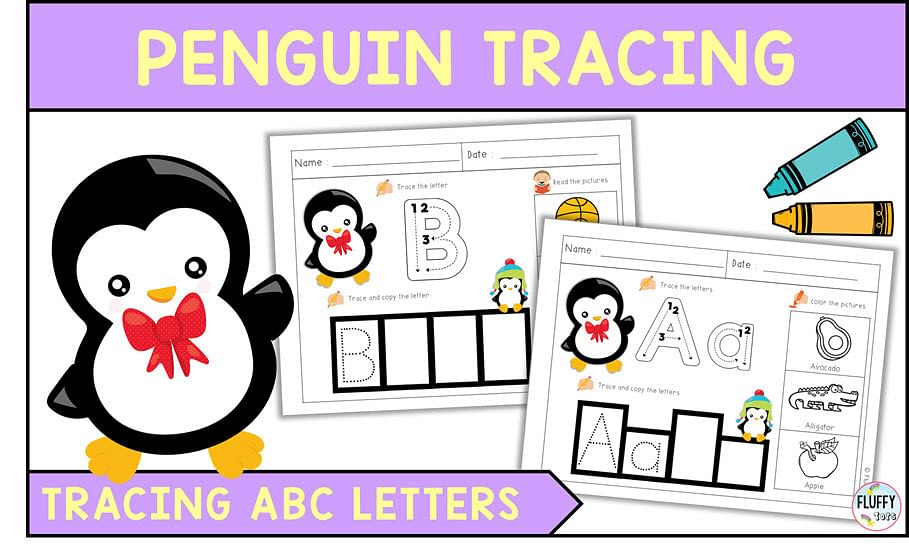 And each pages has beginning sounds pictures that's related to the letters; for example, the tracing letter A page has pictures of Apple, ambulance and avocado.
This Penguin letter tracing packet has are tracing uppercase letters, tracing lowercase letters and tracing uppercase & lowercase letters in one page.
Tips: I'd suggest that you start with tracing uppercase letters. This is because uppercase letters such as the letter 'A' or the letter 'T' are made up of easy straight horizontal, diagonal and vertical lines.
#4: Penguin Theme Preschool Math
Math made fun with these cute baby Penguins.
This Penguin counting packet has a lot of differentiated activities, that include math skills such as shape, cut-and-paste AB pattern, and number recognition activities.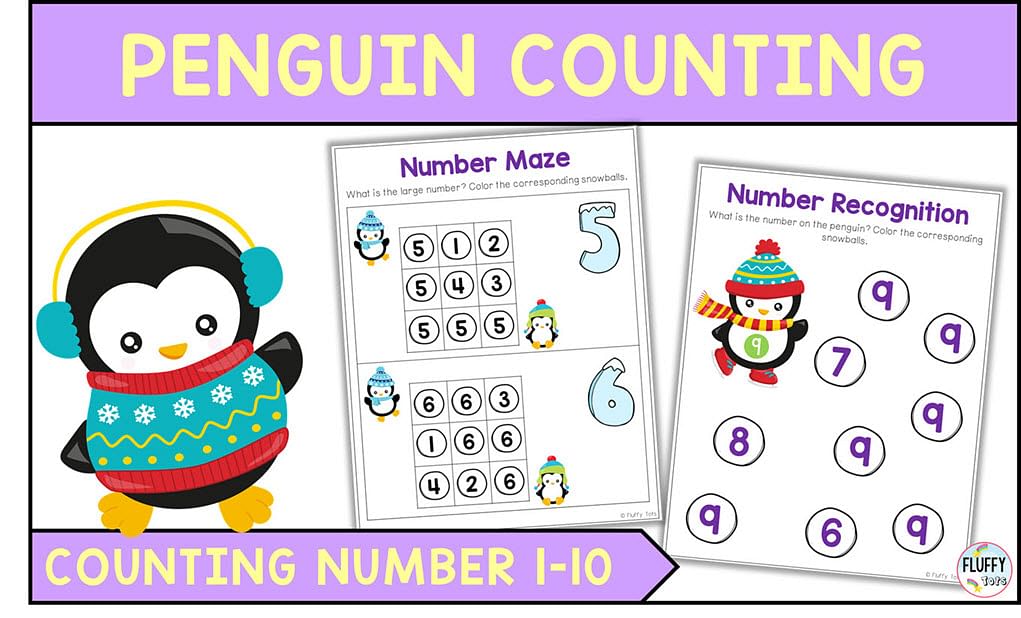 There are also counting 10-frames to help beginners to learn counting at their own pace.
For your kids who can already count and need some practice, the counting to 10 activities are created for them, and this includes count and color, count.
Bonus : Penguin Theme Books
My kids, regardless of age; they love to hear us read to them.
Especially when we use funny voices, that impressed them even more.
To think of it, it might be similar to how I prefer to listen to audiobook rather than reading the physical book itself, because we got to hear the emotions of the author and feel the book turns alive…
Anyway, here is our read related to the Penguin-theme (this post contains affiliate links at no cost to you):
I hope these resources are helpful for your Penguin Week lesson plan.
Let me know if you have grabbed and tried any of those!