4 Weeks of Fun February Preschool Lesson Plans
It's always February.
When I birthed my 5th child, I was in postpartum on February.
And right now I'm expecting to give birth to my 6th child, and I'm expecting that this coming February will be a month where I can't be fully attentive with my other older kids.
To hopefully make it up to them, I'm trying to put up a February preschool lesson plans, and hopefully, you'll love this lesson plan as well.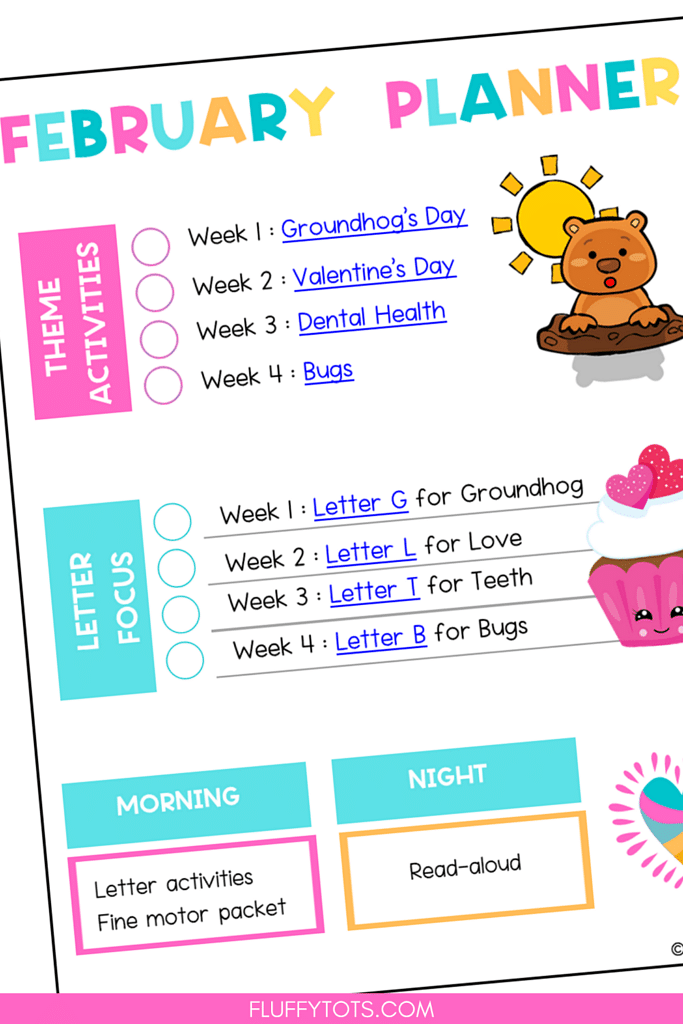 PS: You can find 12-months of preschool lesson plan ready-for you here
But first…
This February lesson plan is meant for my 3-year-old and soon-to-be 5-year-old. I have other plans for my 3 older children.
If your kid's age range is around mine, you'd definitely love this.
In this lesson plan, I'm planning to have 1 theme for 1 week and several letters focus for that particular week.
And, we'll be doing hands-on printable activities, because I don't think I can manage messy play.
Wait, why do we have letter activities as well?
As an early exposure to our little ones.
Plus it's easier for our little learners to remember each and every alphabet when these ABC letters have meaning to them.
For example, for February week 1 theme will be Groundhog's Day.
So we will be doing the letter G.
You can tie the letter G to the groundhog – it'll make it easier for your little learners to remember what G looks like, or that it sounds like 'ggg'.
Let's hop in and see what's in the February lesson plan.
February Week 1
This week's theme would be Groundhog's Day.
Theme : Groundhog's Day
What is a groundhog?
It's an animal that lives in a burrow.
According to Wikipedia, it is said that if it comes out of its den and sees that it has a shadow, it'll mean that winter season will be here for 6 more weeks.
But if it can't see its shadow, it is believed that spring will come at any time soon.
We'll be using this Groundhog's Day bundle activities for the week.
It includes fine motor printables (that include lots of cut-and-paste activities), tracing pages, and counting to 10.
My 3-years old already count to 3 and slowly progressing to 5.
And my 5-years old might want to test herself to count to 10.
Letter of the week : Letter F & G
Because we're doing Groundhog's Day in February; I'm thinking that it'll be fun to do the letter G and F.
Letter F is for February. We'll be printing out the February calendar and putting it on the fridge. (we've been printing the calendar of the month as a routine)
Letter G is for Groundhogs and other animals like giraffes and gorillas.
For the letter activities, you can take a sneak peek at each packet here.
February Week 2
This week's theme would be Valentine's Day.
Theme : Valentine's Day
We don't celebrate Valentine's Day, but we love the clipart that comes with the day; such as the hearts, cute Llama and sloth, candies and donuts, and more.
This week we'll be using the resources from the Valentine's Day fine motor bundle.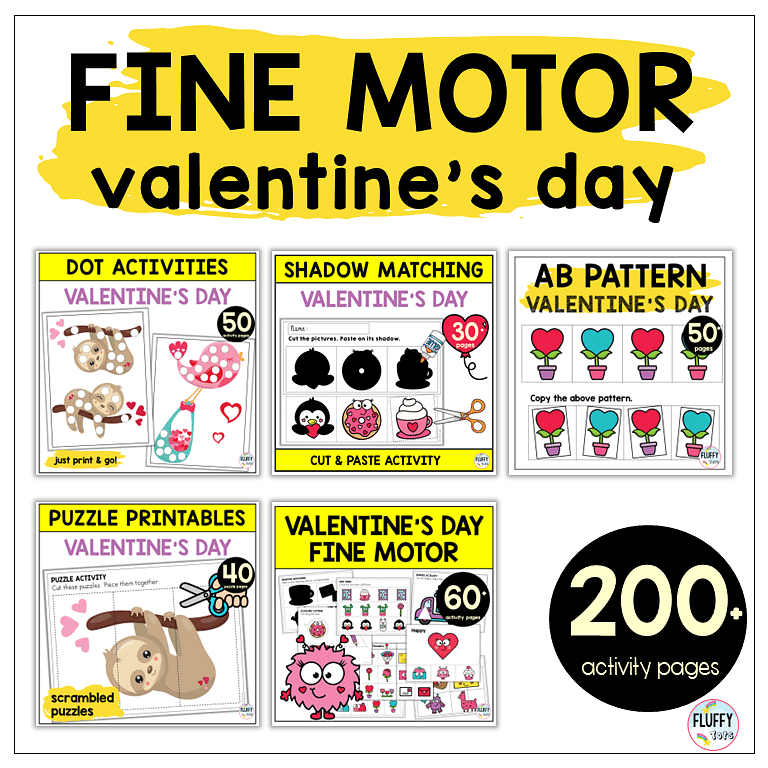 There are tons of fine motor printables perfect for your toddler and preschoolers.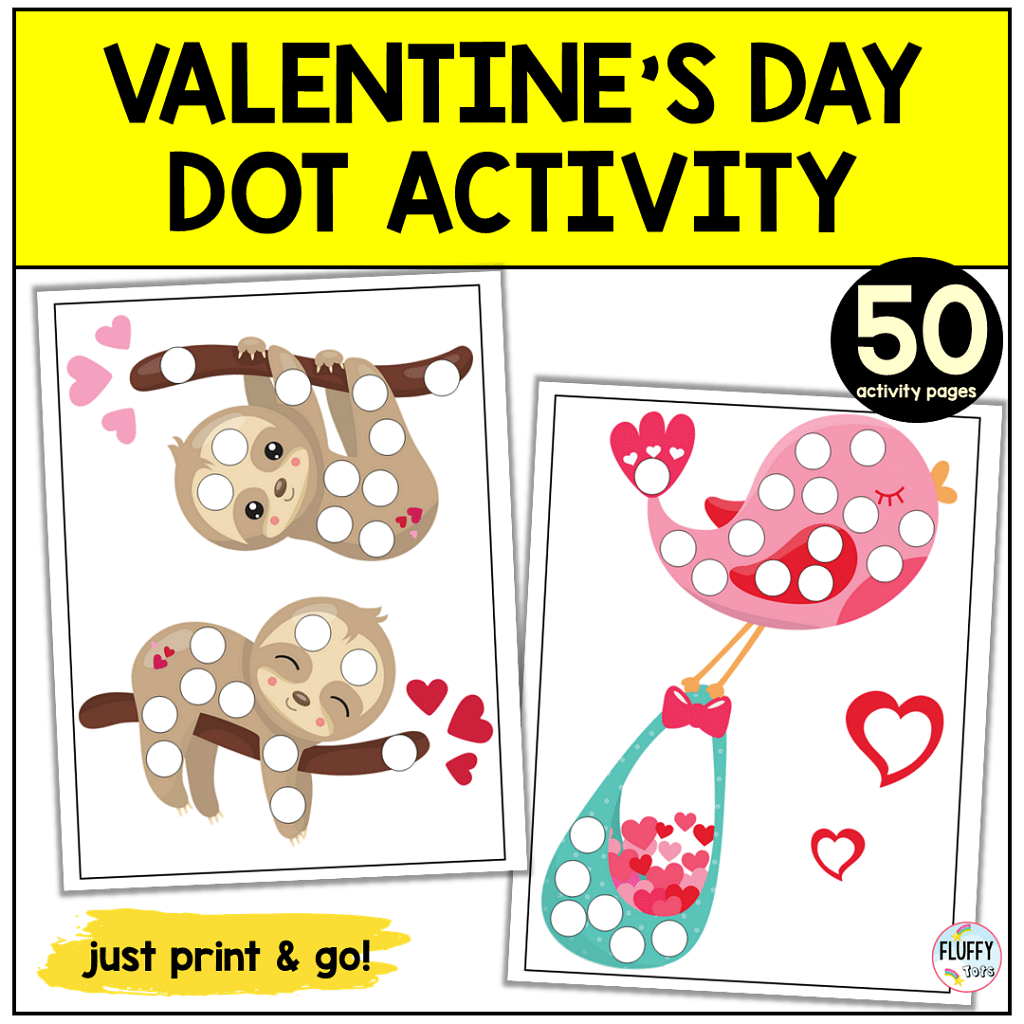 Valentine's Day Dot
For instance, this Valentine's Day dot printable activity is great to be used with either dot markers, or dot stickers.
Or my kids love to color inside the dots. It can be either colors that match the dot, or any other color they prefer.
Tracing Hearts
This heart tracing pages has lots of options, you can use it as tracing pages, or trace and Valentine's Day coloring pages.
Your kids will have so much fun tracing in the hearts, and tracing hearts that made up the butterflies, the balloons and more.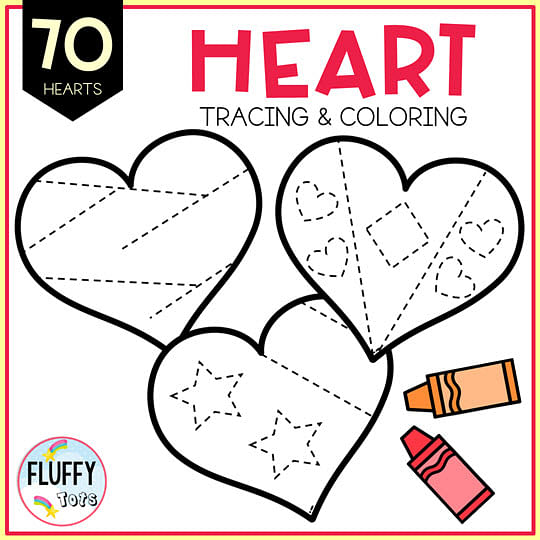 Check out more activities included in the Valentine's Day fine motor bundle here.
Letter of the week : Letter L & V
This week we'll be doing letter L and letter V.
L is for love.
V is because it is inside the Love words.
It'll be great to have some love letter activities this week. We'll be teaching how to write I love you, and we'll be exchanging letters with I love you words in it.
February Week 3
This week's theme would be Dental Health.
Theme : Dental Health
February is the month of many interesting things, and one of it is Dental Health week.
So how do we introduce the topic Dental Health with our little ones?
Would they ever understand our message?
I'd suggest that we first introduce the tools to keep our teeth clean and to introduce the food that makes our teeth happy.
This includes getting them their cute little toothbrush and inviting them to brush their teeth before sleep.
We'll be doing our Dental Health activity packet below.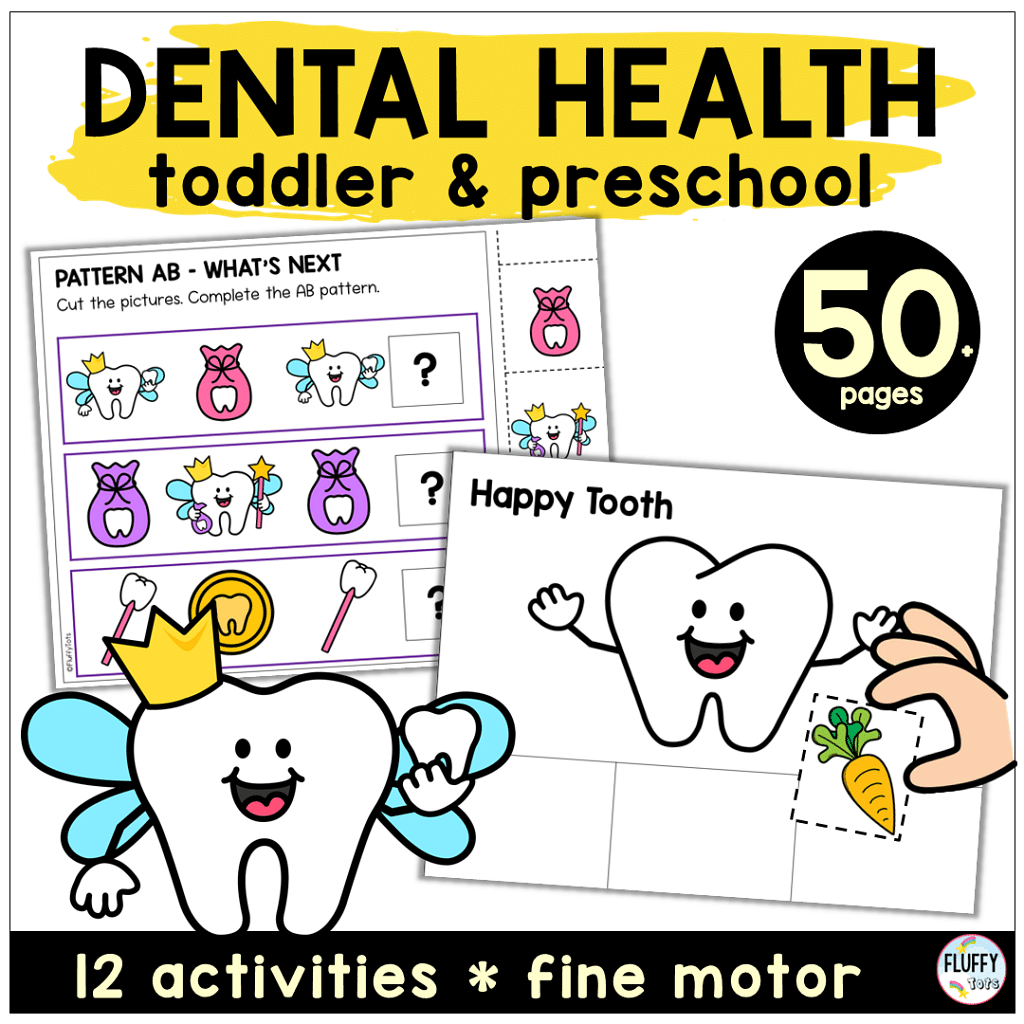 Among other activities, there are sorting, 2-pieces puzzle, AB pattern and more.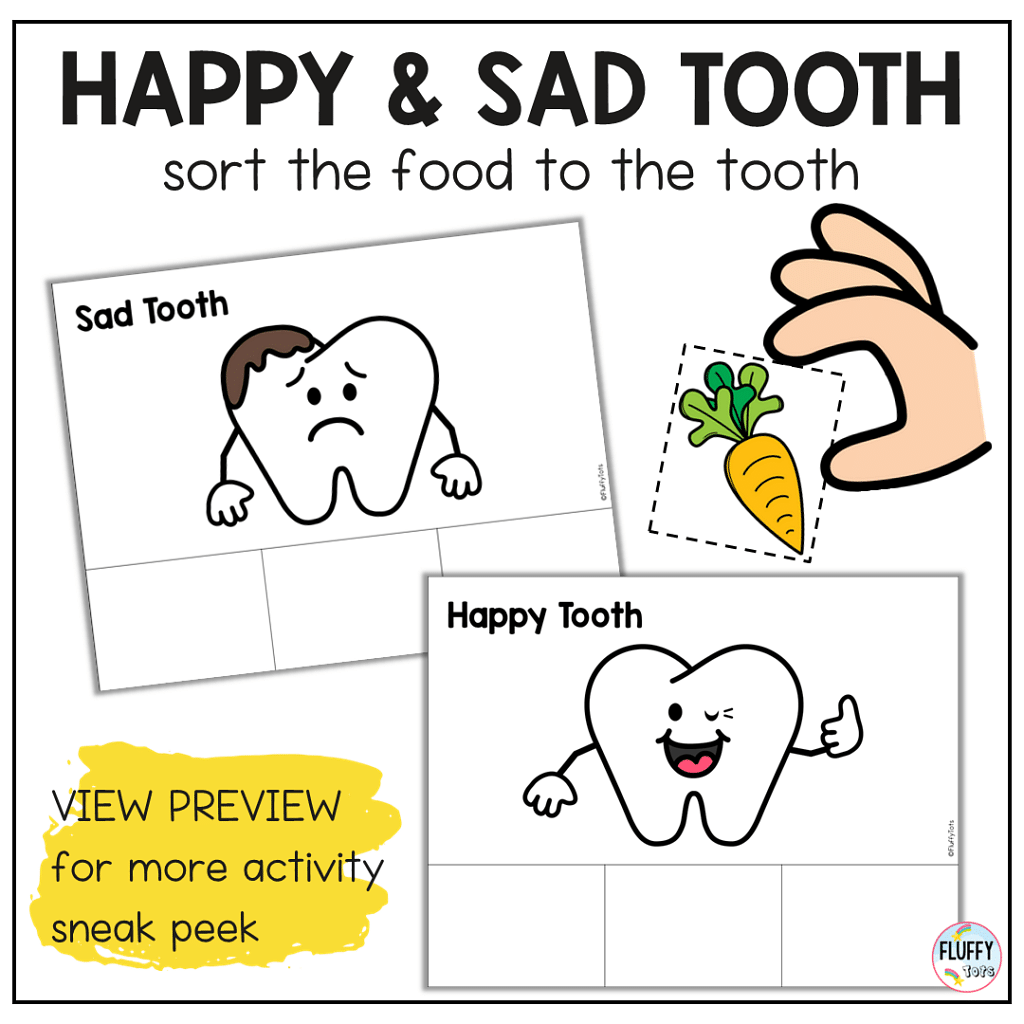 Happy & Sad Tooth
Your kids will get to sort the foods to which will make the tooth happy, and which will make the tooth sad.
If your little ones seem clueless, you can help them sort by saying the sweets are what make the tooth sad, and fruits & veges make the tooth happy.
Sort the Toothpaste
There are also shape-sorting activities, where your little ones will get to paste the white shapes on the toothbrush according to the shapes.
Imagine the shapes as toothpaste. It will be so much fun.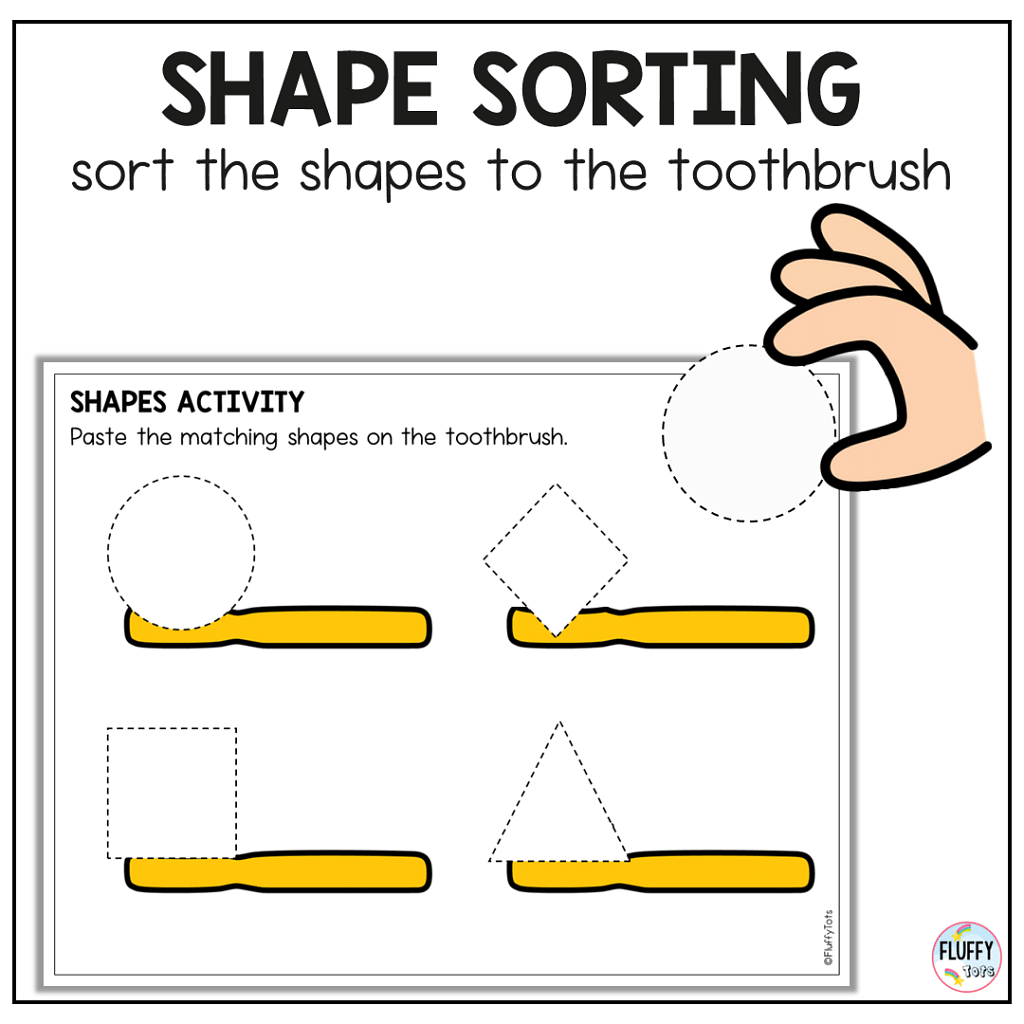 Be sure to check more included activities here.
Letter of the Week : Letter T & B
For dental health week, it's natural that we'll be doing letter T activities.
Letter T is for teeth.
Letter B is for brush in the toothbrush.
The Dental Health activity packets include letter T cut and paste and sorting activities.
But if you wish for more letter T activities, this letter T packet is perfect for you.
February Week 4
This week's theme would be Bugs.
Theme : Bugs
My kids love bugs. They love collecting Bugs in real life or watching them fly.
Our kittens love to play with bugs too.
So far the kids already caught some caterpillars eating our plant, some beetle flying around trying to escape from our kittens and many more.
We'll be using our Bugs activity bundle here – jam packed with fine motor and counting activities, all with bugs themed.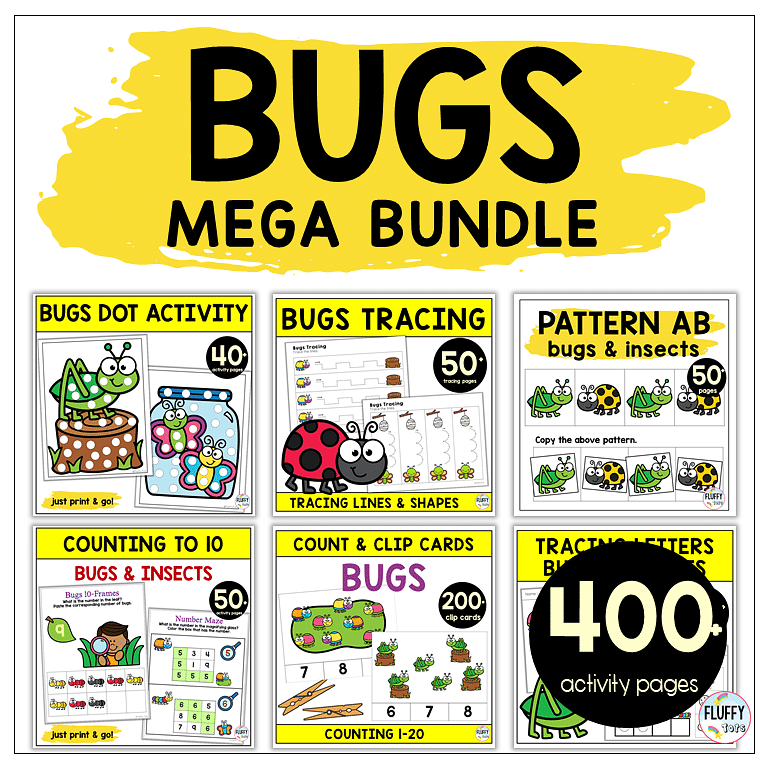 Letter of the week : Letter C & D
Since we'll be doing bugs, there are a lot of options such as; letter B for butterfly and beetle, letter C for caterpillar, letter D for dragonfly and more.
I'm planning to print 1 letter for each day and let my kids decide which activity they'd love.
Let's recap
For the month of February, we'll be doing 4 theme activities with some letter introductions.
The activities included are :
Groundhog's Day
Valentine's Day
Dental Health
Bugs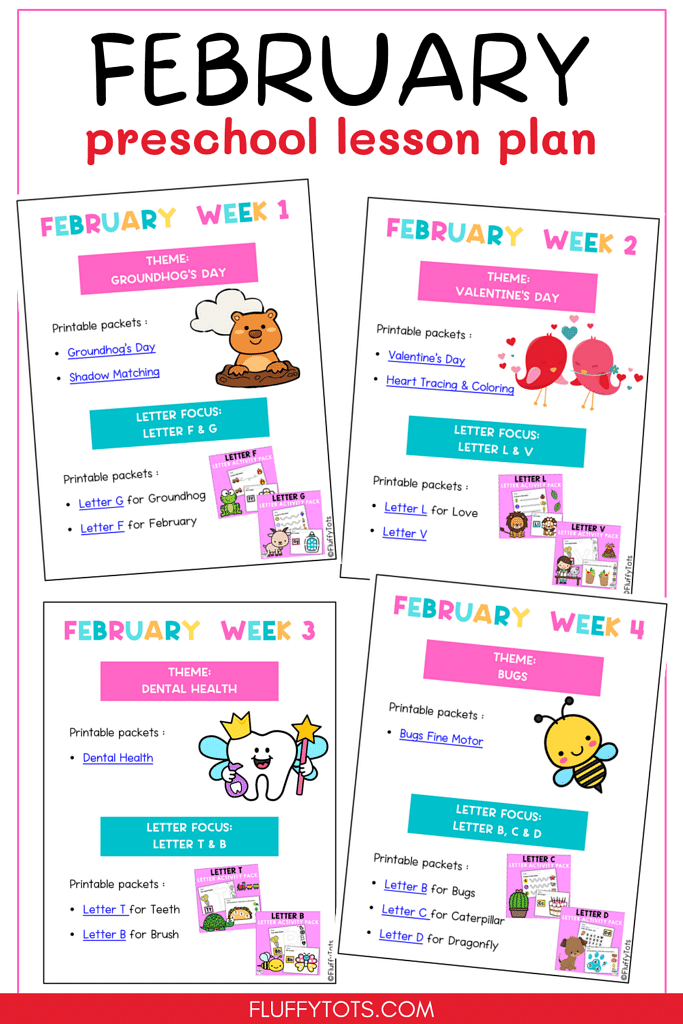 You can download the February preschool lesson plans here (include clickable links to related resources to help you prepare your month instantly)
Have fun planning & printing.