50 Pages of Fun Dental Printables for Toddler and Preschool
Little kids love to imitate grown-ups.
And so my little kids love to imitate us when we brush our teeth before bed. How about yours?
With Dental Health Week coming up in February, I thought it'd be perfect for us to dive deeper into the dental health topic, so I created the preschool dental printables for your kids and mine.
How to introduce dental health to children?
First and foremost, just make it fun.
We bought some cute toothbrushes, and let them squeeze the toothpaste by themselves – the kids love it.
If you're looking for printable activities for your Dental Health week, check out our fun activities below.
Sorting Activities
Your kids will get to sort by size, type, colors, and emotions.
All of these sortings will get your kids to practice their scissors-cutting skills, pasting skills (eye-hand-coordination), and sorting skills.
But if you're yet to allow your kids to use the scissors, you can pre-cut for them.
Sort by Size
Let's sort according to the size; which tooth is big and which is small.
The columns have hints, which are for the big items and which are for the small items.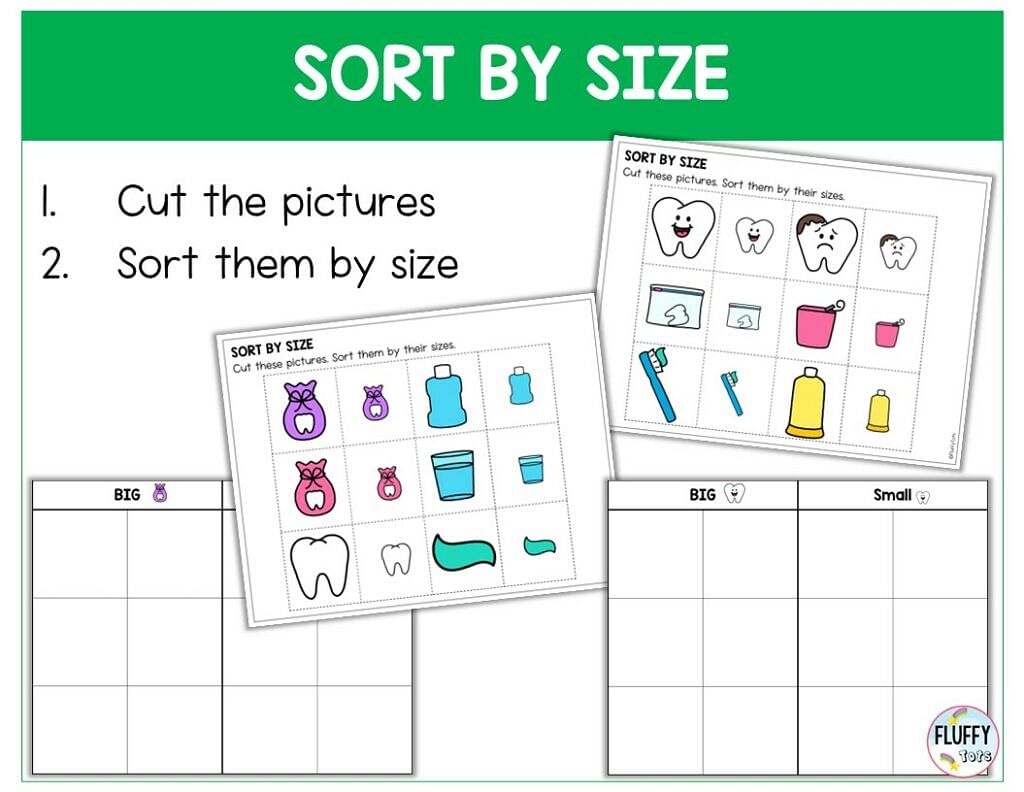 Your kids going to love it.
Happy Tooth, Sad Tooth
There are 2 parts of emotion sorting in this resource.
The first part is about sorting the happy tooth and the sad tooth.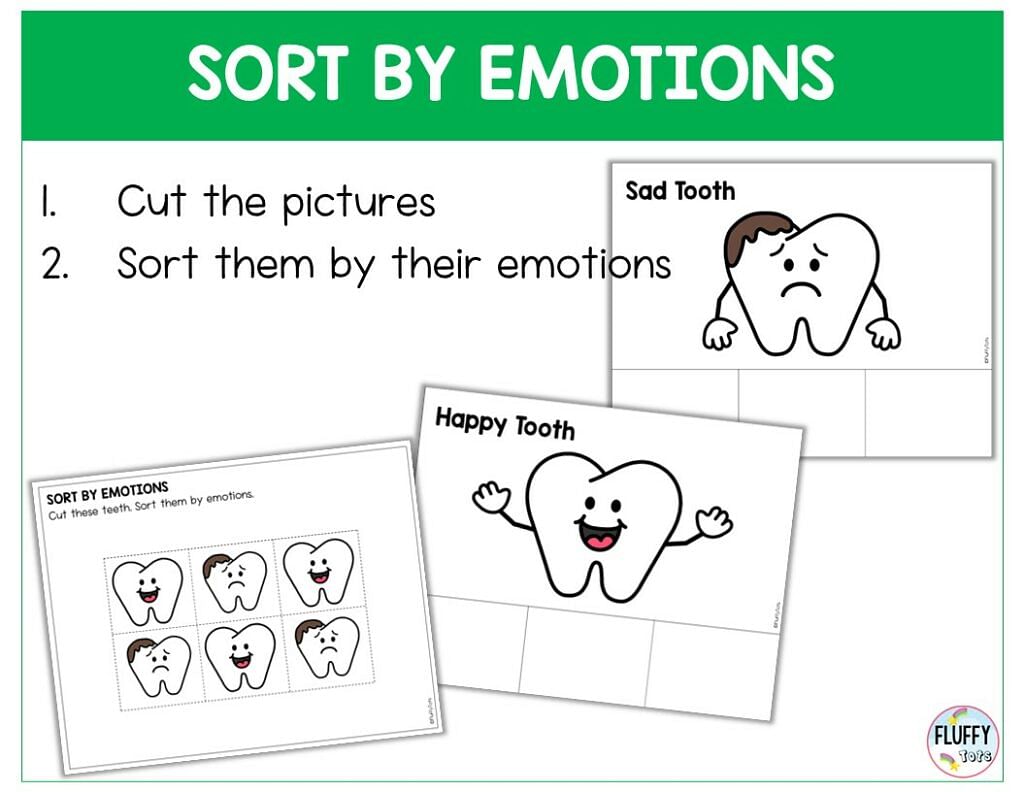 The second part is about educating your toddler and preschoolers about the food that's good for their teeth and bad for their teeth.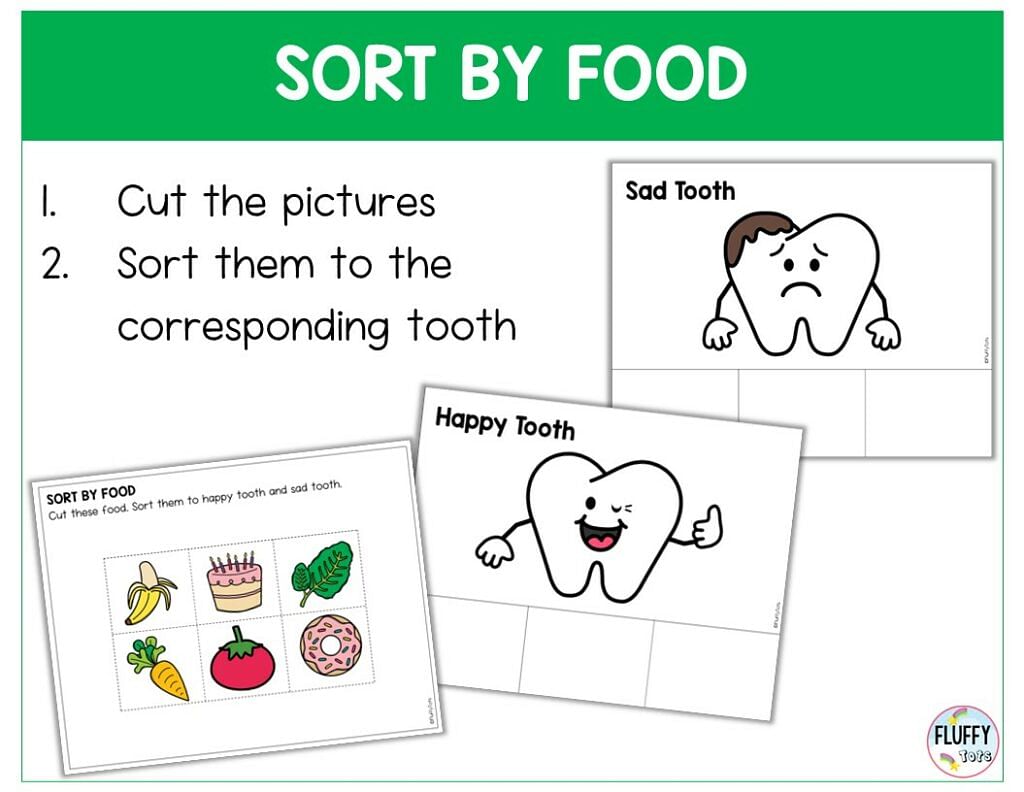 Candies and cakes are bad for their teeth.
Vegetables and fruits are good for their teeth.
So does that mean no more sweets?
It's up to you.
However, you can also advise them to limit their intake of sweets because, well, it's bad for our overall health, and to brush their teeth afterward.
Sort the Toothbrush
Your kids will get to sort which toothbrush & toothpaste belong to which color – similar to them sorting whose toothbrush is at the sink in your house.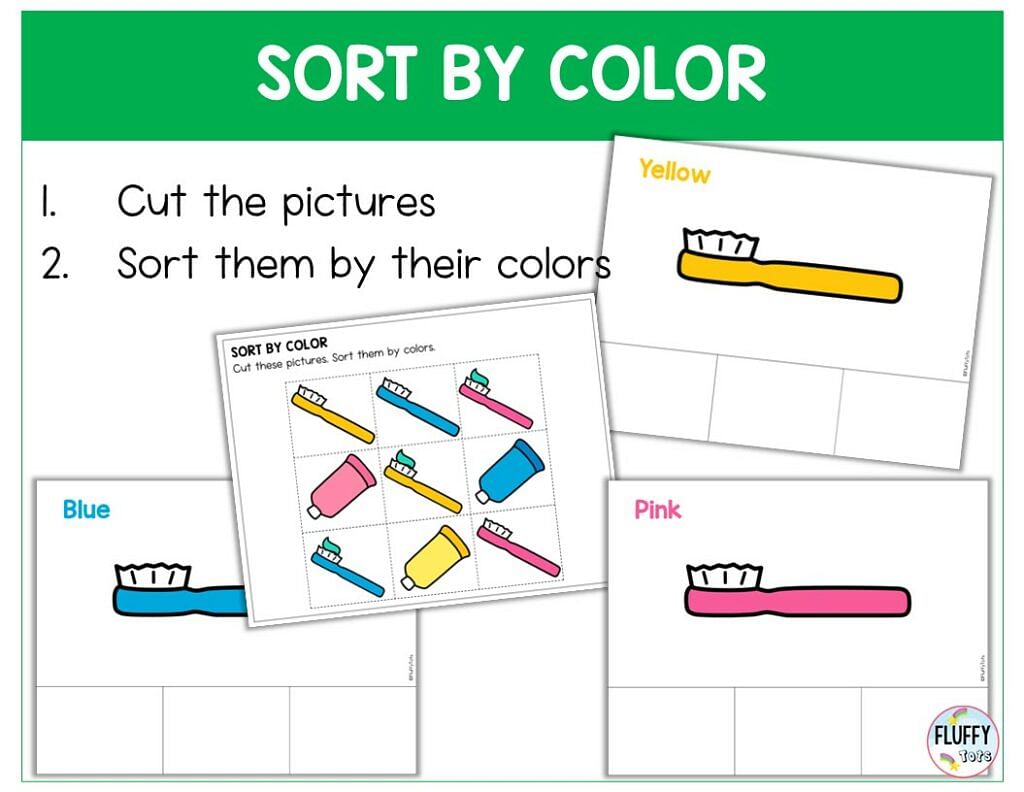 Sort the Dental Health Care
This activity is to help your kids learn categorization – which belongs to toothbrush, toothpaste, floss and mouthwash.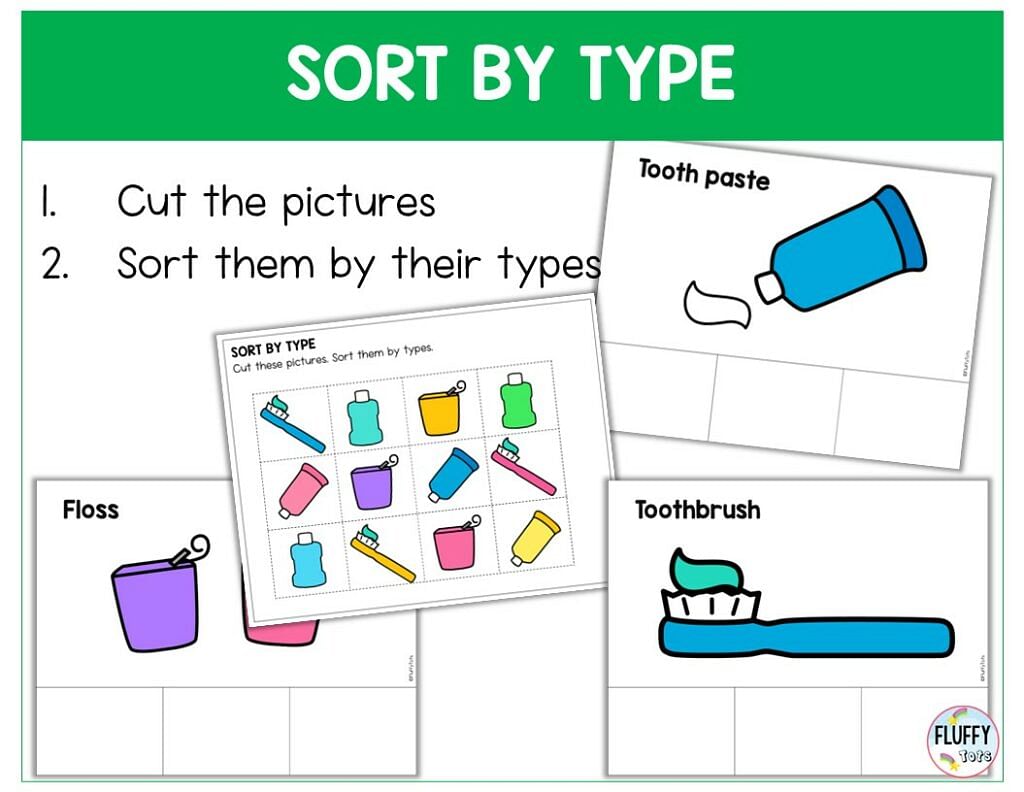 Who knows later at your sink, you'll see these neatly arranged to their group.
It'll be so much fun.
Cut and Sort the Toothpaste
This activity is about sorting shapes.
My 3-year-old loves to cut and sort shapes, so this activity is mostly for him.
Let your kids cut all the white shapes (let's pretend that they are toothpaste), then paste them on the corresponding toothbrush.
It's like they're putting the toothpaste onto the matching toothbrush.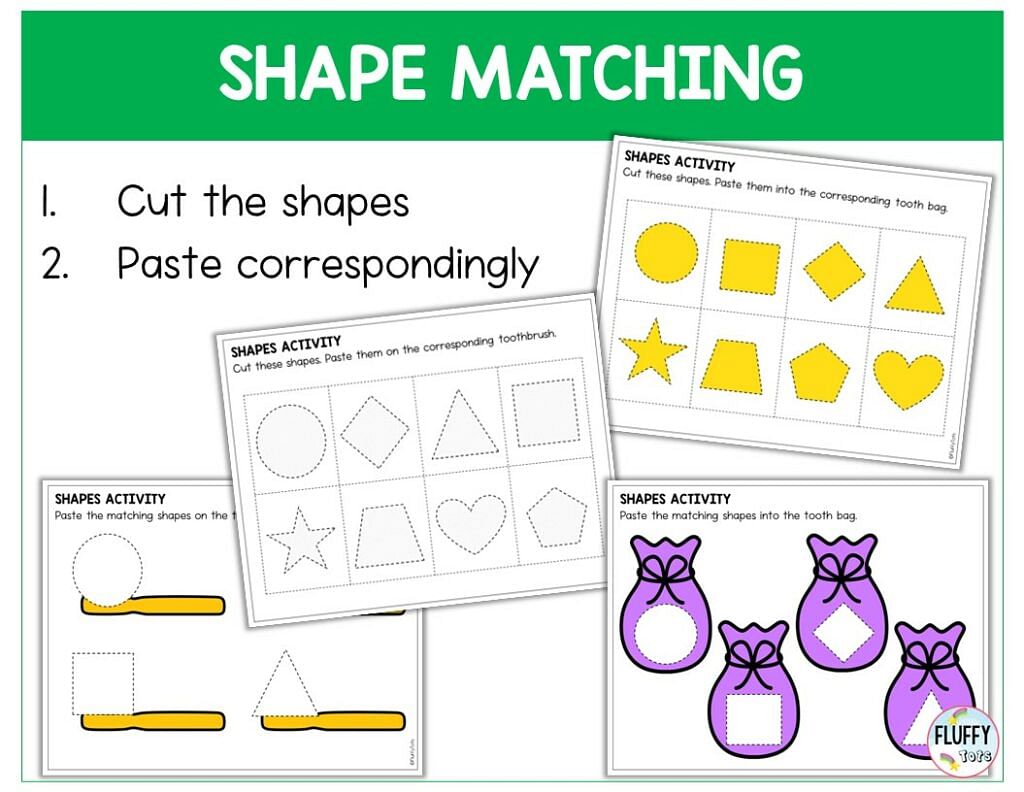 There is also shape sorting for tooth bags.
Let's pretend the yellow shapes are rotten teeth that are going to fall off at any time soon.
Your little ones are to sort the shapes into the corresponding tooth bag.
Trace the Teeth
Let's trace some shapes with the tooth fairy and more.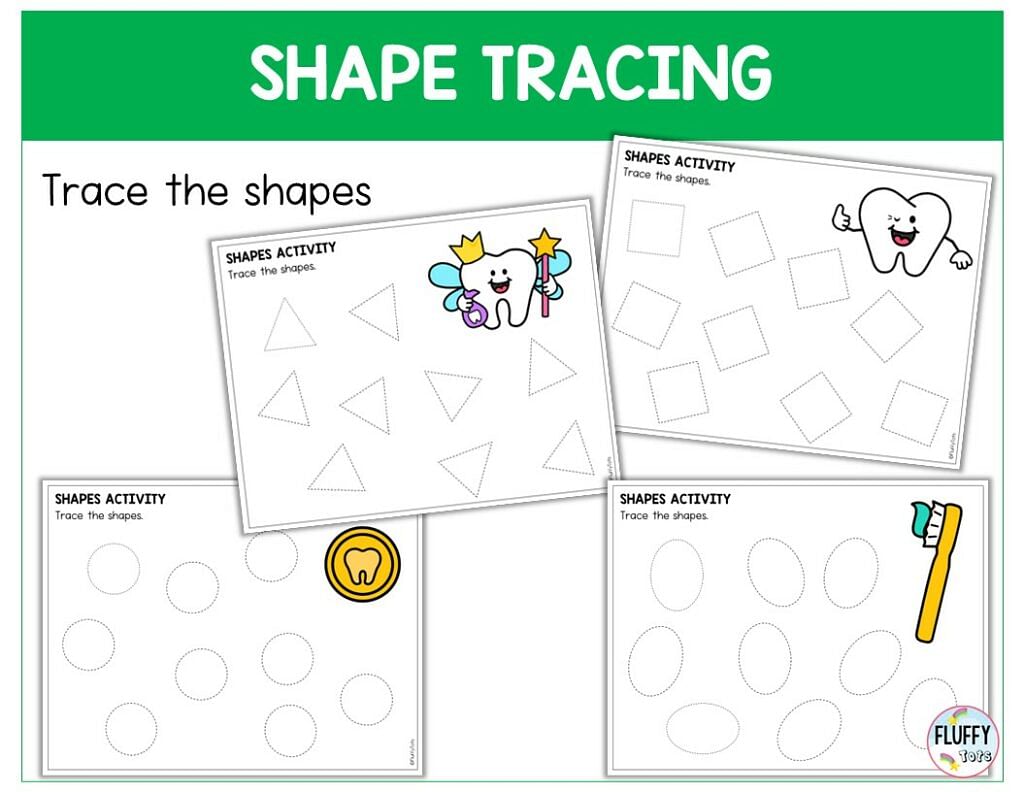 Fun Tips: You can draw fun faces in the shapes too! Or color in the shapes.
Cut Along the Lines
Your scissors-obsessed kids would love these activities, where they gotta cut cut cut and paste some more.
Cut out the happy tooth and paste them on a piece of paper – you can make a cute dental health scrapbook out of it.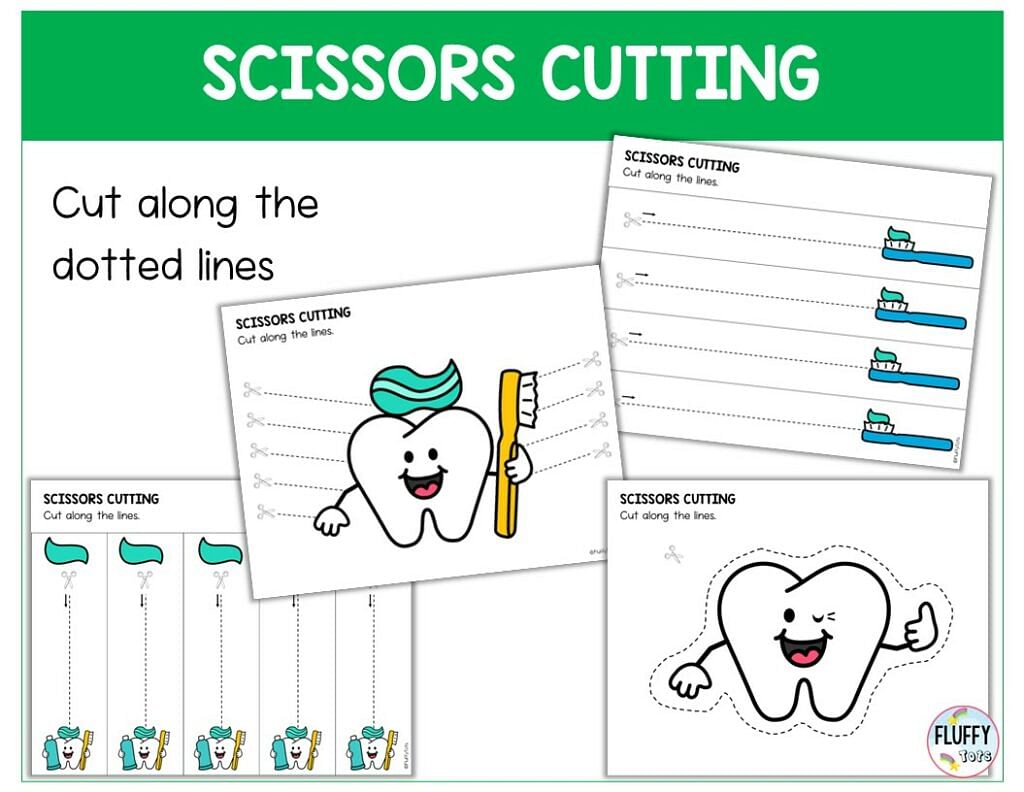 Match the Pictures
This is perfect for your young toddlers. Just cut and find the matching pictures.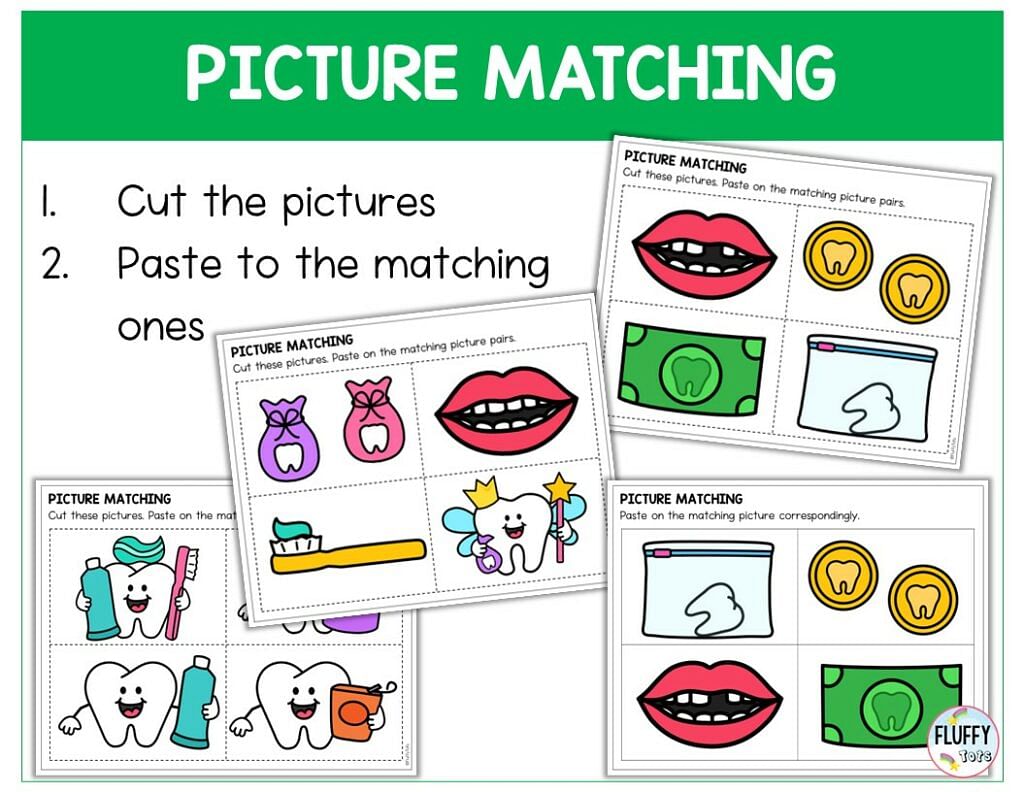 Solve the Dental Puzzle
All the puzzles are scrambled, making it super easy for you to prepare – you don't have to pre-cut anything, your kids will do all the cutting independently.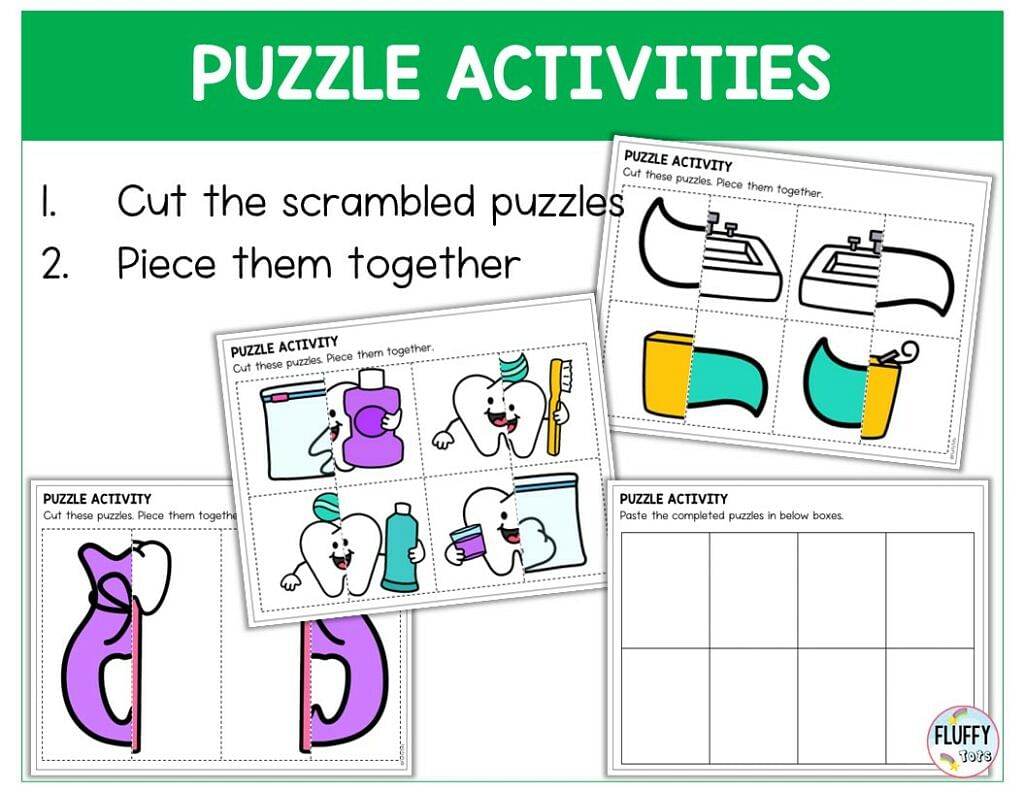 There are also empty boxes to guide your kids to paste on their completed puzzles.
Fun Tips: Make it a race, whoever got all puzzles completed first is the winner.
Dental Health Pattern
Let's copy some fun patterns and complete some dental health patterns.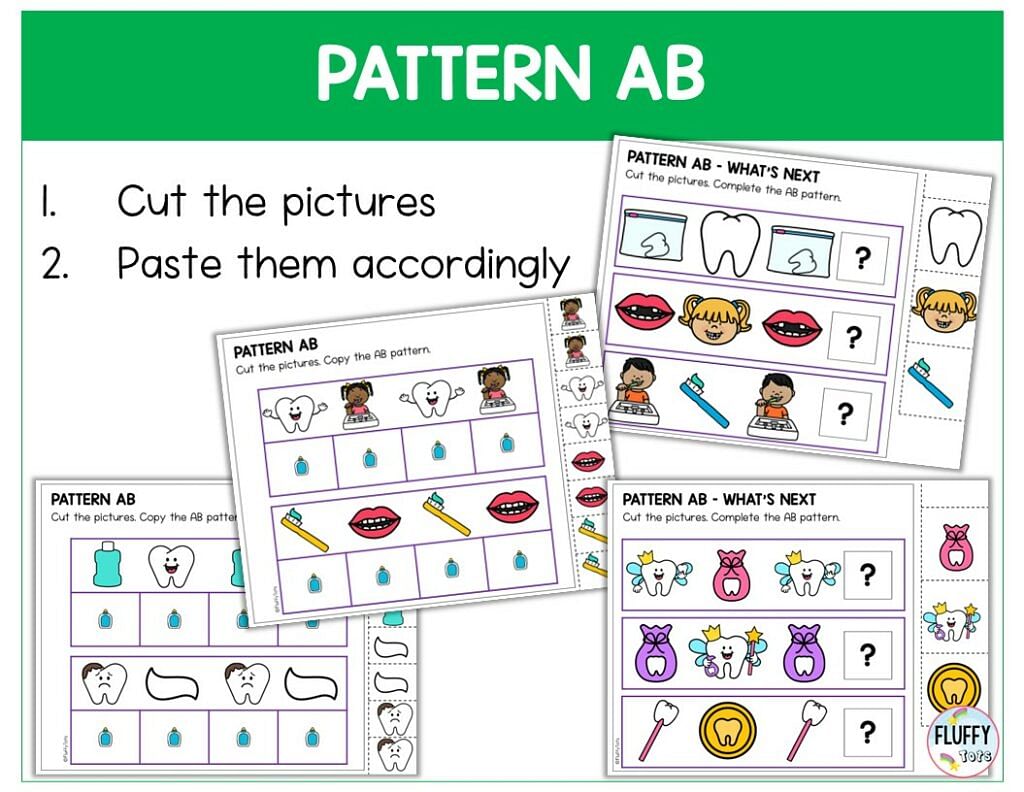 Dot Printables
You can use this with dot markers, or dot stickers, or fancy dental health themed stickers, or simply let your kids color in the dots.
This activity is perfect for visual discrimination & eye-hand coordination.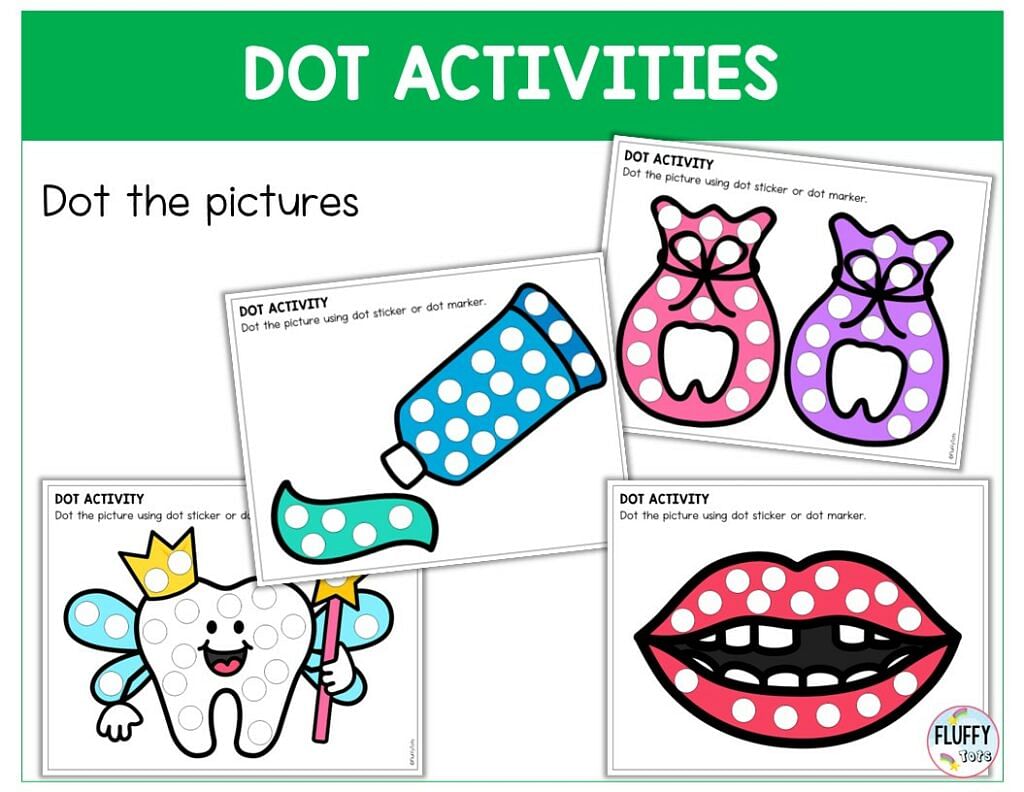 Letter Activities
We're going to do some simple letter activities that are mostly about letter recognition with some dental health things.
T is for Teeth
Your young learners will love this.
All they have to do is cut all the letters and paste them on the cute pictures.
Letter Sorting
Let's get the letters sorted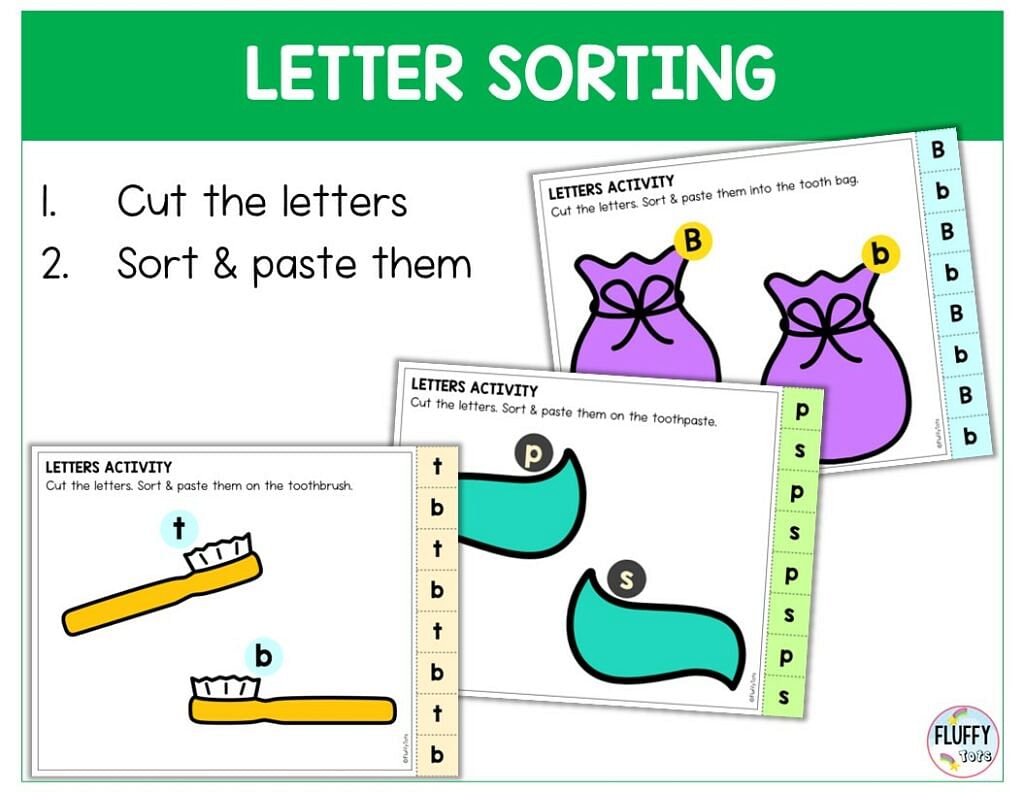 Ready for a fun Dental Health Week?
Shop Dental Printables pack
You can find all of the above activities in the Dental Health bundle activities here.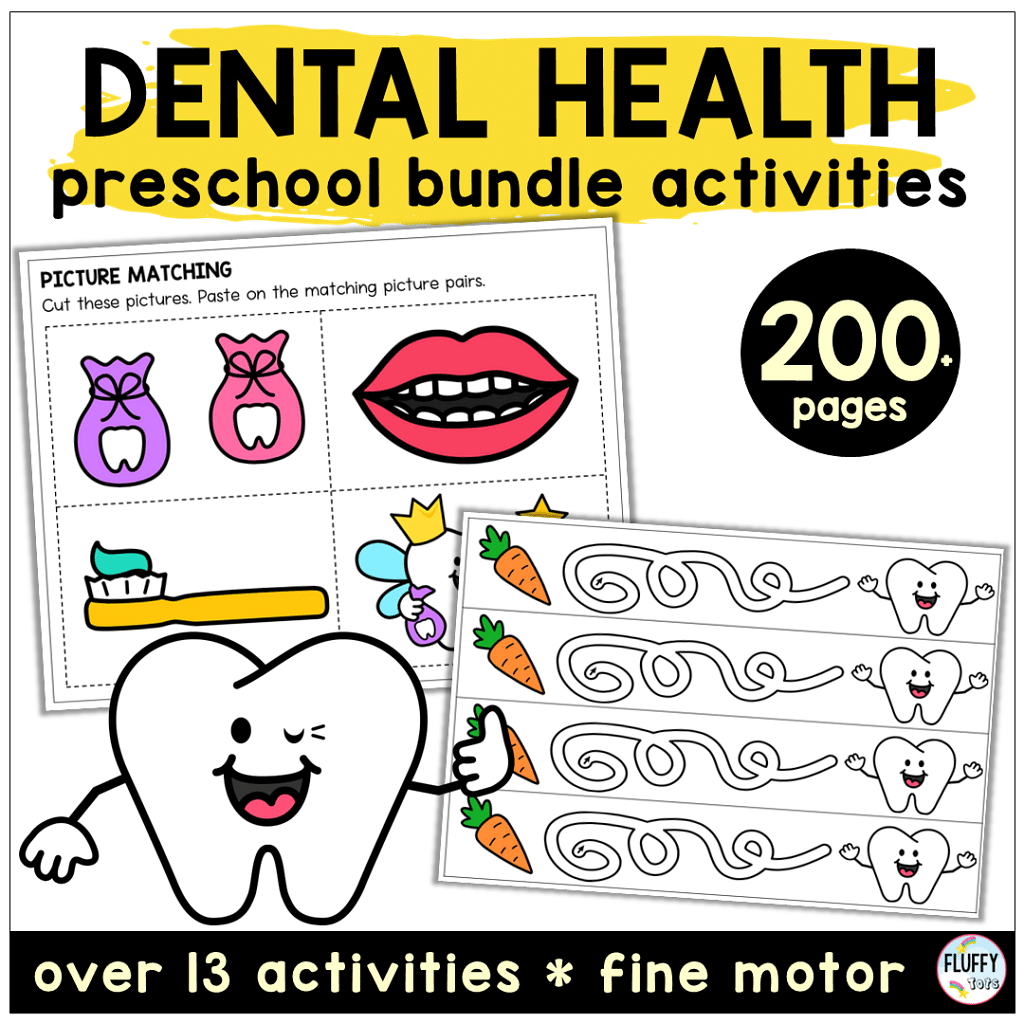 Shop Dental Printables Packet
Let's grab your scissors and glue, it's time for a fun Dental Health toddler & preschool activity.
Perfect for independent use.