70 Fun & Easy Heart Tracing Worksheet for Preschool Fine Motor
My kids love to write us love notes. This started even before they knew how to read and write independently.
One of my kids would pick a piece of paper and draw some people that represented "daddy and me". And she'd ask me how to write Hannah loves Abi.
Eventually, instead of writing "loves", she wanted to draw a heart to replace it.
It's a bit tricky to draw a heart because it has 2 curved lines, and a heart has 2 sides of the curved lines.
I'd draw a heart, and ask her to trace on my heart so that she can copy it to make her own.
Of course, she can't draw on her own for quite some time.
So I thought of why not we go back to practicing basic lines.
And here's where the heart tracing worksheet comes in.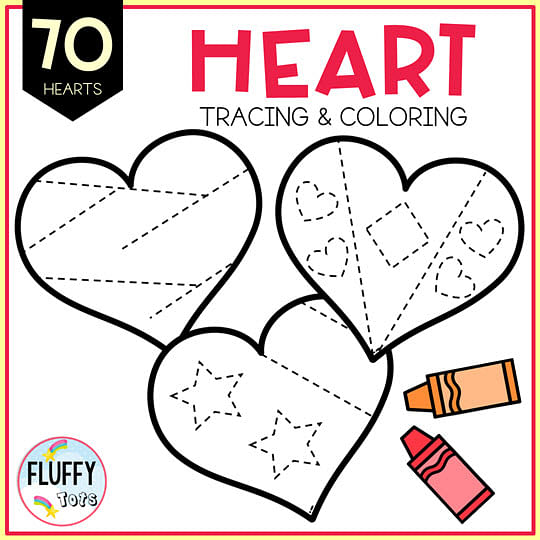 PS: This activity would work perfectly with your Valentine's Day lesson plan too.
But before that…
Before we dive into tracing and drawing the hearts, you might want to get these sorted:
Their pencil grip when they're tracing
The ability to copy the shapes
Tracing straight lines, such as horizontal and vertical lines
Ability to trace curved lines
In this heart tracing worksheet packet, your kids will practice tracing bit-by-bit and eventually have fun practicing fun hearts.
First, let's warm up by tracing the simple lines.
This includes horizontal lines, vertical lines, and more.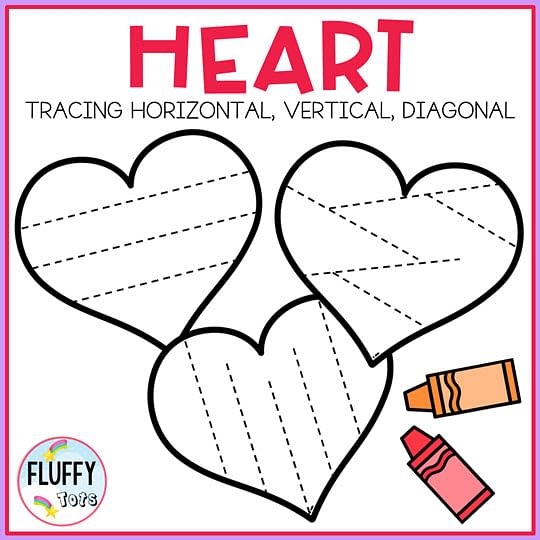 You might ask…
Why bother tracing lines that don't form the heart shapes?
It's essential to help your little ones' finger muscles to get used to properly gripping the crayons and tracing.
If they can do the easy straight lines, it'll be a piece of cake for them to trace the hearts.
Don't worry; these lines in the hearts are short and make many fun heart designs.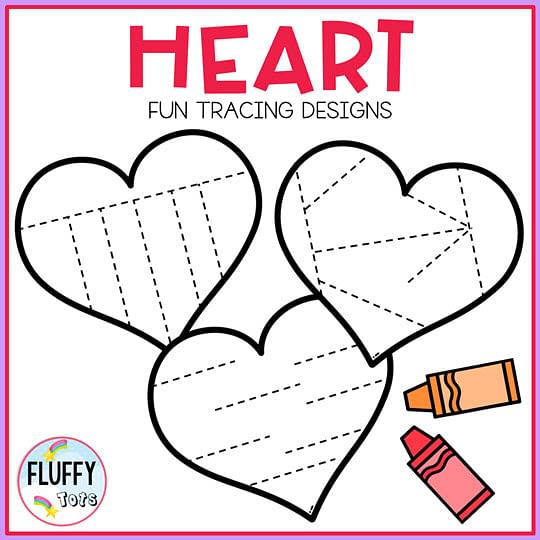 Your kids will be enjoying their tracing practice that they'd definitely ask for more.
PS: To make things more fun, let them trace using a few different colors and color in the hearts
Next, let's practice tracing the shapes in the heart.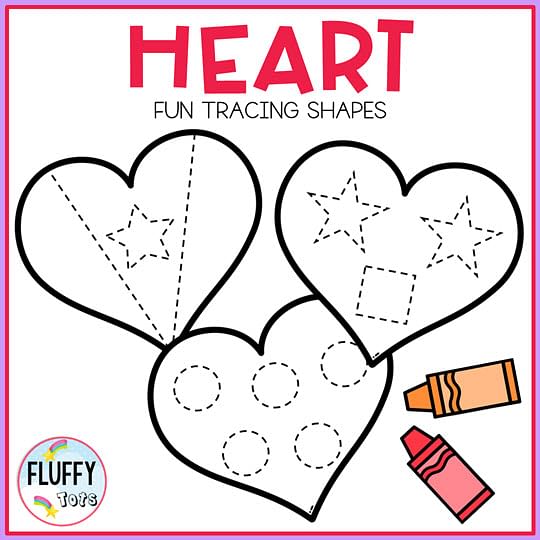 Shapes are the combination of a few lines. For instance, the square shape is made up of vertical and horizontal lines.
It's time for curved lines
Now it's time for your little ones to level their skills, and that's by practicing tracing the curved lines.
This heart tracing worksheet packet has lots of fun curved lines in hearts.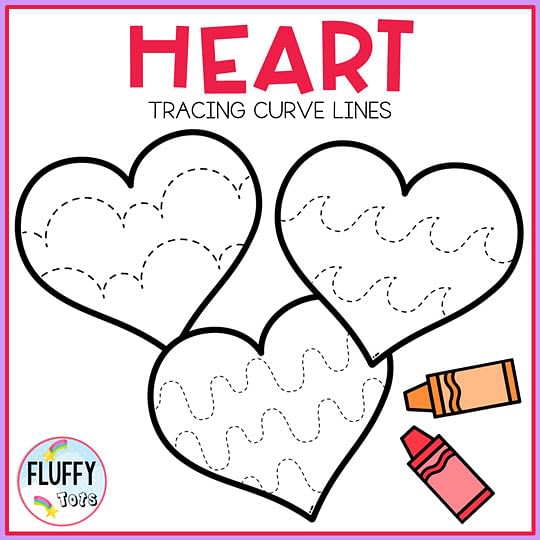 Some of them look like ocean waves; some look like the lines on the vital sign monitor at the hospital.
Most important of all, they all look fun.
Finally…
It's time to trace the hearts.
What are heart tracing worksheets without tracing the hearts themselves, right?
For a start, you'll get to trace a lot of little hearts. Little curved lines help your kids to warm up and gain confidence.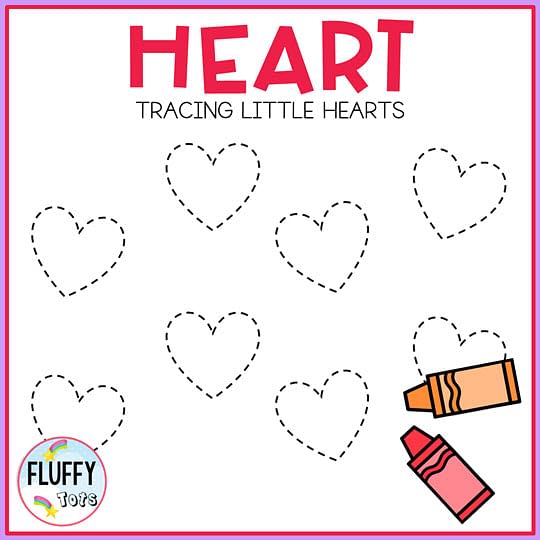 Next, let's trace the large hearts.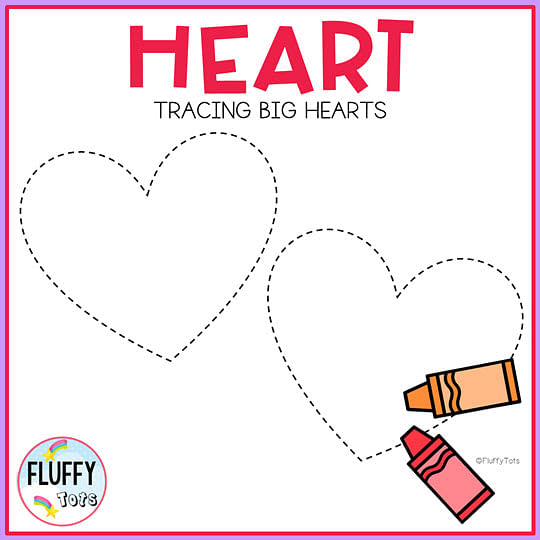 And finally, it's time for fun with more heart-tracing pages.
There are a lot of hearts to be traced. Your little ones will have fun:
Tracing hearts in the jar
Tracing butterflies that are made of 2 hearts (ain't they cute?)
Tracing balloon hearts
Tracing hearts that come out of a mailbox
Tracing hearts on the love notes (you can use this as a love note template too)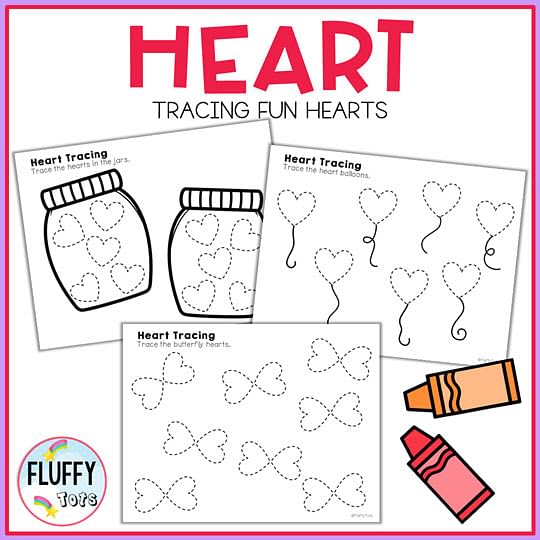 I hope with all these heart tracing; your little ones will get used to how to trace and draw their own heart.
But if at any point you find that your kids are struggling to trace the heart shapes, I'd recommend that you go back to practicing tracing simple direct lines or tracing the mixed curved lines.
Make it fun.
Draw some faces in the hearts, or
Color them with many different fun colors, or
Write their names in the hearts.
It won't take long; your little ones will eventually draw the heart in a heartbeat.
It's time for fun heart shape tracing practice.
Try Heart Tracing Mini-Freebie
Subscribe to download a mini free Heart Tracing Worksheet to your computer.
Shop Heart Tracing Worksheet Packet
Let's have fun tracing with Valentine's Day Heart tracing packets…