78 Pages of Fun Polar Bear Tracing Letters Preschool Activities
If you're looking for a fun tracing letters worksheet for your winter lesson plan, this Polar Bear tracing letters preschool pack is your must-have.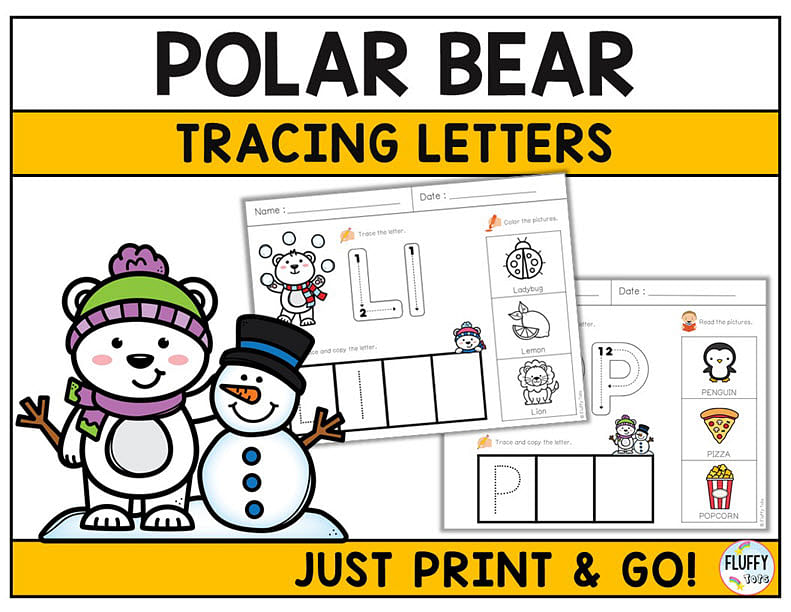 There's a cute polar bear to accompany your kids while tracing the alphabet on each page.
Your little learners will get to trace all the letters A-Z, both uppercase and lowercase letters.
Let me share a bit about how I teach tracing letters to my kids.
How I Teach Tracing Letters
I observed that my little kids find it easier if I teach them the ABC letters bit by bit.
There are a total of 52 letters if you total both uppercase and lowercase letters.
For little learners, I would suggest that you start by introducing uppercase letters.
Why start with uppercase letters?
Because they are easier to trace and copy.
If you see the formation of the letter 'A' or the letter 'M'; you can clearly see that they are made up of easy diagonal lines and straight lines. And these lines are easier for little hands to follow.
Compare to their lowercase letter pair 'a' or the 'm'. These lowercase letters have more curves which are trickier to trace and copy.
So this Polar Bear Tracing Letters packet is created so that your little ones would be able to trace the letters starting from the easiest form to the most challenging.
⭐The 3 steps :
The letter tracing in this packet breaks the learning process into 3-steps :
Step #1 : Tracing ONLY uppercase letters, from letter A – Z
Step #2 : Tracing ONLY lowercase letters, from letter a – z
Step #3 : Tracing BOTH uppercase & lowercase letters, from letter Aa – Zz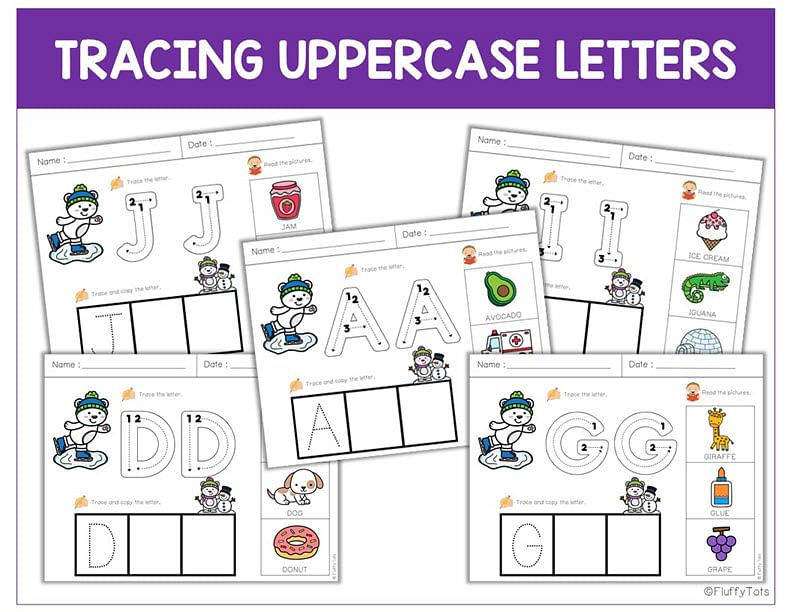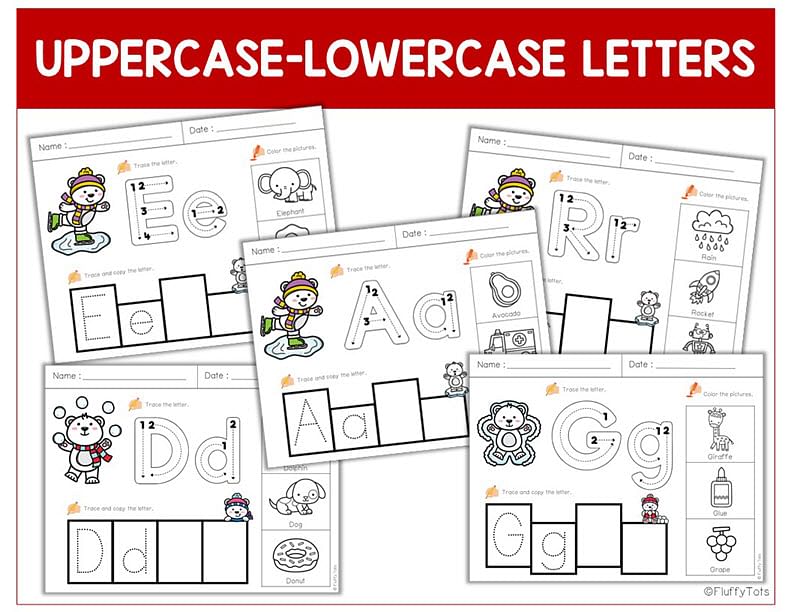 ⭐Few tracing options :
Because repetitive activity might bore little kids, we have to spice up the tracing activity a bit.
So to make tracing letters more fun, each tracing page has 3 tracing options, this includes:
Tracing the large letters with guided arrows
Tracing the letters in the box
Copy the letters in the empty boxes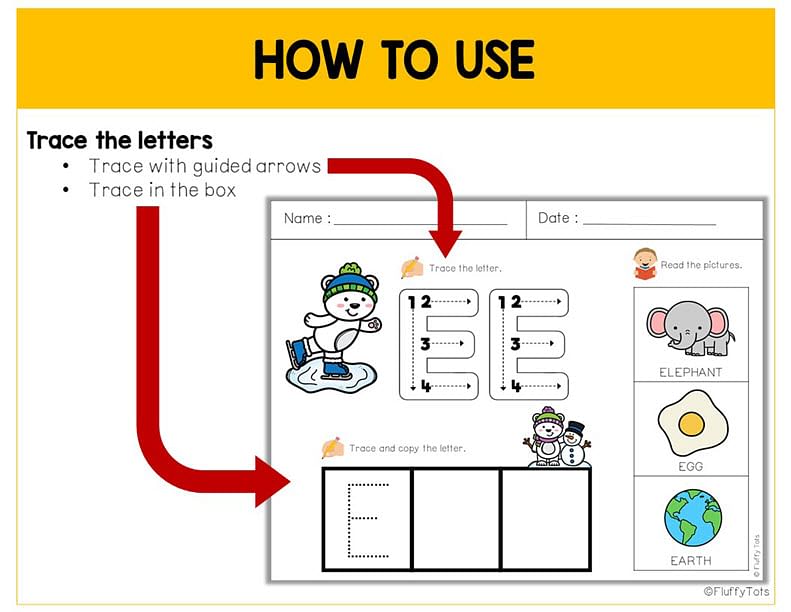 Notice the cute polar bear and its snowman friend, I hope your kids will get motivated to keep on practicing with their appearance.
⭐ Simple Tips to Start
If this is your kids' first time practicing tracing letters, I recommend that you first show them how to trace.
First, show them how to trace with the guided arrow – we trace from top to bottom following the number and arrow. Trust me; some kids would just trace from bottom to top, ignoring the arrow.
PS: It's fine to trace from the bottom, but we want our kids to practice correct writing practice so that they can write faster & more accurate in the next few years.
Second, trace the letters together.
Next, let them trace the letters on their own.
Comes with Beginning Sounds Pictures
To get your little ones to get excited while tracing the letters, each letter tracing worksheet in this packet comes with 3 Beginning Sounds pictures.
Let me share below how to use the pictures to add more fun to your tracing alphabet practice.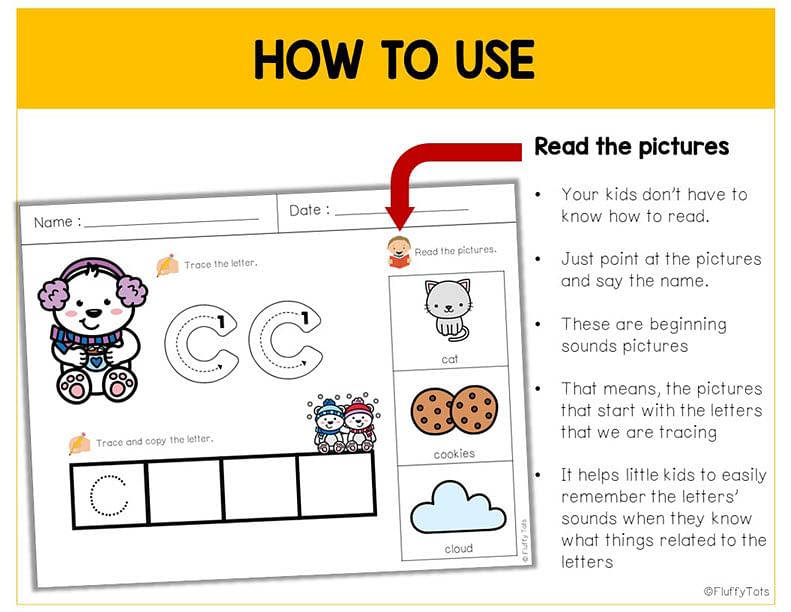 Pictures also help young learners to easily relate to the sound of each letter while tracing the letters.
But, what is Beginning Sounds Pictures?
It's the picture that its beginning sound has the sound of the letters.
For example, for the letter C, we have the picture of a cat, cookies and a cloud. You can see that all three of these has beginning sounds of 'ck'.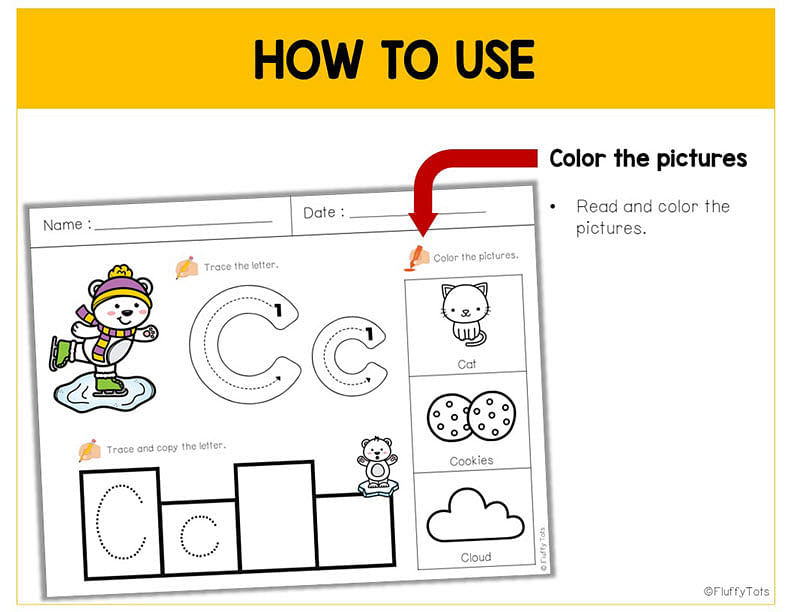 Ready for a fun letter tracing activity?
Shop Polar Bear Tracing Letters Packet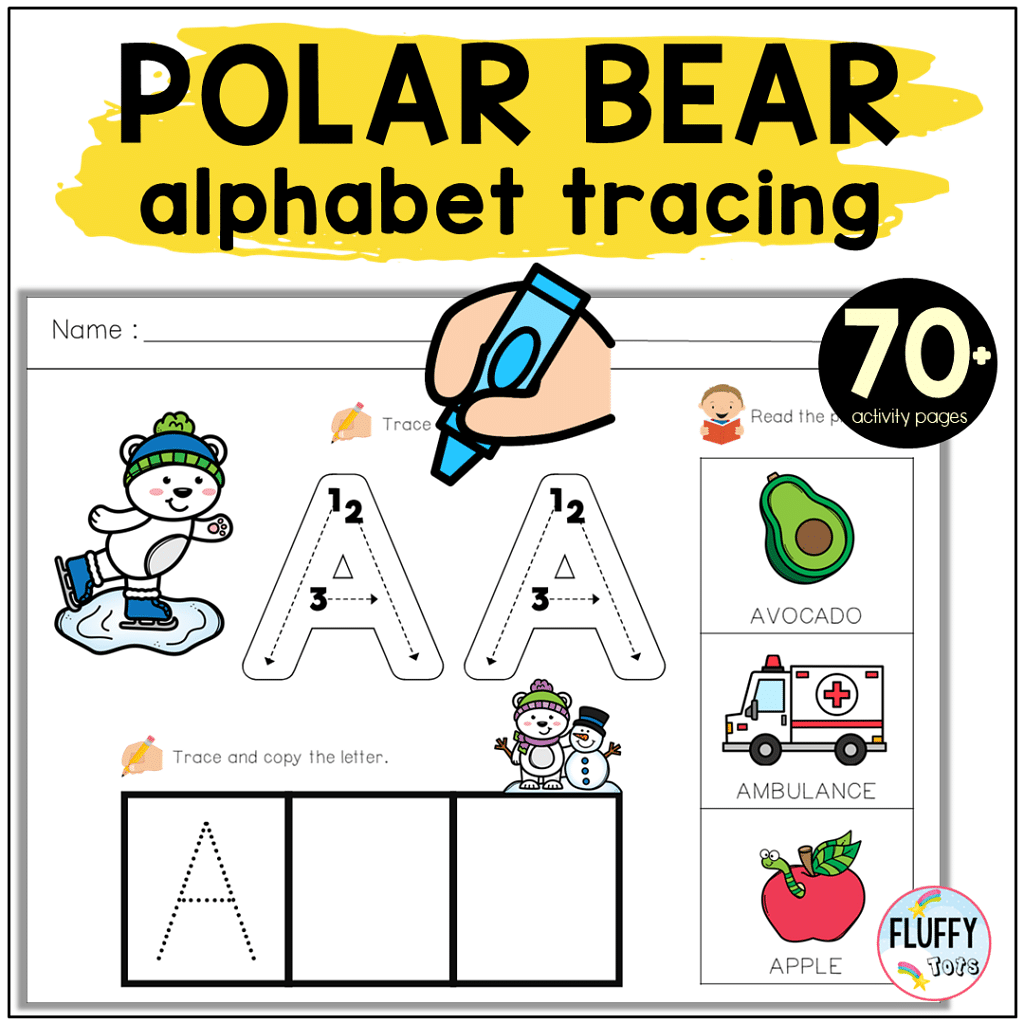 More Tracing Letters Activities
For more themed tracing letters activities, keep reading these blogposts:
More Polar Bear Preschool Printables