60+ Pages Fall Printable Activities That Will Help First Day School Jitter
The first few days of school are always challenging.
You might find it a struggle to get your kids to settle in the class; the many kinds of tantrums and crying…
Perhaps you also have to juggle the many demands of the parents and what-not.
Here's what you need to know, you're doing fine.
Let's take one step at a time.
To help you to get your kids sorted, I have the Fall Printable Activities packet to keep them busy for you.
Jam-packed with tons of cut-and-paste activities, your kids will turn from throwing tantrums to the calmer kids in the morning.
Let me share the activities that your kids will have fun with.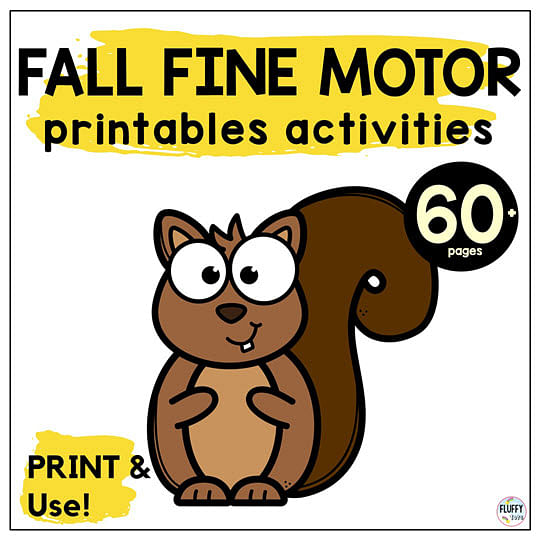 60+ Pages Fall Printable Activities for Preschool
Let me share a sneak peek of the activities in this fun resource.
The Fall stuff included in this packet are sunflowers, scarecrows, leaves, cute squirrels, and more.
Fall Theme Visual Discrimination Activities
This activity helps your kids to identify similar objects and classify them. This Fall theme activity packet includes picture matching, shadow matching, and shape matching activities.
My toddler loves this part of the activity! And she's one of the reasons why I created this resource.
If your kids are practicing their scissor cutting and pasting skills, these activities are the best for them.
It's simple yet perfect for fine motor practice.
#1: Picture Matching Cut and Paste
Have your kids cut the Fall pictures, then paste them onto the corresponding matching picture.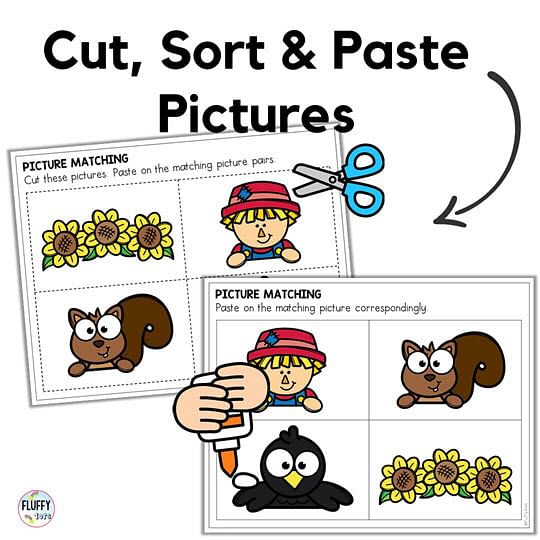 This works well with toddlers aged 3-5. Your older kids will love this too!
#2: Shadow Matching Cut and Paste
I thought this was hard for my 3 years old, but she proves that she loves shadow matching to bits!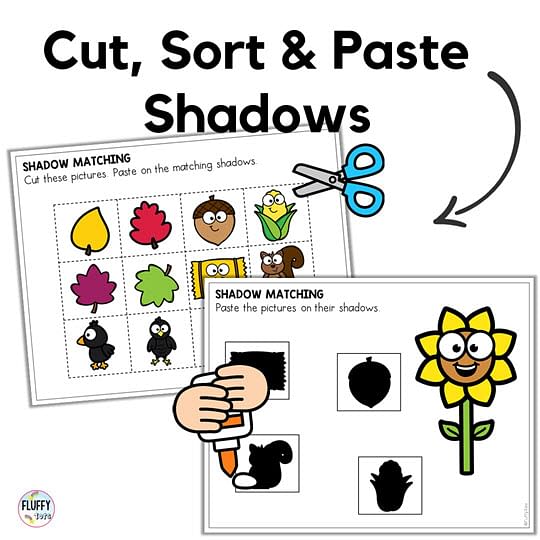 I think little ones love shadow matching because it challenges them to find the
#3: Shape Matching Cut and Paste
Cut the shapes, and paste them correspondingly.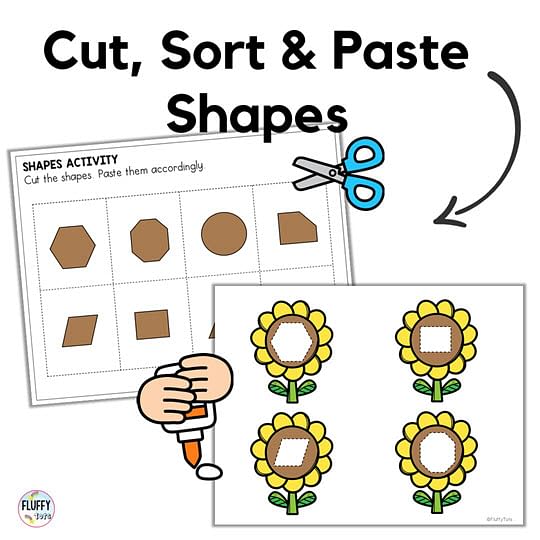 This activity is similar to sorting toy activities. Still, your kids will love this because they'll get to play with the scissors and glue!
Fall Theme Sorting Activities
There is a handful of sorting activities in this Fall Preschool and Toddler packet. This includes sorting by color, sorting by size, and sorting by type.
#1: Sorting by Color
Let's sort the apples by their colors!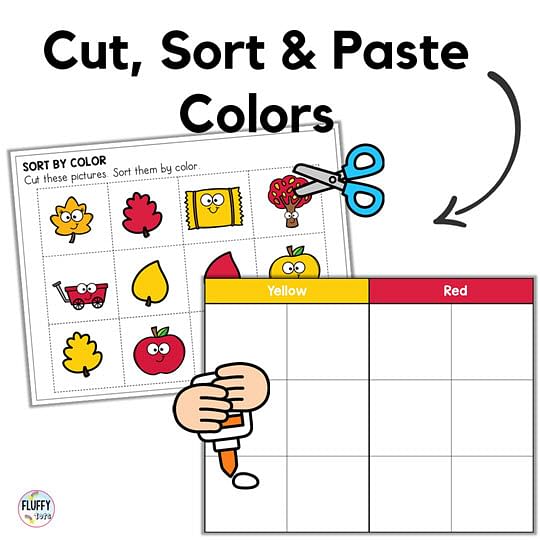 These Fall things have bright and bold colors, making them perfect for your toddler and preschool kids to practice visual discrimination skills.
#2: Sorting by Size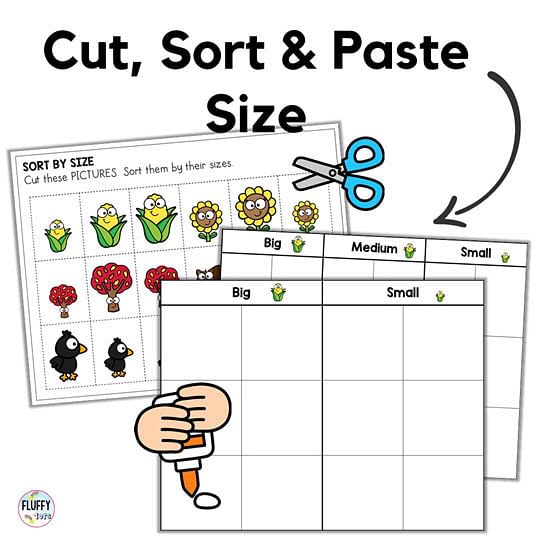 Your toddlers will surely love this activity; sort the Fall pictures according to their sizes, big or small.
#3: Sorting by Type
This activity is about sorting the types of the Fall animals.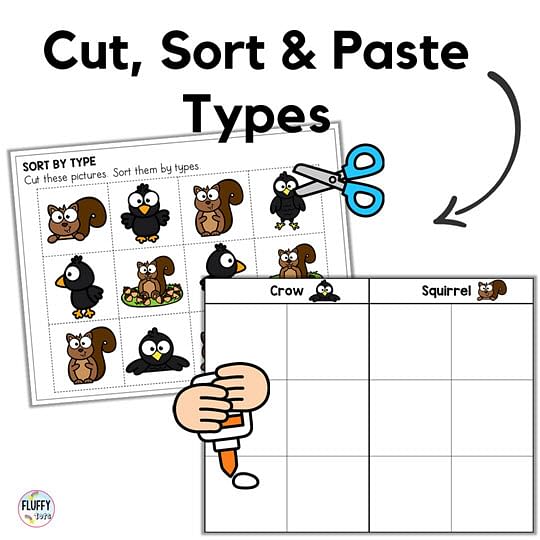 Your kids will have fun sorting the crows and squirrels.
Fall Theme Math Activities
If your kids don't know how to count their numbers yet, the math activities in this worksheets packet are perfect for them.
We'll be practicing the skills needed for math, such as finding the odd ones and patterns.
#1: Odd Ones
Your kids will have fun searching for which Fall things are different from their friends.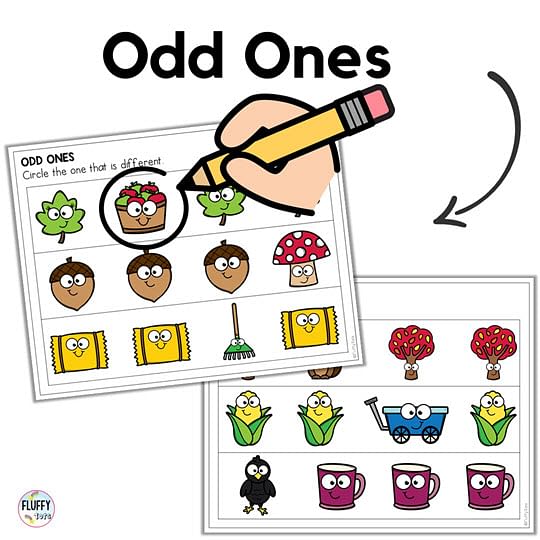 #2: AB Pattern
Let's have fun cutting and copy-pasting the Fall AB patterns!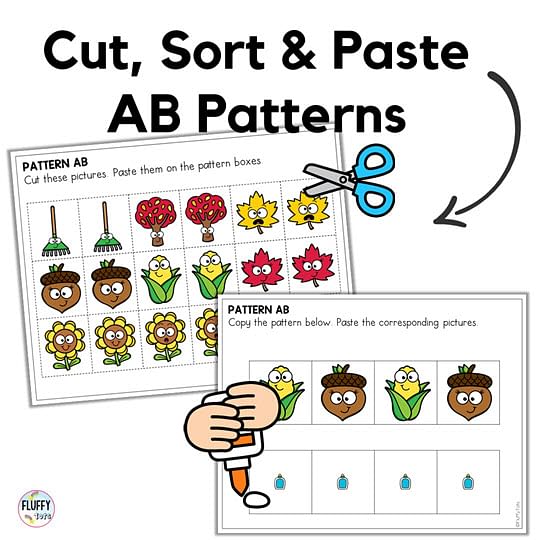 Ready for fun Fall theme week?
Shop Your Fall Printable Activities Pack
Grab your scissors and glue and shop the Fall Printables Activity Pack for your kids here.
Your kids will be so busy and excited that you'll smile looking at the day you grab this Fall worksheets pack.

Have fun!