70+ Pages Exciting Preschool Space Theme Printables
When planning for preschool theme activities, you'll rarely go wrong choosing any of these themes; Dinosaur, Space, Farm Animals, or Ocean Animals.
Having said that, you'll love our Preschool Space Theme Printables pack. Jam-packed with cut and paste activities; your kids will love it to bits!
For my kids, they love that this Space theme printables pack helps them to get to know more about the moon, the stars, and fancy planets.
About the Preschool Space Theme Printables Pack
We used to do the activities in this packet once in a while, especially when observing the changing moon phases.
Let me share a sneak peek of our fun Space theme activity packet.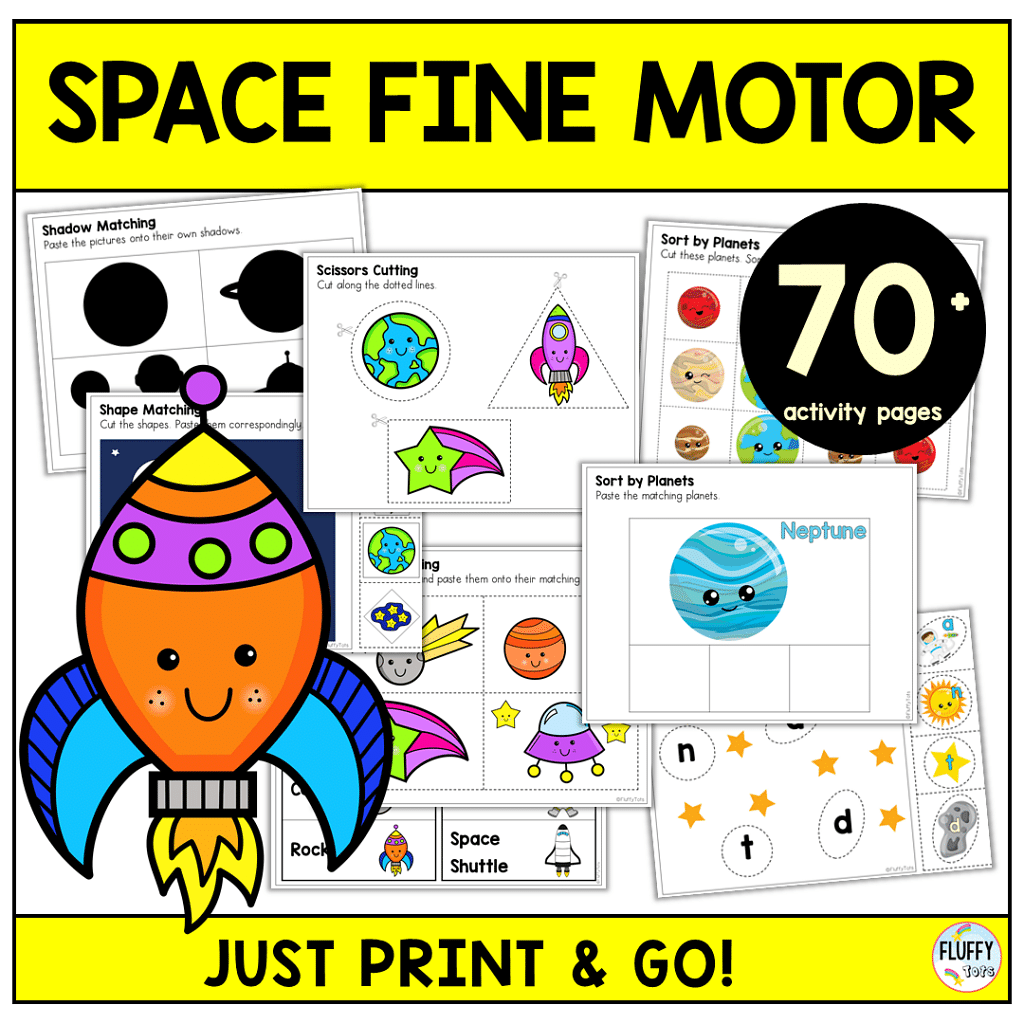 Let's Get to Know the Outer Space
For an introduction, your kids will get to know the names of planets and other planet things.
While your kids might already have watched countless YouTube or documentaries about Space, they'll always find it exciting to do printable Space activities.
This type of activity would allow them to brag about their knowledge about Space.
My kids love to brag with me, ha!
#1: Space Posters for Preschool Kids
These Space Posters are to introduce the Space vocabulary. Or you can turn it into Memory Game!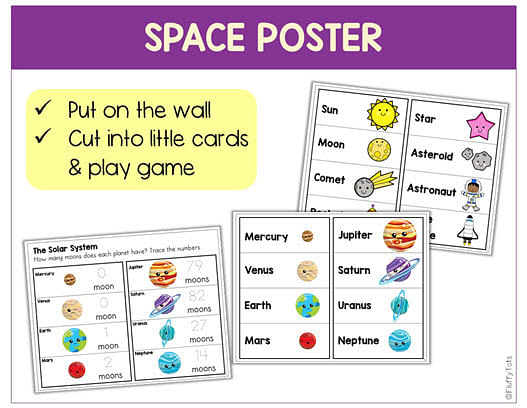 P.s: Tips for Memory Game – Print 2 copies of this Space Poster and you are ready to go!
#2: Solar System Labelling
Have your kids refer to the previous Space poster and Solar Systems big picture, then let them copy and label the planets.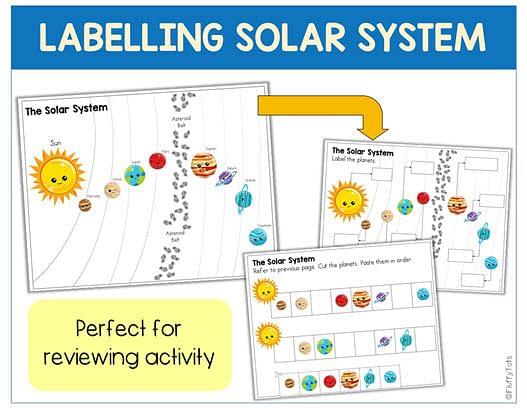 They'll also get to cut and paste the planets in sequence.
Space Theme Visual Discrimination Activities
While visual discrimination might sound techy or complex, don't worry, the activities are very simple that your toddler kids will keep on asking for more!
Visual discrimination activities included in this Preschool Space Theme Printables :
Shadow Matching
Picture Matching
Shape Matching.
My toddler loves these kinds of activities.
It's perfect for your kids who are practicing their scissors cutting skills as well as glue pasting skills.
They'll get highly motivated to keep on practicing the skills once they found some fun tasks that go well with what they're currently practicing, and that is the Space theme printables matching activities.
#1: Picture Matching Cut and Paste
Have your kids cut the Space pictures, then paste them on the corresponding matching picture.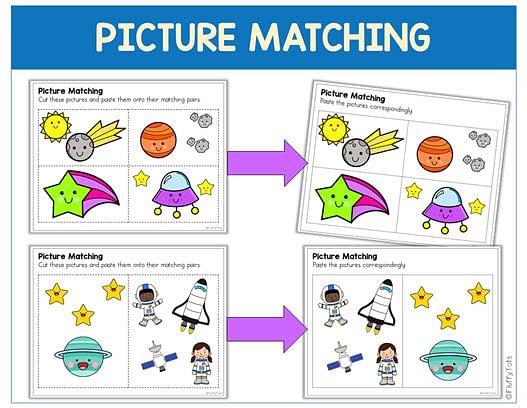 This works well with toddlers aged 3-5. Your older kids will love this too!
#2: Shadow Matching Cut and Paste
I thought this was hard for my 3 years old, but she proves that she loves shadow matching to bits!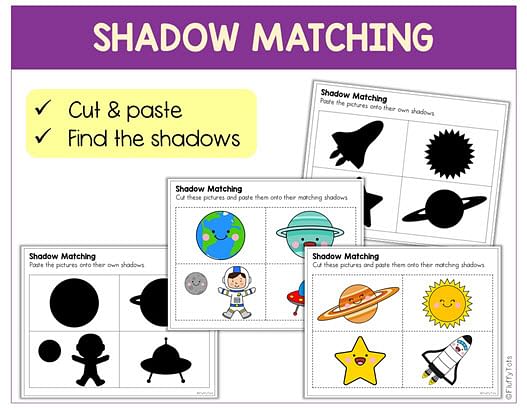 #3: Shape Matching Cut and Paste
Cut the Space images in the shapes, paste them accordingly.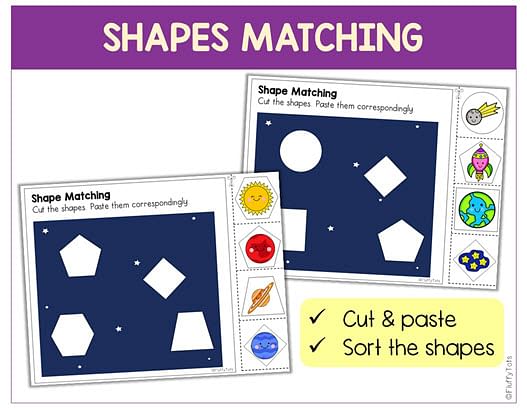 This activity is similar to sorting toy activities. Still, your kids will love this because they'll get to play with the scissors and glue!
Space Sorting Activities
There is a handful of sorting activities in this Space Theme Printables packet. This includes planet sorts and sorting by size.
#1: Sorting by Planet
Let's sort the adorable planets by their types!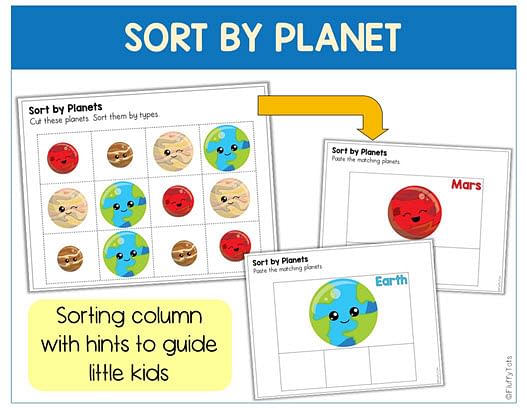 #2: Sorting by Size
Your toddlers will surely love this activity; sort the Space pictures according to their sizes, big or small.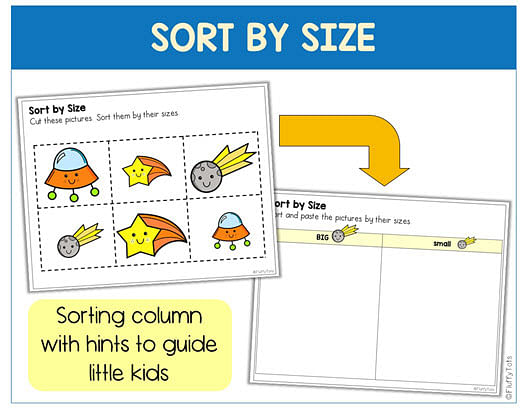 Space Themed Letters Activity
There are two fun letter activities in this packet
#1: Space Letter Recognition & Letter Tracing
Have your kids identify the big lowercase letter, and circle its similar letters floating around the picture.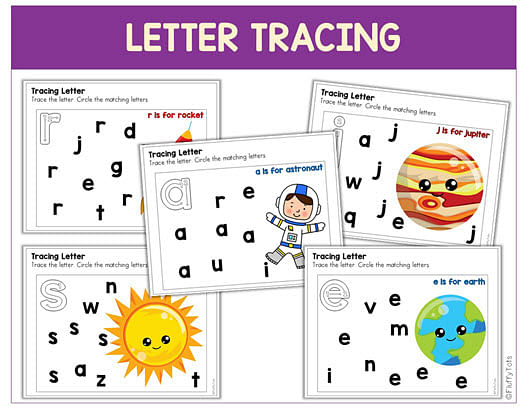 Don't forget to trace the letters!
#2: Letter Matching
Cut the Outer Space pictures with letters, then paste them on the matching letters.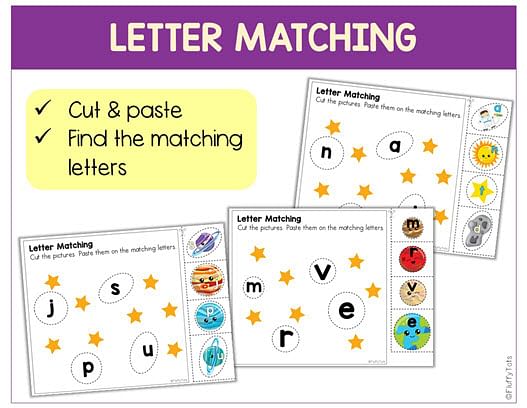 This activity is more like a picture matching or shadow matching activity, but we're doing letter matching this time.
Ready for fun preschool Space theme week?
Shop Your Preschool Space Theme Printables Pack
Grab your scissors and glue and shop the Space Activity Pack for your kids here.
Have fun!