Apple Patterns Printables : FREE 4 ABAB Patterns
Pattern is one of the math skills needed for kids.
For kids to be able to recognize the pattern in skip counting such as '2,4,6 etc' or the '10, 20, 30,..' in order for them to be able to count to 100; mastering pattern is one of the must.
Little kids already play patterns in their daily life by arranging toys, blocks and more.
If you are looking for pattern worksheets for your preschool or kindergarten kids, you don't want to miss our Apple pattern activities.
P.s: I also have Fall Leaves pattern activity here and Pumpkins pattern printable (these link opens in new tab for you)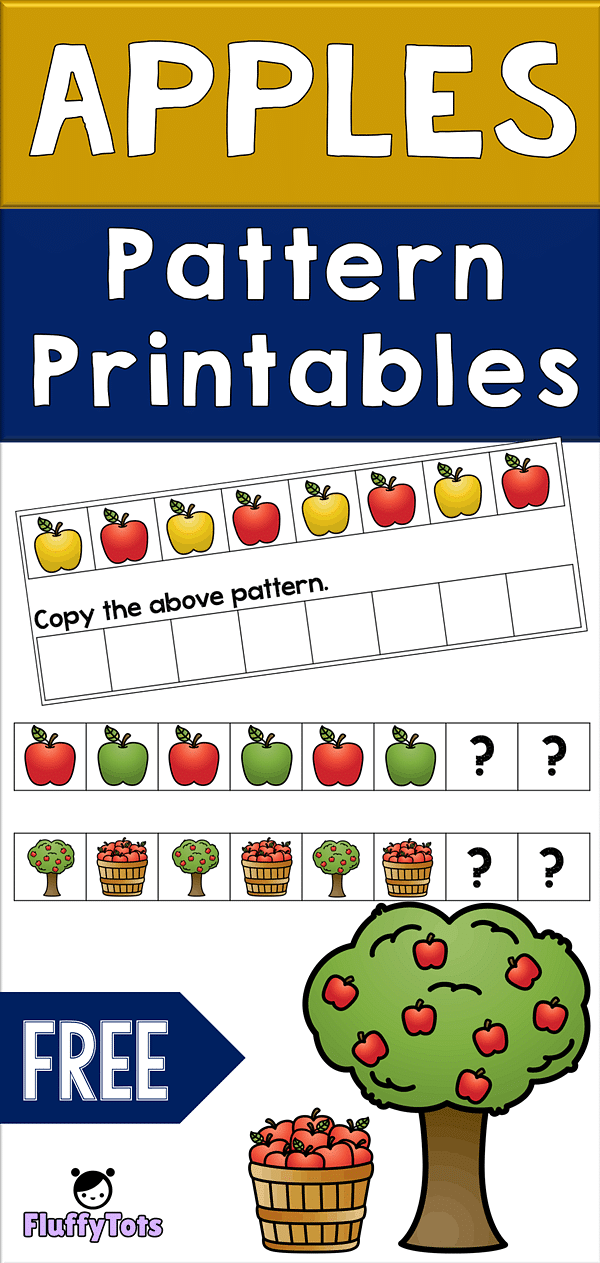 Apple Patterns Printable
This apple pattern printable one of our no-prep preschool printable.
You would just need to print them, and there you go!
How To Do This Printables
First, have your kids need to cut all the apples, apple trees, apple baskets and empty baskets.
Then, paste them into the pattern boxes accordingly.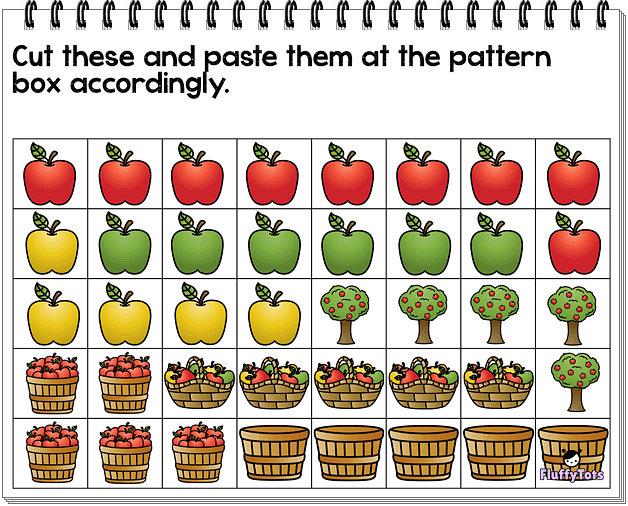 Let's look at the Apple pattern activities included in this pack.
Apple Pattern Activity #1: Copy the AB Pattern
In this patterns worksheets printable, we are going to focus on the most basic pattern which is the AB pattern.
There are 4 patterns that are to be copied.
The first and second pattern is about apples.
Below is the example of our first pattern which is red apple, green apple, red apple, and green apple.
Kids are to copy the AB apple pattern.

The third apple pattern includes apple trees and apple baskets.
Apple Pattern Activity #2: Complete the AB Pattern
The next set of activity is 'Complete the pattern'
Have your kids make a guess what will be the next pattern.
Paste the pictures correspondingly.

Fine Motor Skills Involved
This apple pattern printable is also great for kids to discover and explore patternv& for developing fine motor skills.
Activities that involves cutting and pasting helped them a lot to develop :
Eye-hand coordination
One-to-one correspondence
Enhance hands strength for pre-writing
Visual discrimination, and more!
It's time for fun pattern activities!
Have fun!
More Apple Pattern Activities