Exciting Fall Leaves Pattern Printables : FREE 2 ABAB Pattern
Are you looking for creative educational ways to utilize the beautiful fall leaves that kept on falling to the ground of your house?
Why don't you introduce ABAB Pattern to your kids? With lots of bright colors, these Fall Leaves make it perfect for Fall Leaves Pattern Printable activity! (scroll down to download your freebie)
P.s: I also have Apple pattern activity here and Pumpkins pattern printable (these links opens in a new tab for you)
About the Fall Leaves Pattern Printables
This pattern worksheet is about cut-and-paste ABAB pattern activity.
But if you are not ready to hand your kids the scissors, you can pre-cut the leaves.
This pack focuses on the most basic pattern, which is the ABAB pattern.
How to this ABAB Pattern Activity
First, have your kids need to cut all the fall leaves.
Then, paste the fall leaves into the ABAB pattern boxes accordingly.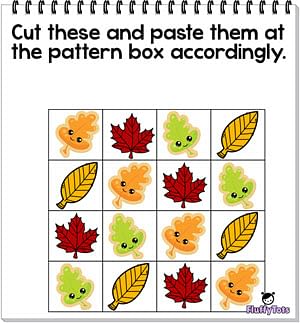 Copy the Fall Leaves AB Pattern
In this patterns worksheets printable, we are going to focus on the most basic pattern which is the AB pattern.
There are 2 patterns that are to be copied.
Below is the example of our first pattern which is green fall leaf, orang fall leaf; it repeats 4 times.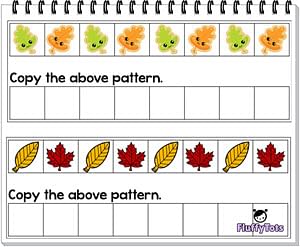 Kids are to copy the AB Fall leaf pattern.
The second Fall leaf pattern includes yellow Beech leaf and red Maple leaf.
Your Kids Are Learning More Than AB Pattern
This activity might look simple, but it helps your little kids to discover and explore patterns & for developing fine motor skills.
Activities that involve cutting and pasting helped them a lot to develop :
Eye-hand coordination
One-to-one correspondence
Enhance hands strength for pre-writing
Visual discrimination, and more!
Ready for fun Fall Leaves ABAB pattern activity?
Subscribe to Download
Subscribe below to grab your free Fall Leaves Pattern printable.
Have fun!
Shop ABAB Fall Leaves Pattern Activity
Looking for a more exciting ABAB Fall Leaf Pattern activity?
Shop our Fall Leaf Pattern Pack here!