50+ Pages Fun Valentine's Day AB Pattern Worksheet
I used to brush off from practicing patterning activities with my kids.
Until one day, when I had to teach the number 11 to 20, my kids couldn't grasp it.
So I had to admit that I've skipped one essential skill, and there we go doing pattern activities.
Pattern activities might look simple, but it holds the key to helping your preschool kids to understand number order and read.
How I Teach Patterning
For a start, we'll introduce the most simple pattern: the AB pattern or ABAB pattern.
I'll share how to teach the AB pattern using our Valentine's Day AB Pattern Worksheet in this post.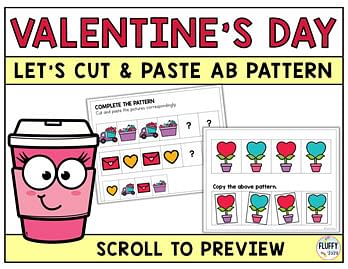 Activity #1: Copy the AB Pattern Worksheets
First, you'll introduce the ABAB pattern with pictures with plain colors.
We use plain colors so that we don't overwhelm our little ones. Plain colors have less distraction to kids, and it's easier to focus on.
How to do this activity?
It's simply cut-and-paste activities.
First, have your kids cut all the hearts.
Then, arrange the hearts so that they copy the Valentine's Day ABAB pattern worksheets.
Finally, put glue on the box and paste the hearts accordingly.
Once you're done with simple colored objects, you'll proceed with copying and pasting ABAB patterns with mixed things.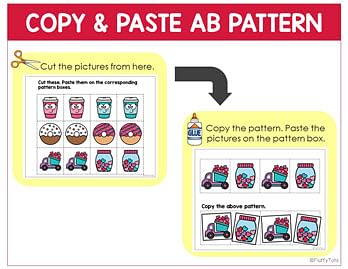 There are also cut and paste ABAB patterns that repeat twice or 3 times.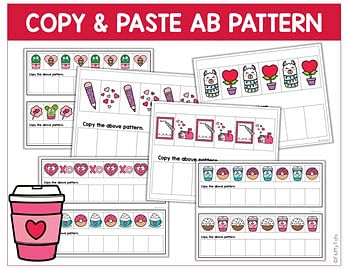 Activity #2: Complete the ABAB Pattern Activity
Moving forward, let's review your kids' patterning skills.
Previously they have done their copy-and-paste of the AB patterns. But do they really understand how a pattern works?
How to do this activity?
First, complete the AB pattern that has Valentine's Day things with plain colors.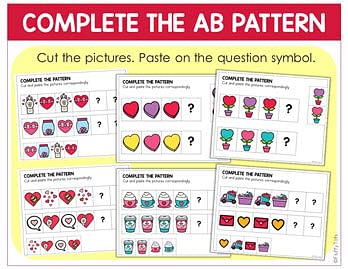 Next, complete the ABAB pattern with mixed Valentine's Day pictures.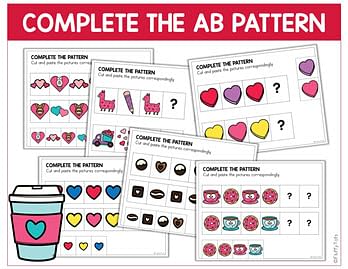 Repeat the activities as much as you like.
There are 50+ pages of AB pattern worksheets in this resource; your kids will have so much fun!
Shop Valentine's Day AB Pattern Worksheets Pack
Grab your scissors and glue supply and let the fun begin!