Owl Match The Letter and Clip Card : 32 Effortless Sets for Preschool
Alphabet letter is just merely a wiggling symbol for kids. But one of the skills essential prior to learning to read is to be able to recognize and differentiate these alphabet symbols.
If your kids love doing shape matching or color matching, she might be ready for the next step; which is alphabet letter matching. Hence, I made Owl Match The Letter and Clip Card for my kids.
Miss 5 is currently learning about letter's sounds. She already has the foundation of reading pre-skills which are :
Know the prints
Know how the prints on the book works, going from left to right
Have a deep interest in reading that sometimes during her me-time, all she wanted to do is soak up in various books just by herself, going through the pictures in the books while making her own story
She will turn 6 at the end of this month, so I guess why not we learn about phonics, the letter's sound.
But for this post, I will share more about letter matching activity to supplement Miss 5's current reading phase.
This post contains affiliate links for your convenience.
Owl Match The Letter and Clip Card
I made this card inspired from our storybook, Twinkle Twinkle Little Star.
The book is about nursery rhyme Twinkle Twinkle Little Star. The main figure in the book is a cute big eyed owl.
The owl was looking up the sky and staring at the stars while singing. I love this book because it also guide us as parents, as what gesture best done while singing the nursery rhyme.
Well, I wasn't much creative so the guide helps me a lot to capture my kids' attention.
Back to our Owl Match The Letter and Clip Card.
This set of cards is about an owl and its star. Each owl has its own star. In the star, there is a letter.
We will match the letter in the star to the letter under the owl.
I made letter from A to Z, all in lowercase for the time being.
Materials needed :
Laminating Machine (optional)
Marker tools – To mark the matching letter. It can be any of these :
Preparations :
Print the printable
Cut the cards (optional, you can laminate it so it can be reused many times)
And it's ready to go!
Play :
This activity can be done in multiple ways. Just make sure we don't put any pressure to our kids and make it fun!
Using color pencil or crayon – Miss 5 prefer using color pencil. Circle the matching letters in the box, or

Miss 5 prefer to use color pencils

Using stamp marker – Stamp on the matching letters or circle it using the marker, or
Using clothespin – Pin the clothespin onto the matching letter. For more fun, try match the clothespin color with the owl's color.

For green owl, use green clothespin
For blue owl, use blue clothespin
For pink owl, use pink clothespin
Wow you will get Letter Matching Activity and Color Matching Activity in one go!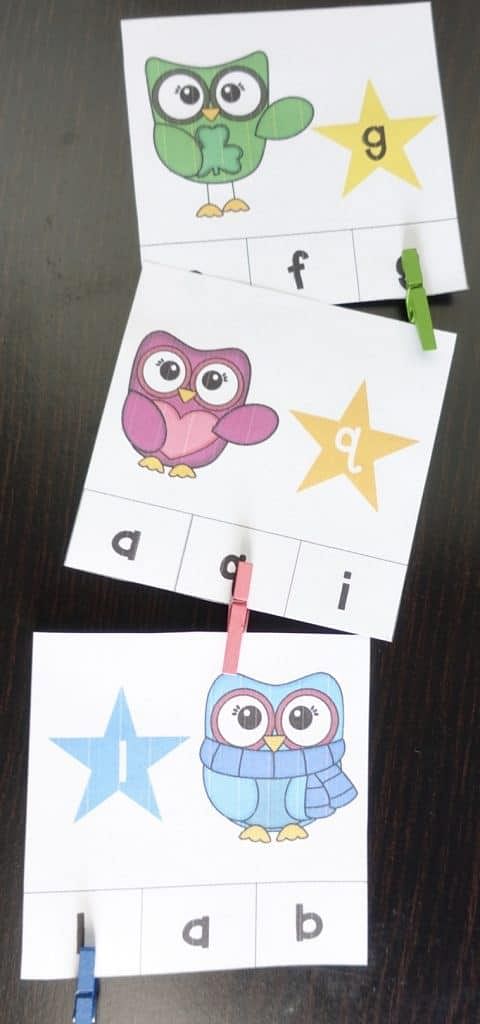 The way we did it
I would always try only one or 2 cards with my child to see if she likes it or not, or if she can grab the concept or just not yet.
I would take it as a 'yes' even if my toddler just want to cut those owls. It's a little step but that counts.
But if she's not into this activity yet, I will pause and hold. But I will try again in the next couple of months.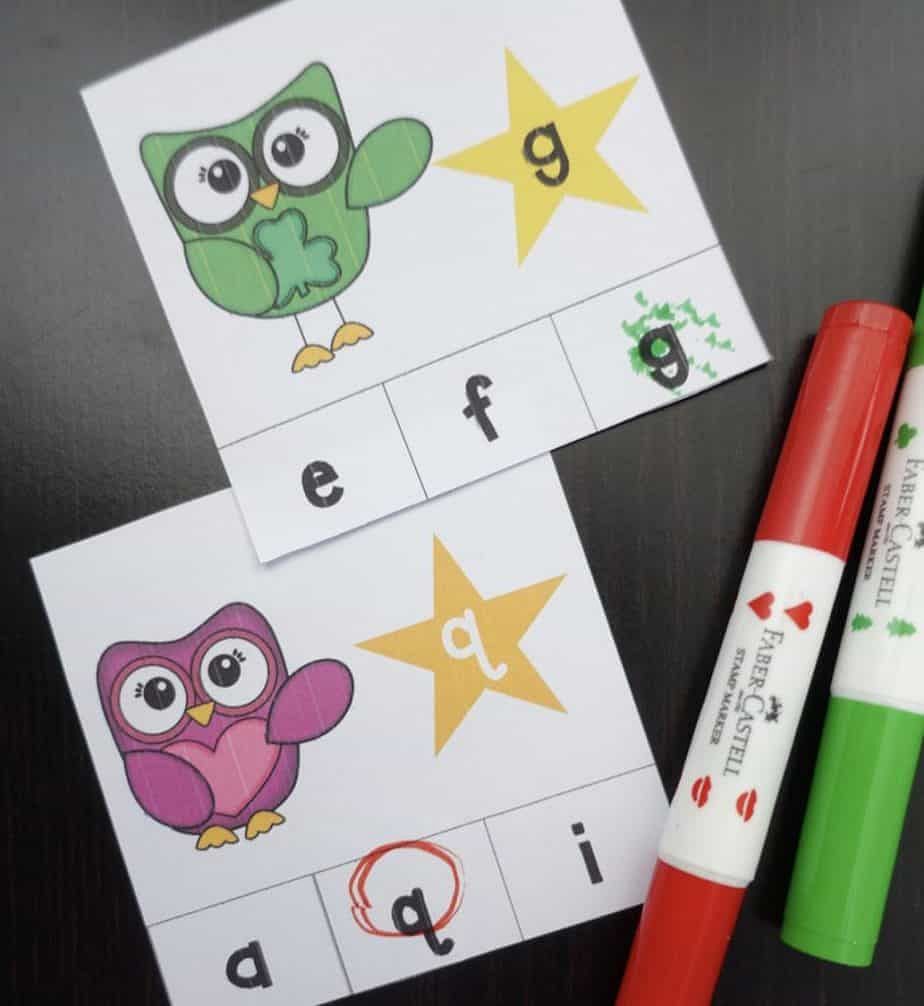 Different kid has different preferences and different pace, so just follow our kids.
Get Your Free Download
If your child or your class is into owl, come give our Owl Match The Letter and Clip Card a try. Grab your Free Download by clicking the Blue Download Button below.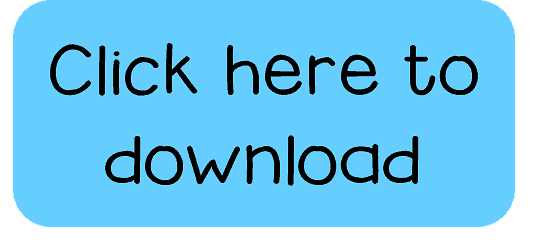 Have fun!
P.s : You might also want to try Egg Match and Clip Card

P.s : Or try this other clip card Owl Counting Clip Card