How To Hunt Aurora With Kids and Baby : 6 Tips From Our Experience
No, we don't do aurora hunting when we have our kids and baby.
It's just too bizarre to imagine.
But, hold your horses peeps!
That doesn't mean just because we are parents with kids and a baby, we have to dump our bucket list.
Do you know that having our kids and baby make aurora watching even more memorable.
What am I getting at?
Last February, we managed to see the Aurora for 4 nights!
And most of the time were while our kids were playing in the snow and our baby snuggling in bed.
Can you imagine that?
Let me share with you how on earth can we watch the awe-inspiring Aurora while at the same time our kids are playing happily without them embracing any bitter cold weather or pitch black surrounding.
P.s : I wrote about our family's encounter with Aurora here.
How to Hunt Aurora With Kids and Baby
We don't hunt the northern light. It will come to us.
Yes, of all the 4 times we met the Aurora with our kids, all the four times we didn't hunt the light. It came to us.
I can't wait to share with you how we did it!
Tips #1: Choose your destination
for aurora hunting with kids
I would say this is one of the most crucial part of all. Because destination will determine the temperature and the weather.
We don't want destination with extreme cold weather at -20C or -40C, unless your family used to that temperature, that is fine. But for our family from tropical country, we aren't used to that weather yet.
Be sure to check weather forecast for your chosen destination via Accuweather before you make up your mind.
Our Recommendation : Lofoten for family who wish to hunt for Aurora with kids
I highly recommend that if you are family with kids and this is your family's first time aurora hunting, come and visit Lofoten.
This magical place has temperate winter weather. As far as we've experience, aurora came to our bedroom window just at about -2C. 
Yes it's only -2C, not even -10C.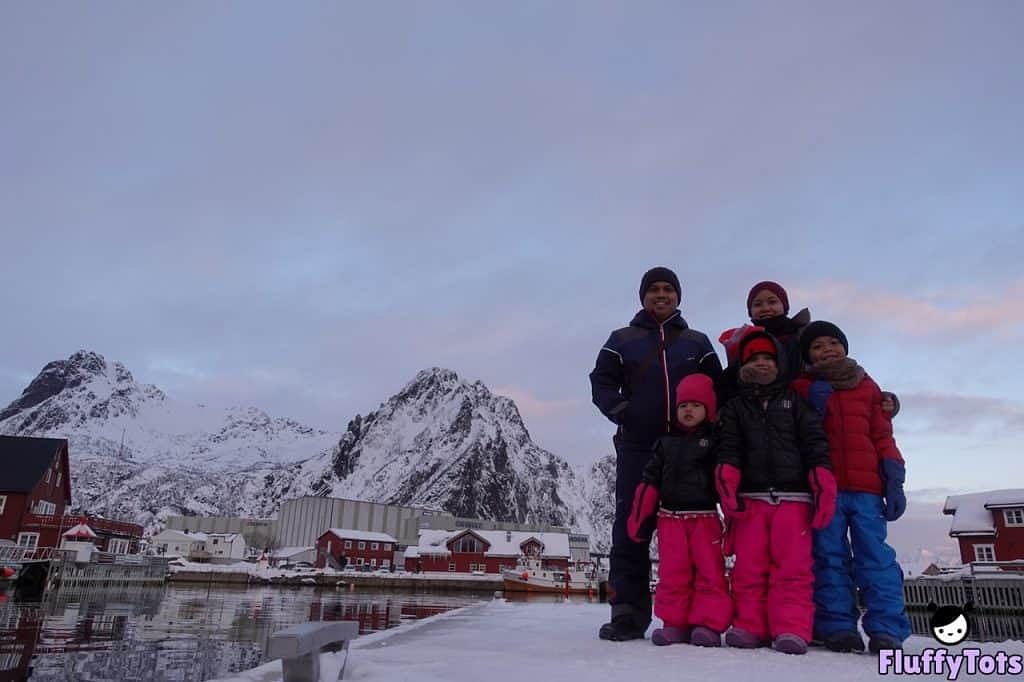 Now, where is Lofoten, you might ask.
Lofoten is located at north of Norway, above the Arctic Circle line. It is slightly below the famous Tromso. 
Lofoten's winter view is very majestic, untouched nature. It has all the snowy mountains that meet the sea and the land.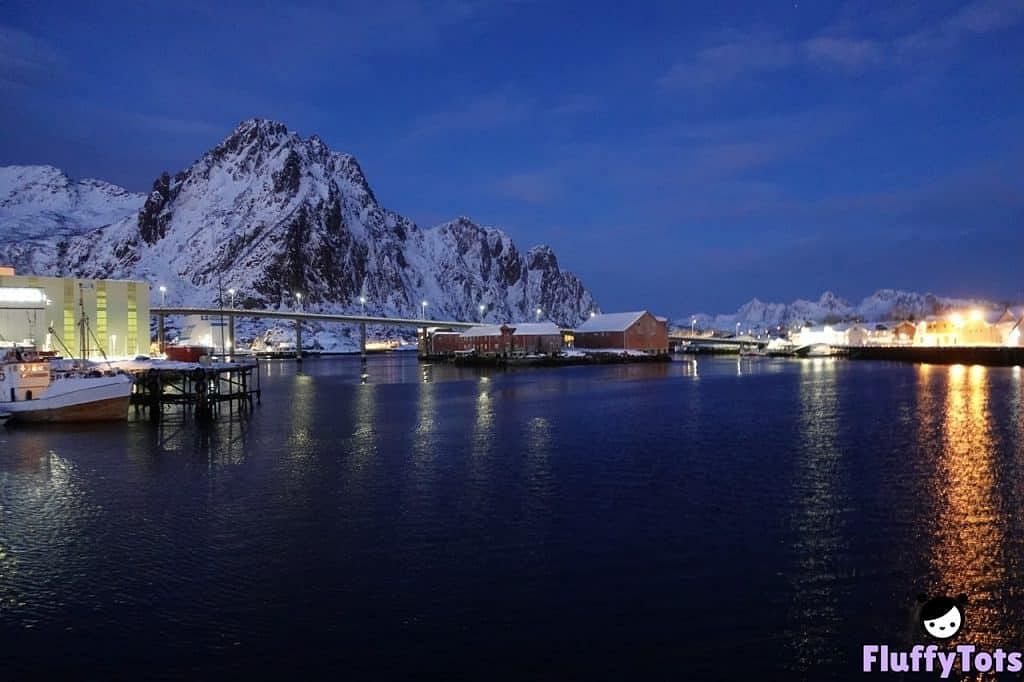 The sky has so many expressions from dusk to dawn.
For us a family with 3 kids and a baby, Lofoten is perfect to hunt for Aurora for first timer. 
Why is Lofoten is the best place to hunt for Aurora with kids?
Because of so many reasons; the temperate weather, the not that remote location and the best of all – the northern light came to us without we have to hunt for it!
Yes, you read it right.
It came gracefully to our cabin hotel as soon as it's past 7-8 pm and when the sky is bright with stars.
Tips #2 : Choosing right month to hunt aurora with the kids
I cannot guarantee which month would be the best month to catch Aurora sighting in the sky. But we did lots of reading prior to our vacation.
We wanted some snow for the kids to play with. So our option would be between December to March.
From our reading, the best winter month to come to Lofoten is between February to March or April.
It is not advisable to visit the place on December and January because those months are quite well known with raining and snowing weather.
When the clouds are heavy with rain or snow, it will be no fun with the kids.
Kids love to run around. Our kids don't like to be stuffed in the house or just strapped in the car.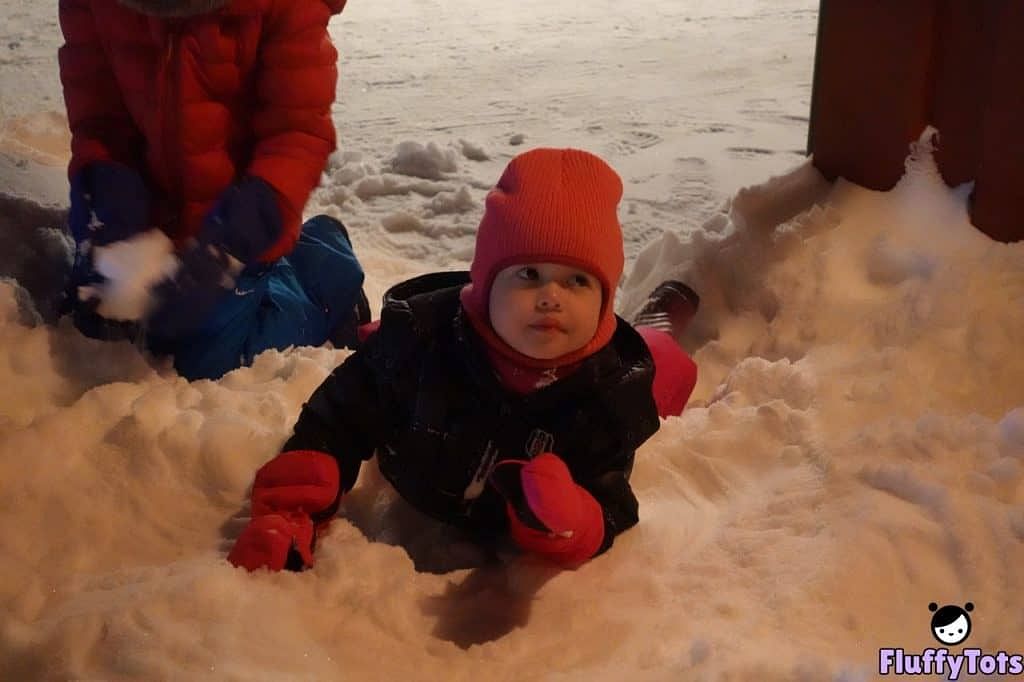 So be sure to find dry weather month so that your kids will be able to have a blast, and well, happy kids lead to happy parents and happy family.
Happy family have higher chance to meet the solar wind phenomenon.
Tips #3 : The right accommodation to hunt the aurora with kids
To hunt aurora with kids, well, we do not actually want to hunt it.
Kids love to play, and usually not ready for some serious hunting. Or might throw some tantrum if we insist to drag them along to hunt the northern light.
Therefore, it would be win-win situation for everyone in the family if the Aurora come to us rather than we chase it here and there.
The idea is to be able to watch the Aurora while the kids play, and while the baby snuggle in the warmth of the cabin.
How to make it happen?
Know first hand where usually the aurora made appearance
To make it happen, we need to know where usually the lights made appearance.
I am no Lofoten local, but I can tell that our cabin hotel made quite great impression for us regarding this aurora thing. It amazed us that Aurora came couple of times from the horizon of the cabin hotel.
We never felt so grateful for choosing this particular cabin hotel. Well, other hotels situated next to it, but the Aurora came right in front of our hotel that it made lots of tourist and photographer flock outside our cabin at night.
The hotel I'm telling you about is Anker Brygge, it face the majestic mountain directly. The Aurora came right across the mountain and dancing some more on its sky.
The picture below is taken right at the back of Anker Brygge's receptionist building.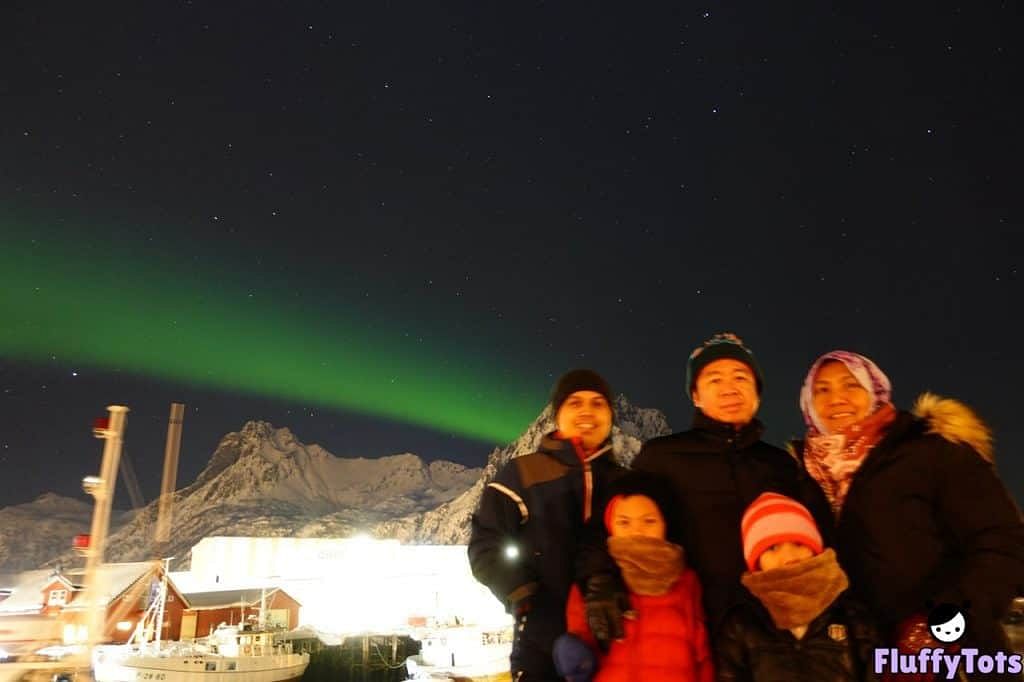 This is not sponsored post. It's just I really hope your family can experience Aurora like we did; just from the window of your bedroom while breastfeeding your baby or while watching over your toddler playing.
It was dream come true. Until now, it is.
P.s : You can book this Anker Brygge cabin hotel by clicking this link. Or read my review about the rorbuer here.
Tips #4 : Right snow attire
for Aurora hunting with kids
Make sure your kids donning the proper aurora attire, or simply said, the right winter attire.
Different people has different preference.
For us, we prefer the less layer is better. 
It's not easy to get little kids to dress up, let alone dressing up to go out to play with the snow under aurora lit sky. It's hard work for us. 
So, we try to minimize the layer but make sure the cloth and jacket are made up of the warm material.
P.s : We are from tropical country that get hot 365 days in a year. But thankfully in just 2 layers of cloth, our kids can play in the snow for hours without having any frost bite.
Our kids' layer :
For body –
The shirt made of fleece or mixed material such as Cotton+Polyester
The jacket is down jacket
For pants –
Just one layer of ski pants. Pants that made for ski are waterproof and windproof.
For shoes
Wool socks or any type of socks

 

Snowboot, make sure the rubber is thick enough to avoid coldness from snow seep into the boot
Tips that I got from Lofoten's local about snowboot : Make sure you wear socks, any type of sock will do. But choose a snowboot that is slightly bigger than our feet's size. 
This is to allow some space between our sock and the inner surface of snowboot. This empty space is essential to insulate our feet in the boot.
Tips #5 : Capturing the kids' picture with Aurora
Once you catch a glimpse of Aurora, you will be thrilled with excitement; and you would wish you can gather all the kids together for family photo.
But it ain't going to happen that way because it's kind of tricky to capture this northern light image with kids.
For us to take a picture of our kids with Aurora as background, we use camera. Not the camera built in the handphone.
Our camera is Sony RX-100.
And the most challenging part is, to capture the picture, the kids need to stay still- not even slightest movement; for at about 1-2 minutes. This is to allow the camera to get all the light and process it.
We managed to get our 8-years old and 5-years old pictures with the northern light.
But for our 3-years old and 8-months old baby, the best picture taken is when they are asleep. Well, our baby cannot sit still for even few seconds.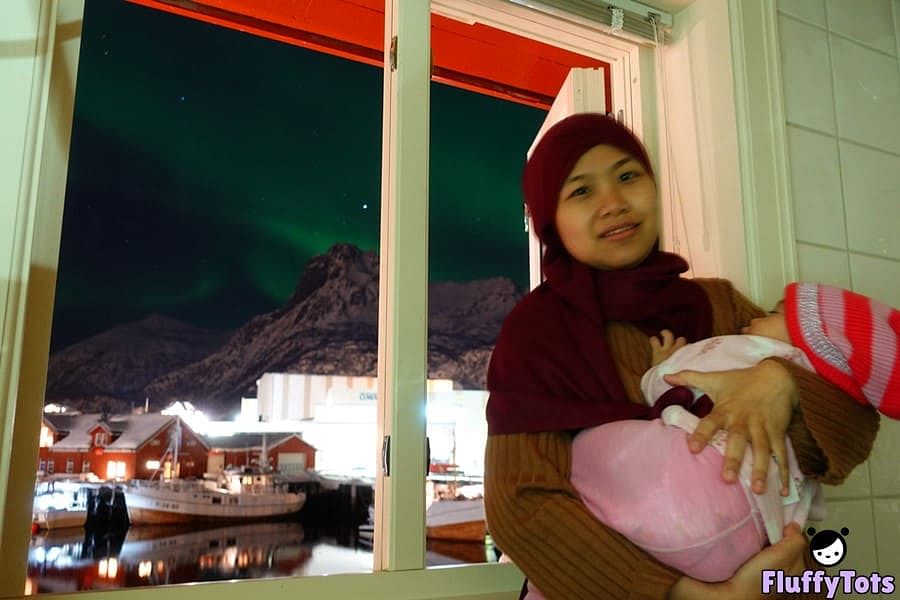 Tips #6: Aurora hunting destination near to supermarket
to avoid kids' tantrum 
Hungry kids lead to tantrum kids.
We don't want tantrum kids. That's why it is imperative to ensure that the destination we choose is at least within walking distance to the nearest supermarket.
You can check the hotel you choose and whether it has supermarket nearby via Google Map. Or it's easier to just email or contact the accommodation to verify.
For our family, supermarket with variety of foods and snacks is one of our family's life line while we are traveling. Usually we would reload our stock of snacks and food once we are done with checking in hotel or Airbnb. 
Winter and cold season made our kids hungry constantly.
At Lofoten, we chose to stay at Svolvaer for our first night. Thankfully it was one of the best choice we made.
This place is not remote. It is kind of small town with everything in it, and yet Aurora can be clearly visible here at night.
Svolvaer, the said biggest town in Lofoten; has lots of supermarkets and most of them has wide variety of groceries. You name it, you got it
At least, for us it was that way. We want fish, we got a number types of fish. There was fresh fish, ready to bake fish, ready to cook fish. 
There was also lots of fruits and vegetables, alongside with snacks.
If your baby is on baby food, fret not, the supermarket also has a variety of baby food.
At Svolvaer, you can find the supermarket named Kiwi Pris, AMFI, REMA 1000 and Coop. All of these are clustered to one another.
And the best part was, it is just about 8 minutes walk from our cabin hotel. Splendid!
And they open at 7 am!! 
Watching Aurora With Kids : No More Impossible
I cannot emphasize more how much we love Lofoten to be our first destination, watching Aurora with our 3 kids and a baby.
It was beyond perfect for our kids, for our family.
It felt surreal getting the first glimpse of the northern light while the kids were playing with snow and later watching it dance for hours. 
I kept on pinching myself. Am I dreaming?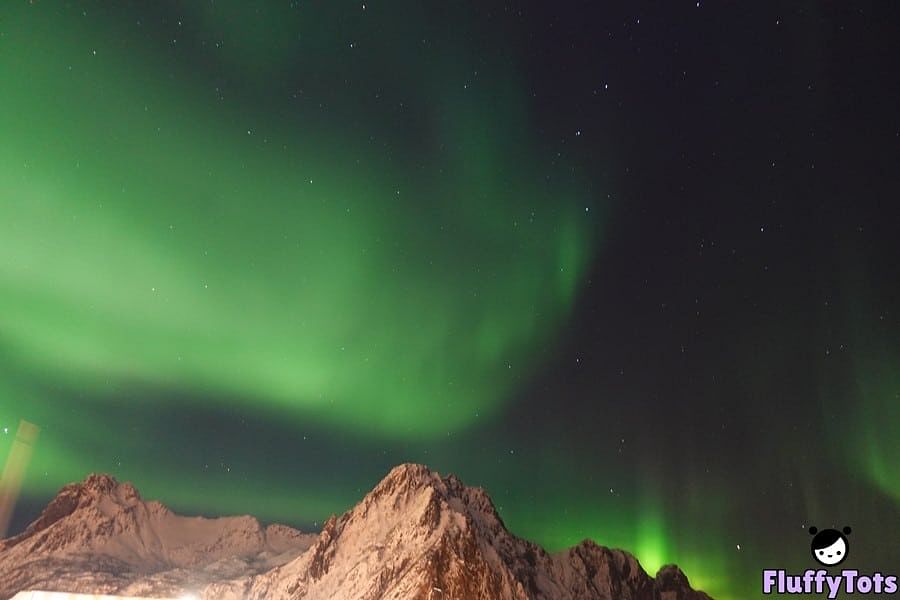 If you're still holding onto your Aurora dreams, go chase your dream and bring your kids along. It won't hurt a bit.
Let them share the moment. It will be one of the best memories your family will make.
All the best!