50+ Pages Fun Thanksgiving Tracing Printables for Your Kids
Holiday vibes are one of the best things when it comes to lesson planning.
Because at these times, your kids are filled with excitement. They'll be in the perfect mood to absorb anything with Holiday-theme.
If you're doing tracing practice with your little ones, this Thanksgiving-themed tracing packet will get your kids jumping in excitement.
They'd look forward to the practicing session because they can't wait to trace with all the adorable turkeys and pumpkins.
Let me share a sneak peek of the tracing activities included.
Tracing Horizontal Lines
Help the Fall leaves walk to the baby turkey in the pumpkin.
Get your kids trace the lines with crayons. Or put the tracing page inside the sheet protector & let them trace with erasable markers.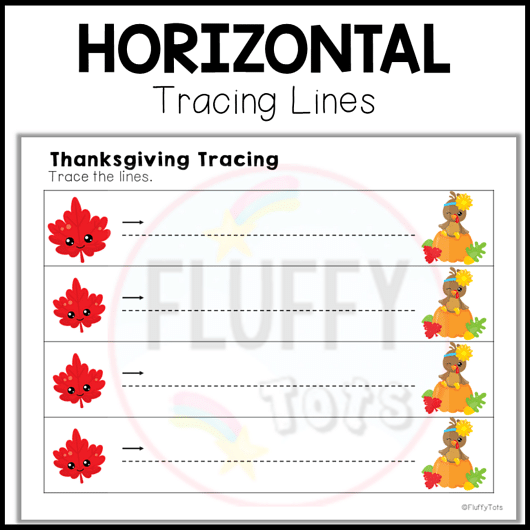 Tracing Vertical Lines
Let's trace the falling sunflowers. How fun!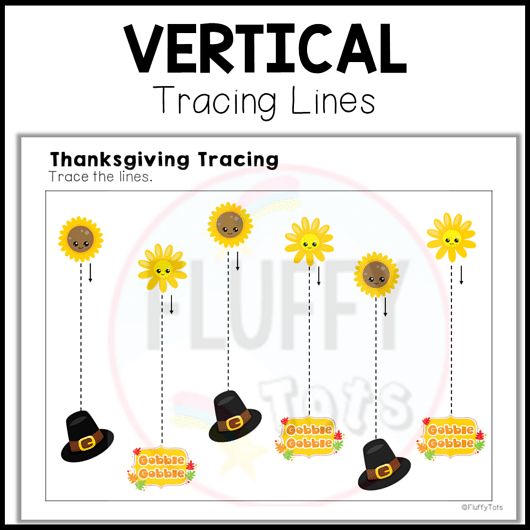 Tracing Castle Lines
The turkeys want to eat some pie. Let's help them get to the pie carefully by tracing along the castle lines.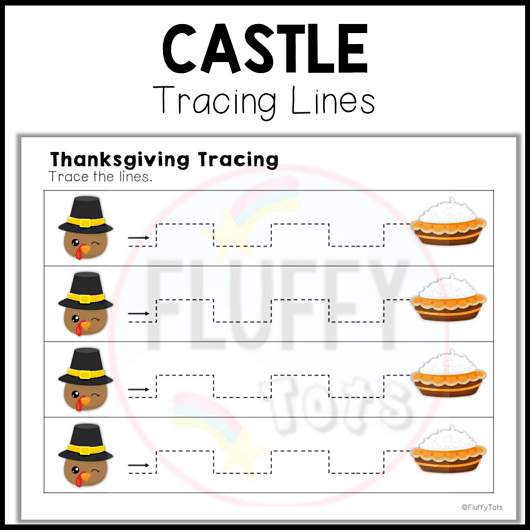 Tracing Diagonal Lines
Let's help the hats reach the baby turkey in diagonal lines.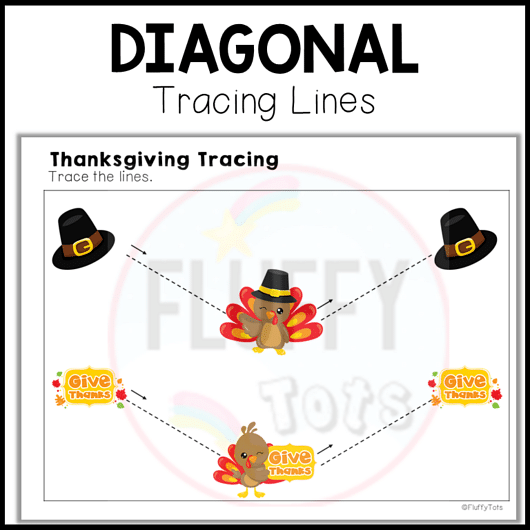 Tracing Zigzag Lines
Let's help the fox chef fetch its baked turkeys. You have to carefully trace the tricky zigzag lines.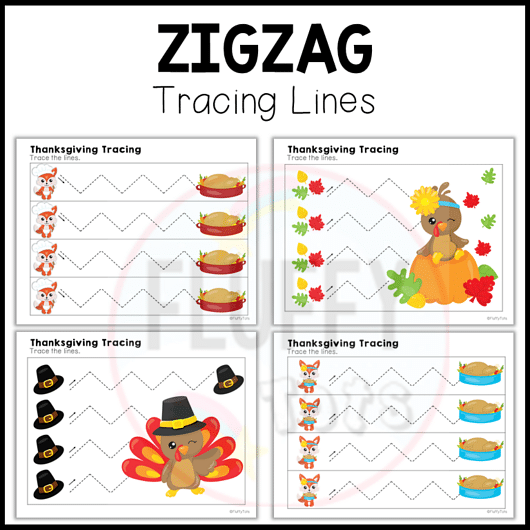 Oh, see the pilgrim hat floating to the pilgrim Turkey in a zigzag line? So adorable and so much fun.
Tracing Shapes Tracing
To spice up your Thanksgiving tracing activities, I added some shape-tracing activities as well.
Your kids are gonna love this.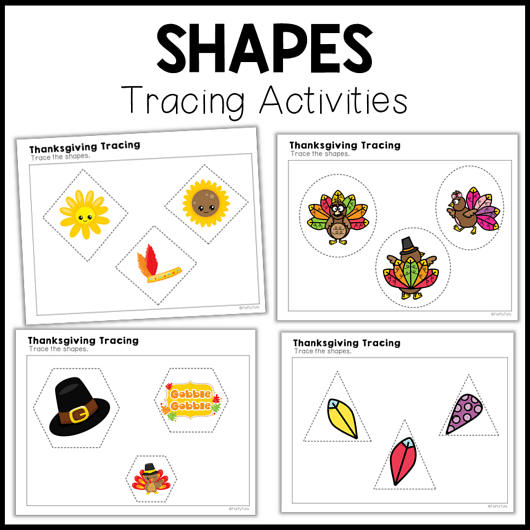 Tracing Number Tracing
Your kids will have a blast tracing the numbers while counting the Thanksgiving features.
Hey, you got them to practice tracing & to practice counting; that's a double win.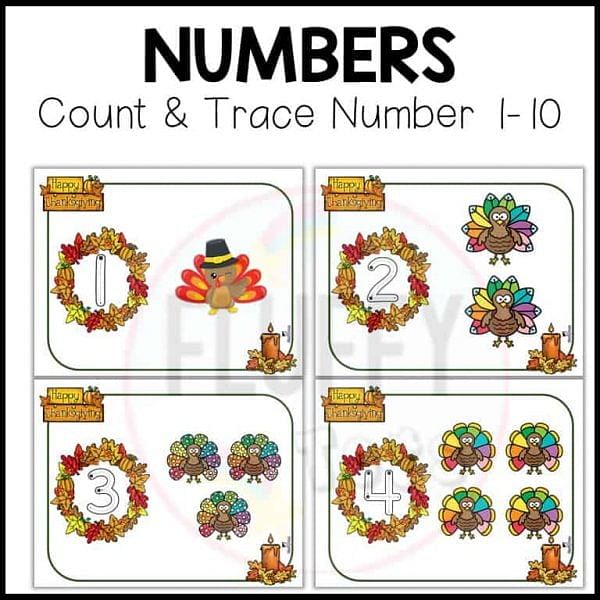 Tips : You can also turn this tracing printable into a Thanksgiving counting mat.
Tracing Letters Tracing
Trace the beginning letter.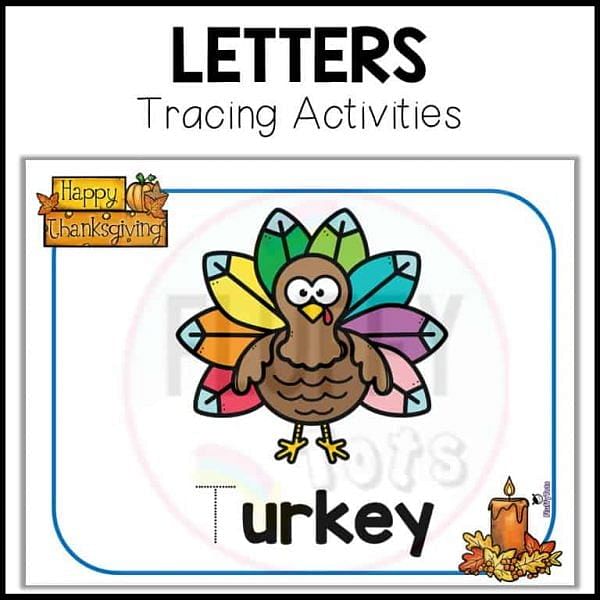 Tips: If you have some magnetic alphabet or ABC stickers supplies, you can turn this into letter-matching activities.
The way to do it is:
Identify the letter with the dotted lines.
Have your little ones find the matching magnetic alphabet letters (or the matching alphabet stickers)
Put the matching alphabet letters onto the dotted letter on this printable.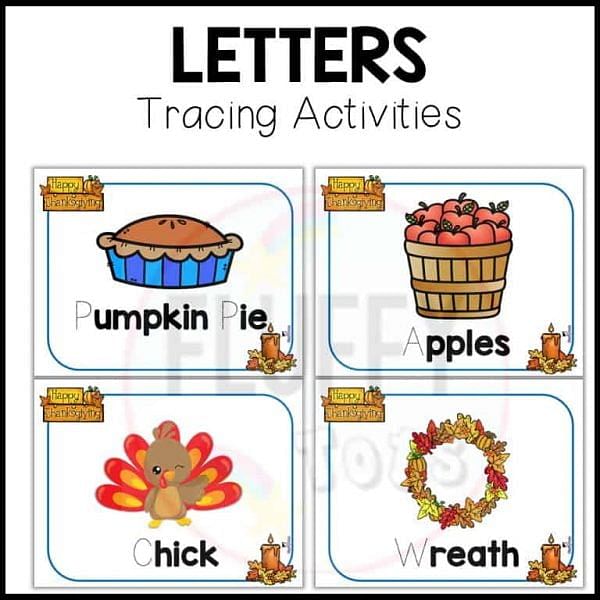 Tracing Words Tracing
If your kids love to trace the words on their board book, this activity will be one of the most exciting Thanksgiving tracing activities for them.
Just trace in the letter blocks while associating the word with the picture.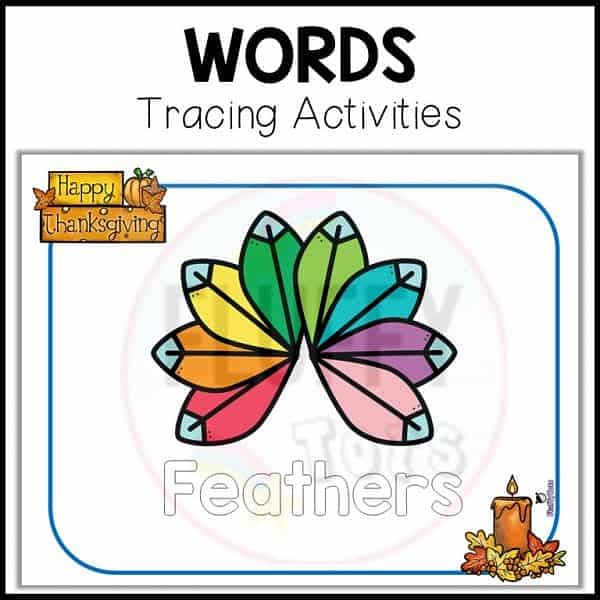 Don't worry if your little ones don't read just yet.
This activity is about introducing little kids to the concept of words, it's to let them see that a word is a string of letters that when they are put together.
Put-together letters would form a meaning.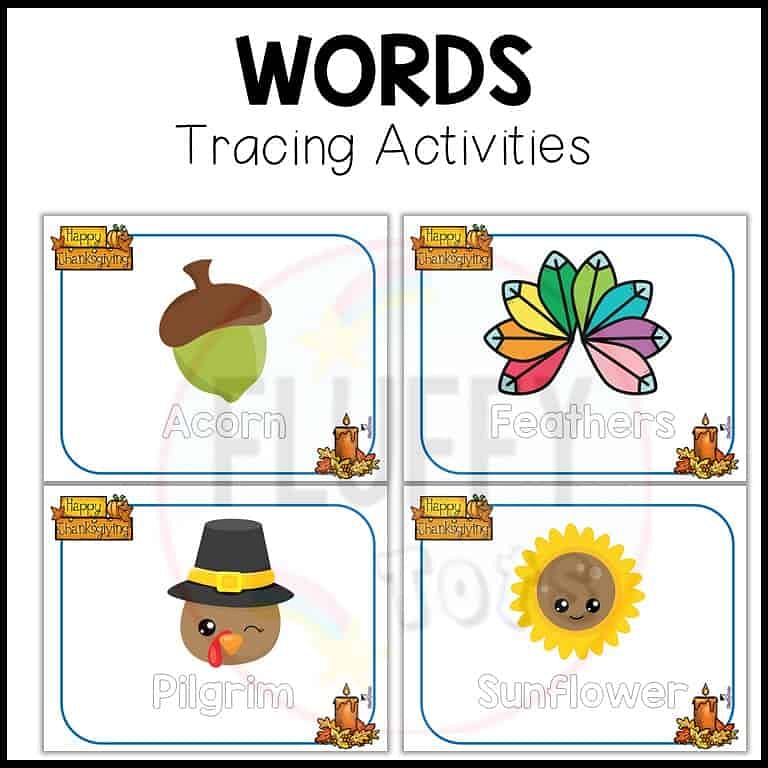 Tips: You can also turn this set of activities into Thanksgiving Playdough Mat!
Pull out your playdough supply, and let's get it rolling.
Roll the playdough to form each word after your kids are done tracing them. So much fun!
Shop Your Thanksgiving Tracing Printables Pack
Ready for a fun Thanksgiving tracing activity?