Spring Animals Match and Clip Cards : Free 32 Cute Clip Cards
Spring animals look irresistibly cute, and spring is coming.
Thus this is the perfect time to do Spring Animals Match and Clip Cards.
Miss 3 is getting great at matching activities. First, she would point to the matching pictures using her fingers.
Then, after having to figure out every picture, she would get her color pencils and color those matched pictures.
Spring Animals Match and Clip Cards
This FREE printable features 3 types of spring animals, including the vibrant yellow chicks, the bright green frogs, and the fluffy sheep.
There are 32 Clip Cards altogether, each one has different animals to be matched to.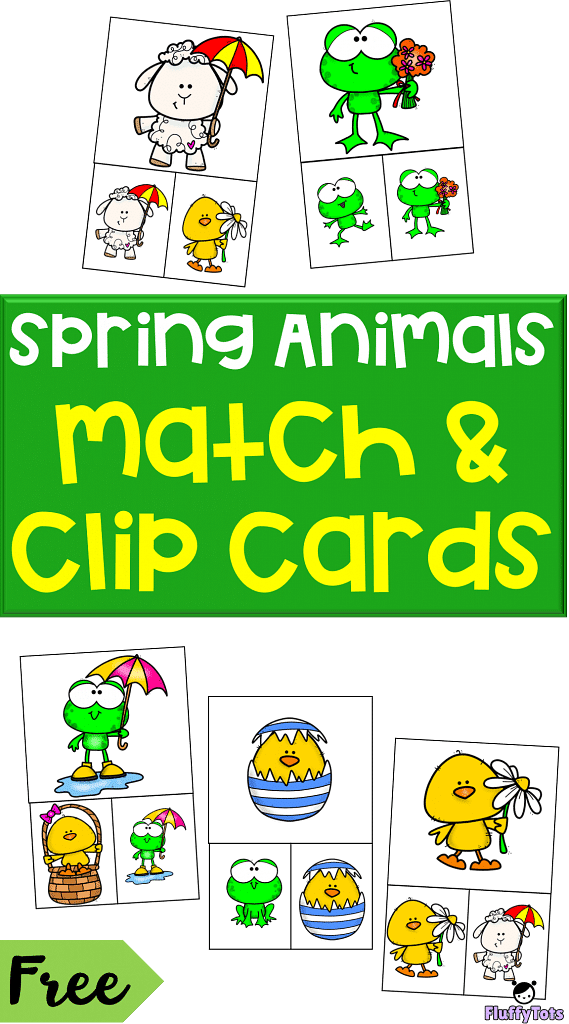 Prepping Spring Animals Match and Clip Cards
There are 2 ways to prepare for this activity.
#1: No prep
If you are busy and have not much time to do any cutting, you can just print this Printable; and it will be ready to go!
Instead of clipping the cards, your kids can color the matching pictures using color pencils or crayons.
Or they can put some dot stickers and stamp the do-a-dot marker onto the matching animals.
#2: A bit prep
If you have a little time, you can make a bit decent Clip Cards.
Laminate the Spring Animals Match and Clip Cards, then cut them accordingly.
Learning While Playing
Your kids can clip the matching animals on these cards.
Matching activities might look fun, yet it also helps prepare your kids for reading.
By practicing matching the same pictures or the same colors, kids are actually building the skill to match the same alphabet letters' shape.
Ability to differentiate letters is among the important skills to begin reading.
Get Your Free Download
Be sure to grab your download by clicking the download button below.
Have fun!