70+ Pages of Fun St Patrick's Day Fine Motor for Toddler and Preschool
Infusing the holiday theme into learning is one of the surest way to capture your little ones' attentions.
Add in some cute and adorable bright images, chef kiss! You're going to win the heart of your every little learners.
To help your kids with their fine motor skills, combining with St Patrick's Day mood, I've come up with over 70 pages of hands-on fine motor page activities for you.
Introducing the St Patrick's Day Fine Motor Activity Packet.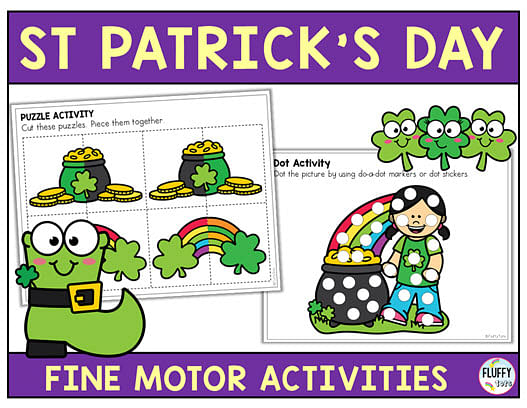 No, this activity won't take much time for you to prepare.
Imagine that your plates are full and you forgot to prepare anything for your kids. No worries. Just print the printable pages, and you're good to go.
The best part is…
While your kids are doing hands-on activities, you won't be bothered with any messy play or glitter at work, yeay! (but of course you'd have to deal with some paper leftovers that can be easily cleaned with vacuum or sweep job afterward)
There are many different options of fine motor activities to help your kids with cutting skills, visual discrimination, and eye-hand coordination.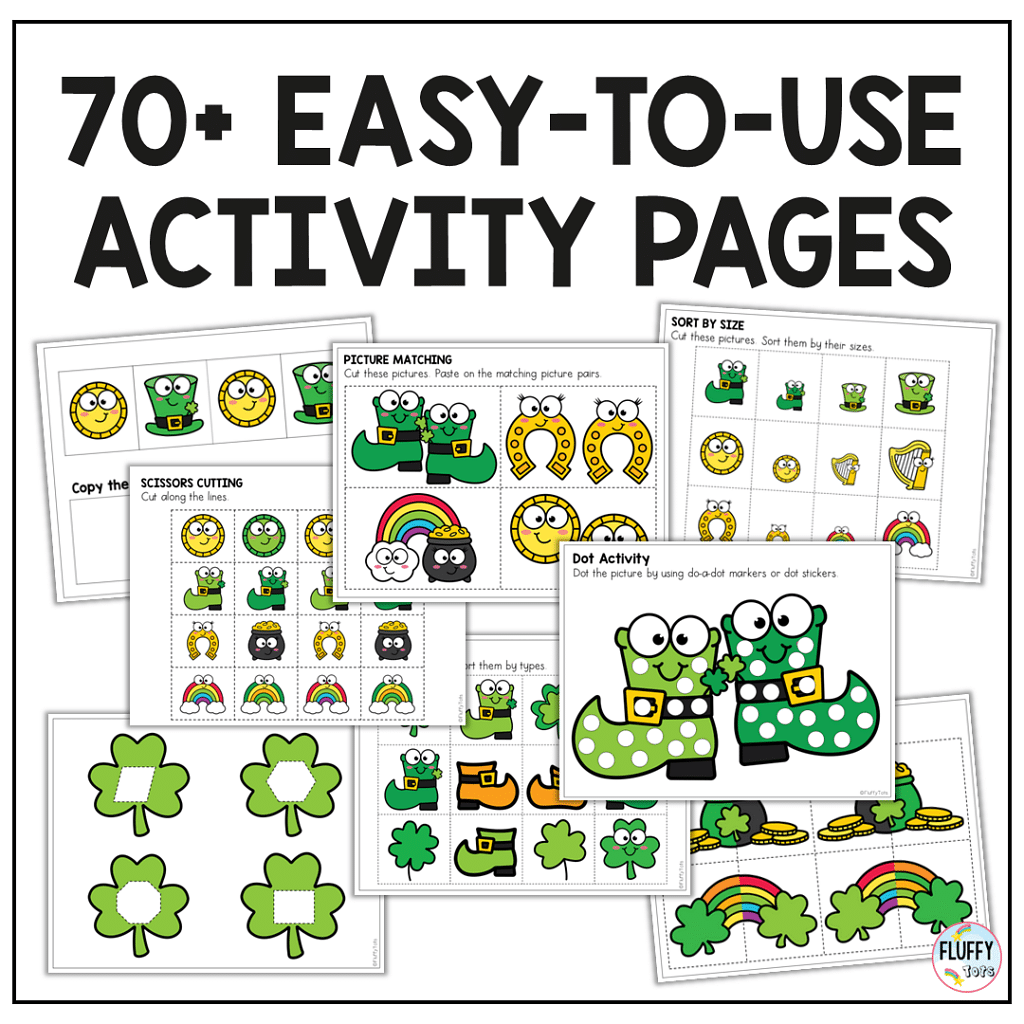 Let me walk you through the activities included.
Sorting Activities
Your kids will get to sort by size, type, colors and emotions.
All of these sorting will get your kids to practice their scissors cutting skills, pasting skills (eye-hand-coordination) and sorting skills.
But if you're yet to allow your kids to use the scissors, you can pre-cut for them.
Sort by Size
Let's sort the boots and gold coins by size.
The columns have hints, which are for the big items and which is for the small items.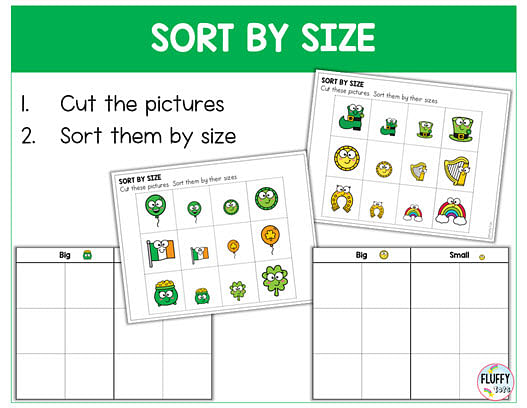 Your kids gonna love it.
Sort by Emotions
Also great for to discuss emotion words.
Your kids will love to sort all the pot of golds & leprechaun accordingly.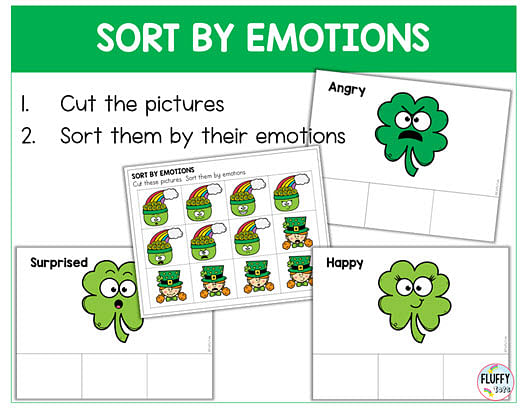 Sort by Color
Let's sort the table St Patrick's things to the corresponding color.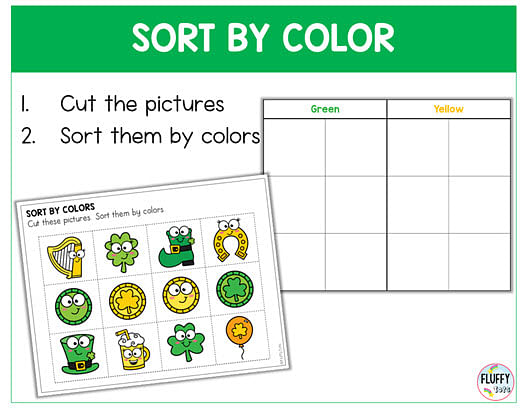 Sort by Types
It's fun to sort the St Patrick's Day stuff by their types. There are gold coins, green hats, and more.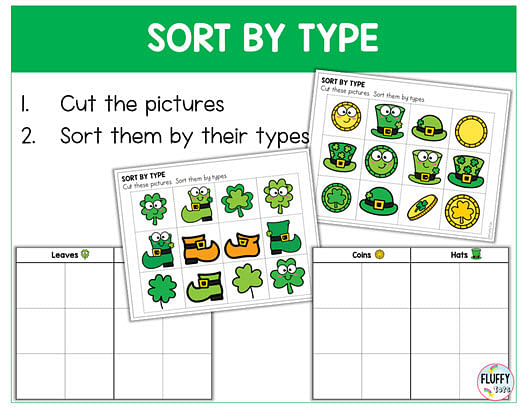 Shape Activities
Did you know that shapes are among the first introduction to ABC letters for young learners?
In this St Patrick's Day unit, your kids will get to trace some shapes and do some shape matching.
Let's take a peek.
Shape Tracing
Let's trace some shapes with the hats, gold coins and more.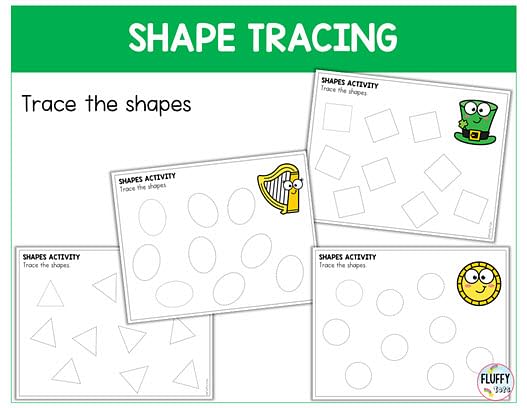 Fun Tips: You can draw fun faces in the shapes too! Or color in the shapes.
Shape Matching
Let's cut the shapes and paste them accordingly.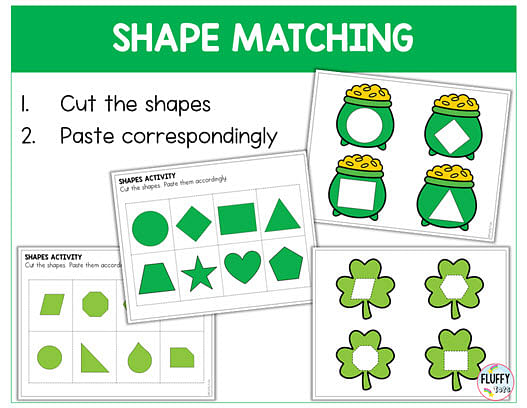 Cutting & Matching Activities
Your scissors-obsessed kids would love these activities, where they gotta cut cut cut and paste some more.
Cutting Pages
There are some fun green and gold things to cut.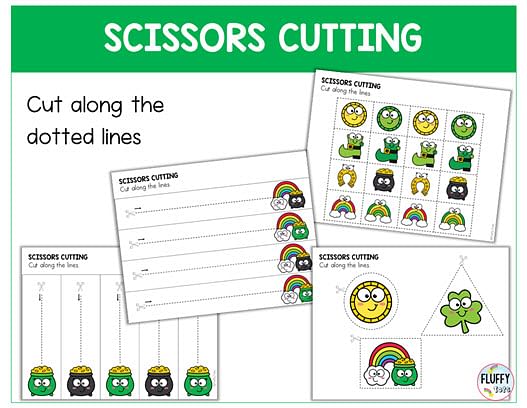 Picture Matching
This is perfect for young toddlers. Just cut and find the matching pictures.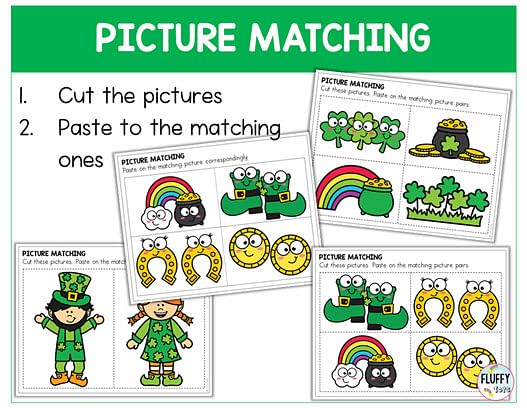 Shadow Matching
Uh-oh, can you guess which picture belongs to which shadows?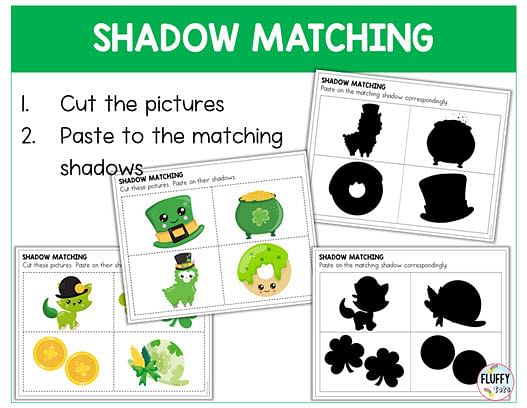 2-Pieces Puzzles
All the puzzles are scrambled, making it super easy for you to prepare – you don't have to pre-cut anything, your kids will do all the cutting independently.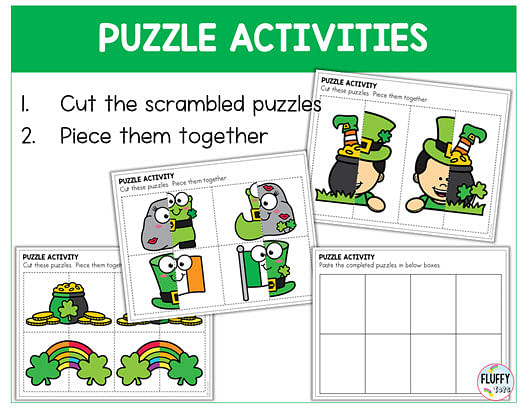 There are also empty boxes to guide your kids to paste on their completed puzzles.
Fun Tips: Make it a race, who got all puzzles completed first is the winner.
Pattern AB
Let's copy some fun patterns and complete some St Patrick's Day patterns.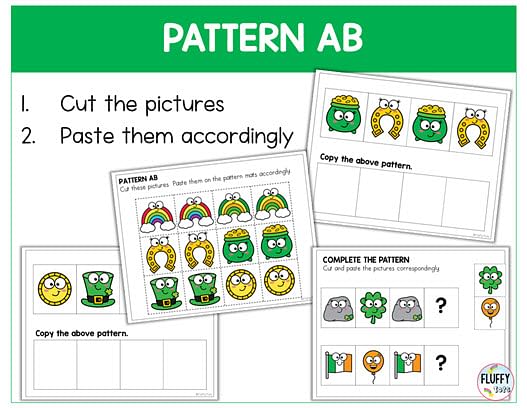 Dot Printables
You can use this with dot markers, or dot stickers, or fancy St Patrick's Day stickers, or simply let your kids color in the dots.
This activity is perfect for visual discrimination & eye-hand coordination.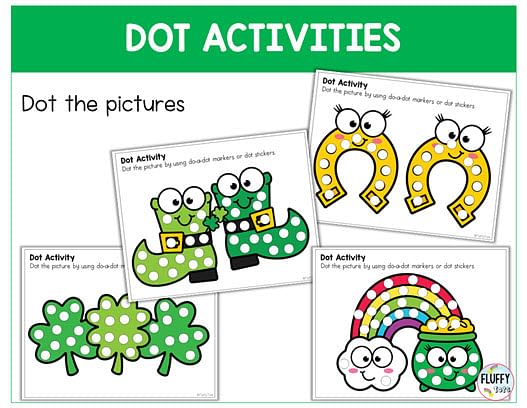 Letter Activities
We're going to do some simple letter activities that are mostly about letter recognition with some St Patrick's Day stuff.
Letter Cut and Paste
Your young learners will love this.
All they have to do is cut all the letters and paste on the cute pictures.
Letter Sorting
Let's get the letters sorted.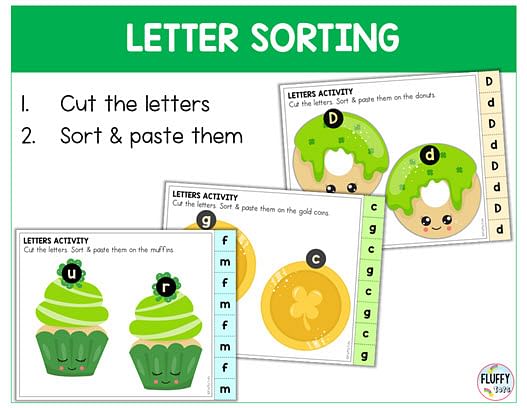 Shop St Patrick's Day Fine Motor Activity Packet