5 Activities for Letter A is For Apple : For Toddler and Preschooler
Letter A is for Apple is the easiest activity to introduce letter A to my kids.The kids eats apple and they especially love green apple.
Among my objective for this theme is to help Miss 5 to distinguish the sound of letter A, along with counting with apple theme. For Miss 3, it's just for fun. We did Name Activity previously with the kids, so off we go to learn more about the letters in their name.
First off, I Pinterested Letter A is for Apple and found some easy to prep activities. Let me share with you the 5 activities that we did.
Letter A is for Apple : Activity #1 : Dot stamping
First, we did dot stamping for uppercase and lowercase of letter A.
I found free printable from TotSchooling. I printed it and it is quickly become the kids' favorite because the tree looks cute.
Miss 5 and Miss 3 colored the tree.
Miss 3 colored randomly. But Miss 5 categorized the color. Pink is for lowercase 'a', and red is for uppercase 'A'
The printable also has uppercase and lowercase of letter A, and while it's not in red color, the green looks bright and easily attract the kids.
I also explained about lowercase and uppercase of letter A.
If you noticed at the above picture, I wrote two sentences on the paper for Miss 5. Well, Miss 3 just won't appreciate this information just yet.
I don't really know how best to explain. But amazingly Miss 5 quickly got the concept. Her theory was, if the word is outside of the sentence, the word would start with uppercase.
But if the word is in the middle of the sentence or at the end of the sentence, then the word would start with lowercase letter 'a'
Wow, never thought of that. Great job Miss 5!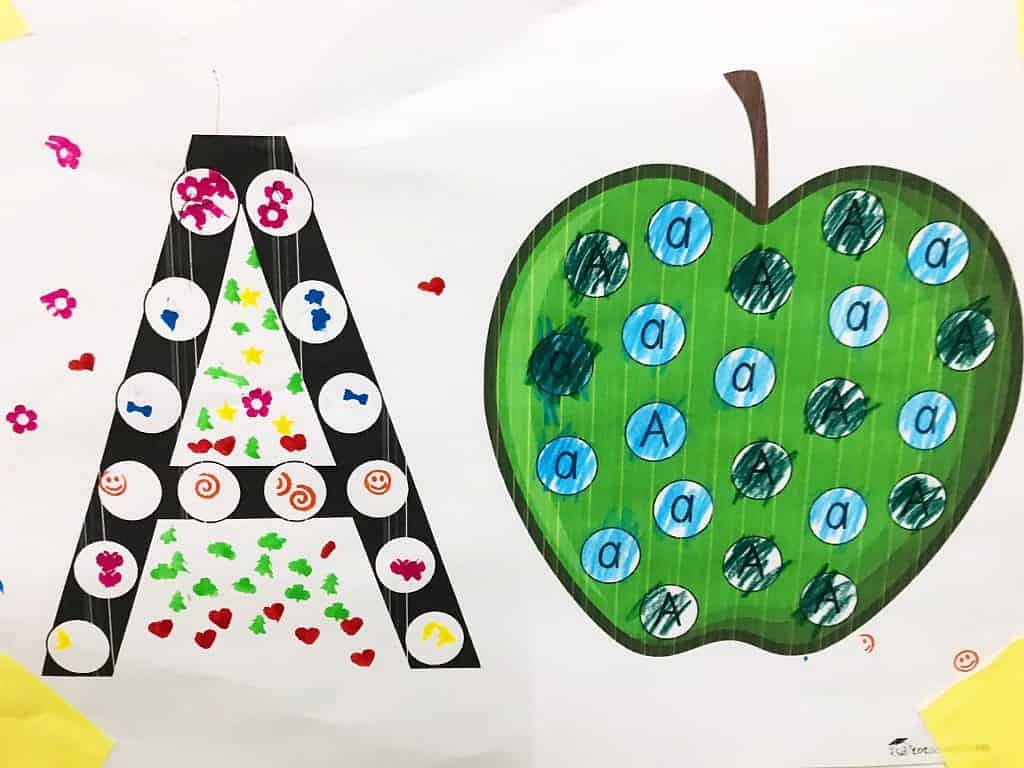 Letter A is for Apple : Activity #2
Next, we did some seed counting.
I also got this printable from TotSchooling. Click here to go to the blog post that gave Free download.
This is a bit tricky for Miss 5 as she still struggling with counting and matching the symbol for number 4, 5 and the rest.
So I gave a cheat sheet.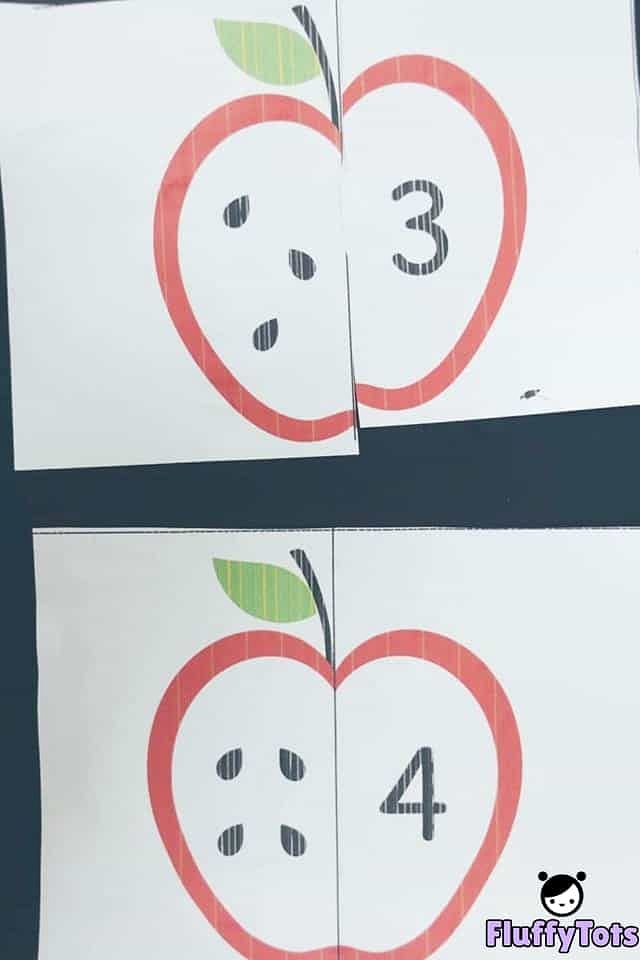 She did some and stopped at number 8. I guess we need to do more to pre-counting skills for Miss 5 or count together during our daily life.
Letter A is for Apple : Activity #3
I need to do one craft activity per day, because as far as I observed, my kids best get the concept and remember better when we do some project or craft activity.
This one is inspired from Glued to My Crafts Blog.
Wow, this is very simple but interesting!
We constructed the uppercase letter A using popsicle stick. Luckily we had supplies ready.
We used the red popsicle sticks, for the middle stick, we break one stick to be a bit shorter.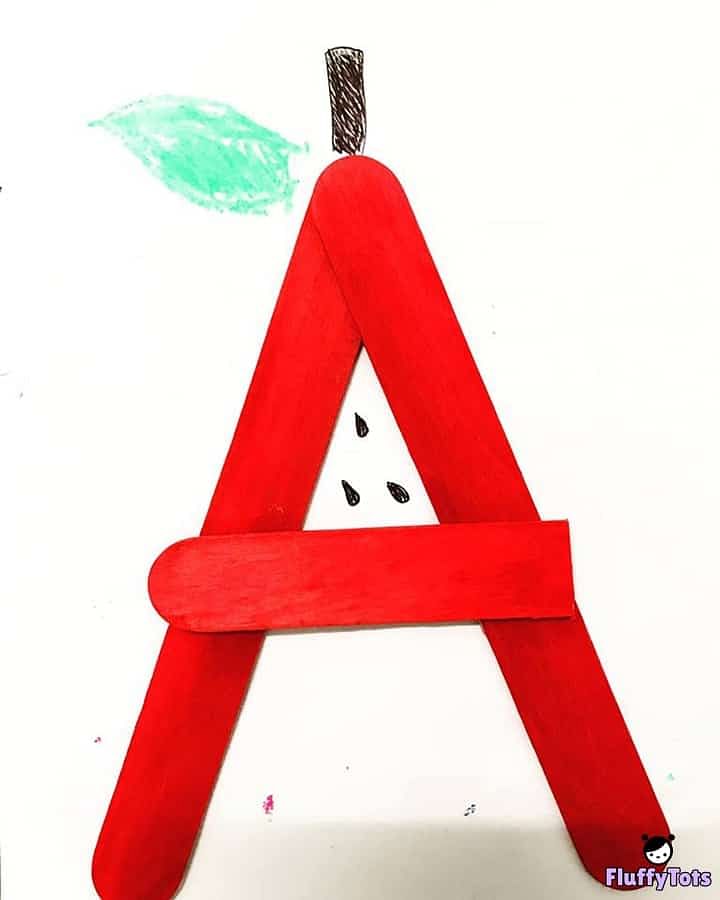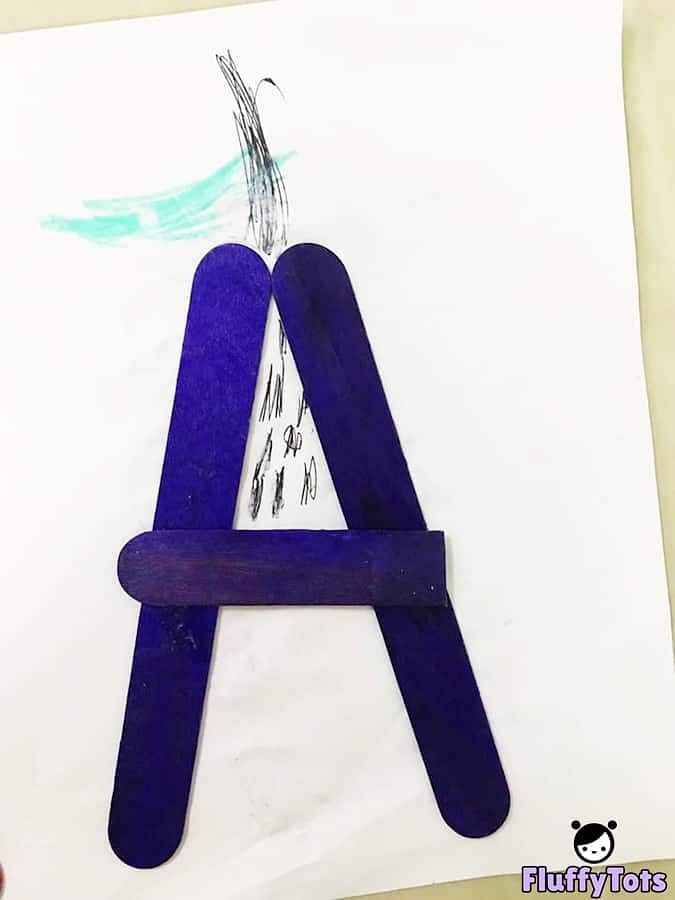 Then we glued it onto plain paper. Later we drew some apple's seed and it's green leaf.
Your kids can also play with the Popsicle Apple, invite some soft plush toy to eat the Popsicle Apple.
Letter A is for Apple : Activity #4
This activity is tailored especially for Miss 3.
Miss 3 is currently love to trace everything and color every cute picture she found. Well, by far this activity made her focus the most.
I made simple tracing line because from my observation; for tracing activity, usually Miss 3 needs to warm up first with straight lines.
Then she can proceed with other version of lines. She like most the lines with circle shape.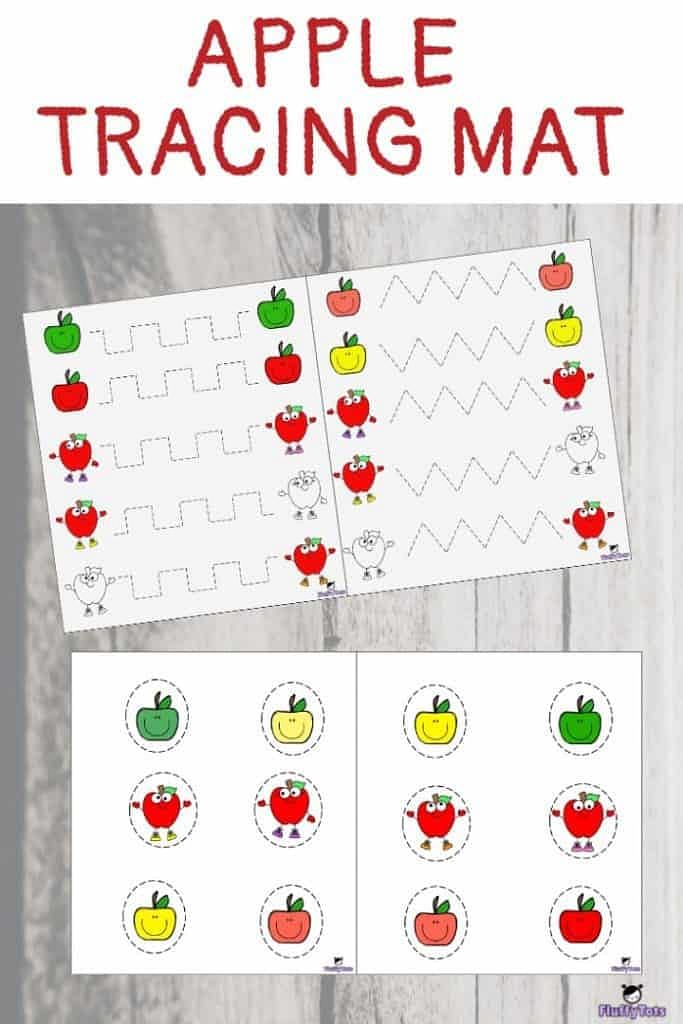 You can get the Tracing Mat by clicking the Download Button at the bottom of this post.
Letter A is for Apple : Activity #5
Finally, we got to eat some green apples. The kids like green apples.
While we're at it, we sing the phonic chant; 'A is for Apple, ah ah ah'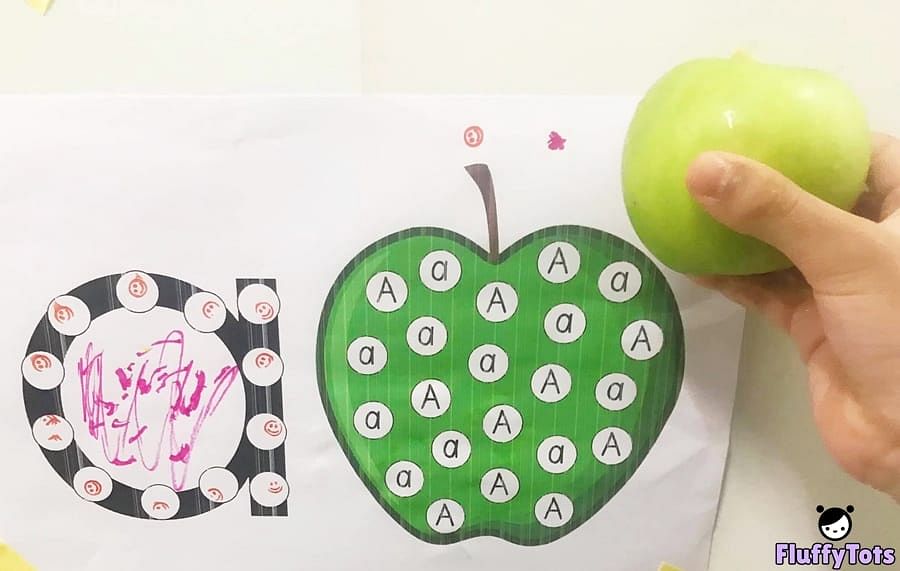 The kids were having fun!
I wish we could do more, but that's enough for the day I think. I need to give the kids some space for free play to help build their other social skills.
If you are searching activities for Letter A is for Apple, don't forget to take a peek at my Pinterest Board A for Apple.
Download the Free Tracing Mat
Don't forget to grab your Free Tracing Mat by clicking the Download Button Below.