Name Activity Pack : 2 Mats to Introduce Letters to Toddlers and Preschoolers
Among the first step to introduce alphabet letter to our kids, is by doing name activities. Thus we did this Name Activity Pack together.
This activity interest them because by doing it, they got the opportunity to learn more about their own name; such as what are the letters that makes up their name, the letters' sounds and more.
It was a hit with the kids that they kept asking for more and nearly skipped dinner.
The Name Activity Pack 
This Name Activity Pack has 2 mats; the first one is Name Graph. The second mat is About Me.
Name Activity Pack #1: Name Graph
First, we counted how many letters in there in each of family member's name.
How we did it:
I wrote every family members' name on other paper. Then Miss 5 started to write those names into the boxes on the Name Graph.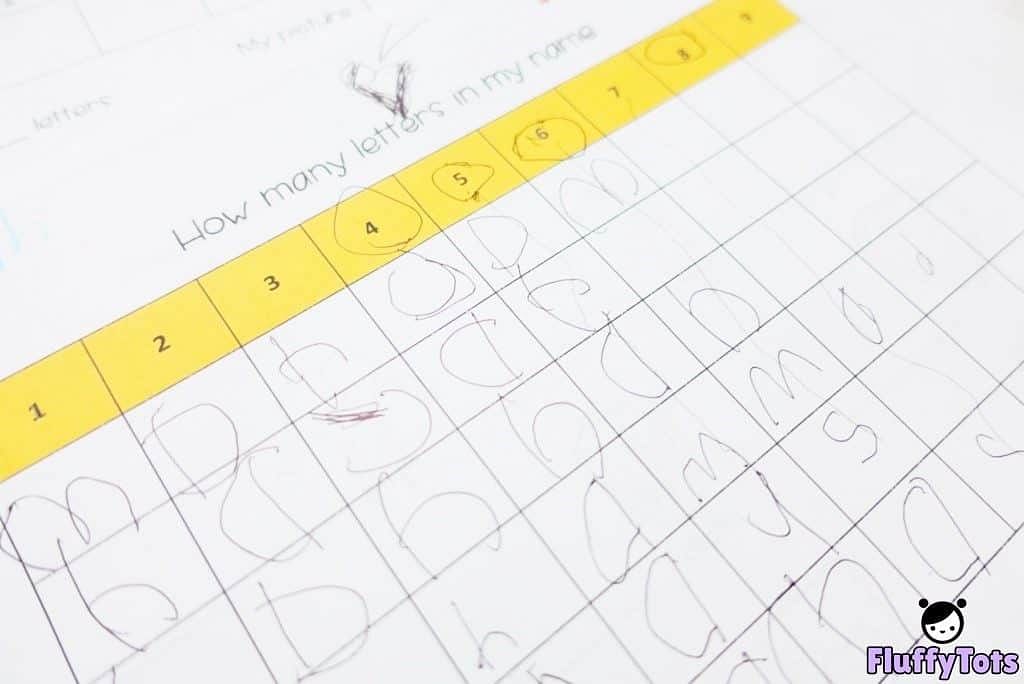 One letter per box.
She was quite excited with this that she began to ask  her father's name and my name to include in her Name Graph.
We once did try using magnetic alphabet. We put the alphabet into one box. One box for one alphabet letter.
But it didn't work because the magnetic alphabet is quite big for the box. Hence, Miss 5 just wrote down the letter using pen.
What did our kids learn :
Among other things, they learn about counting and how many letters in each other's name.
Everyone has different names, thus, everyone have different quantity of letters.
She did get excited when the name of one of us has the same amount of letters with her name.
Name Activity Pack #2 : About Me
This simple open-ended Name Pack Activity mat was a hit with my kids because they got to draw anything they like that represents them.
How we did it :
First, writing down their name. 
They wrote their name in the name graph cubes. Then counted the letters following the numbers and wrote the numbers inside 'My name has______ letters'
The best part was when they got to draw their own pictures in the given box.
Not only they drew their pictures, but they started to draw a lot of things, including family portrait at the blank side. 
They also used stamp markers to dot the papers making it look very beautiful. I think my kids love this because they can express themselves without having to follow any rules.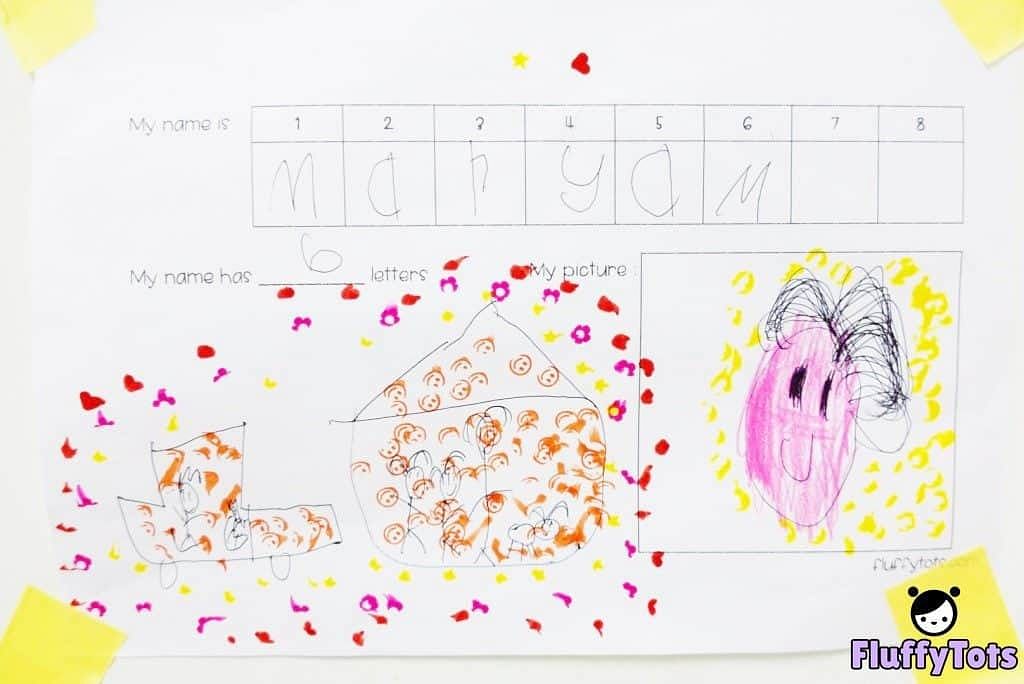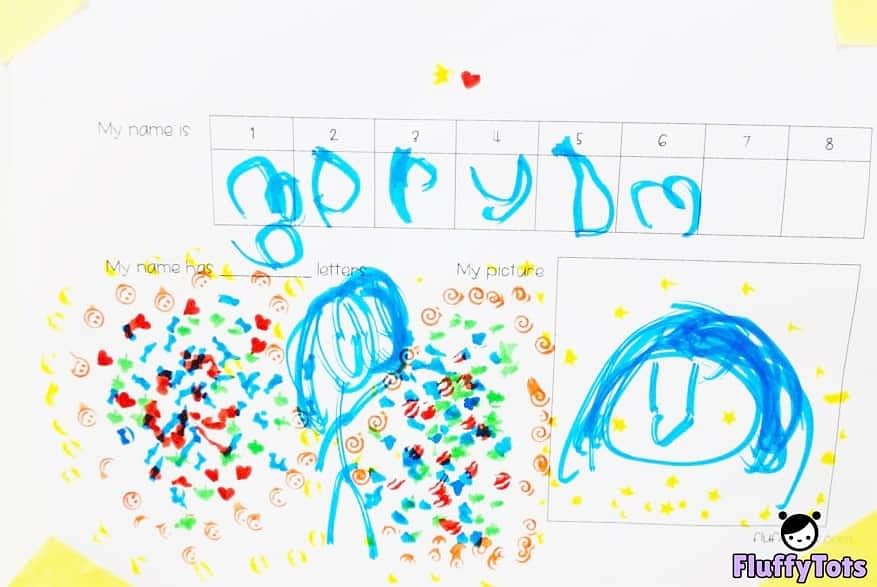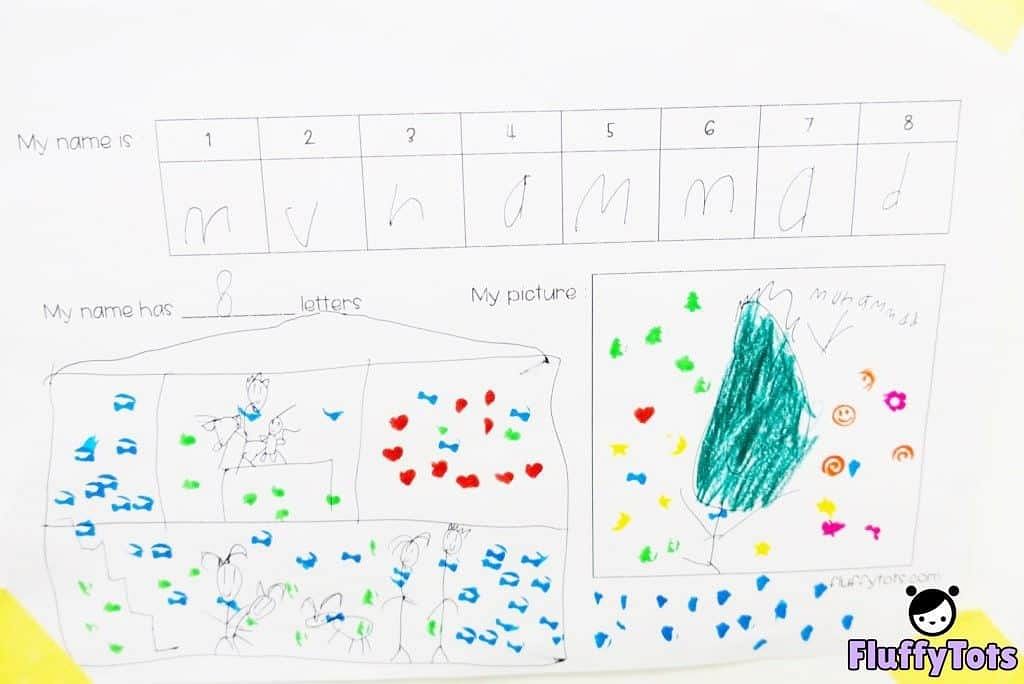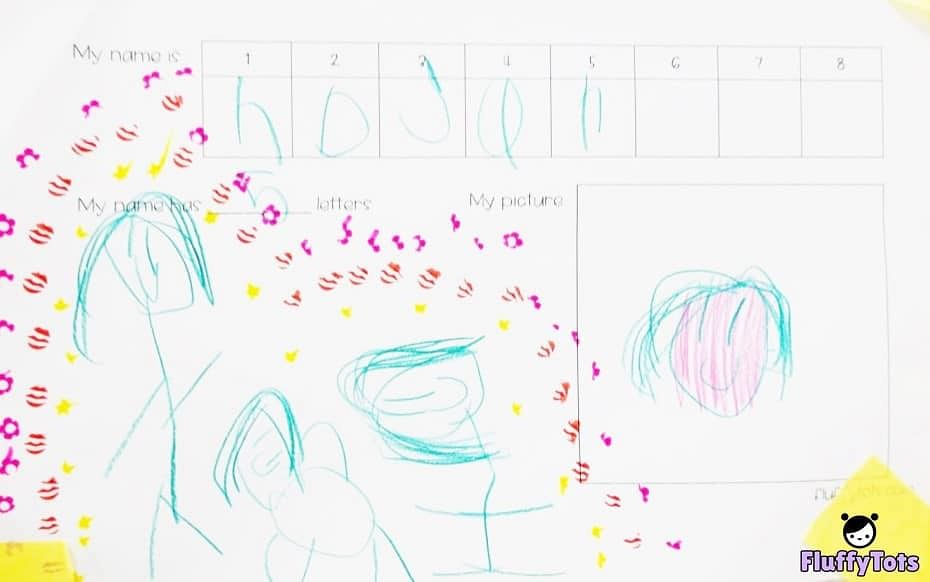 After getting done, Miss 3 and Miss 5 asked for more. 
What did our kids learn :
They learn about how to write their names and about the letters in their name.
One of the most important thing is also by allowing them to draw their own picture, I hope our kids got some sense of confidence in themselves. That everyone is created beautiful in their own way.
How our Miss 3 did the Name Activity Pack
Miss 3 does not yet recognize alphabet letters. So for this Name Activity Pack, she just drew some circles in the name boxes.
Circles or she called it letter 'O' represent her nickname, Ochee. She is obsessed with the letter O because she knew that represents her calling name.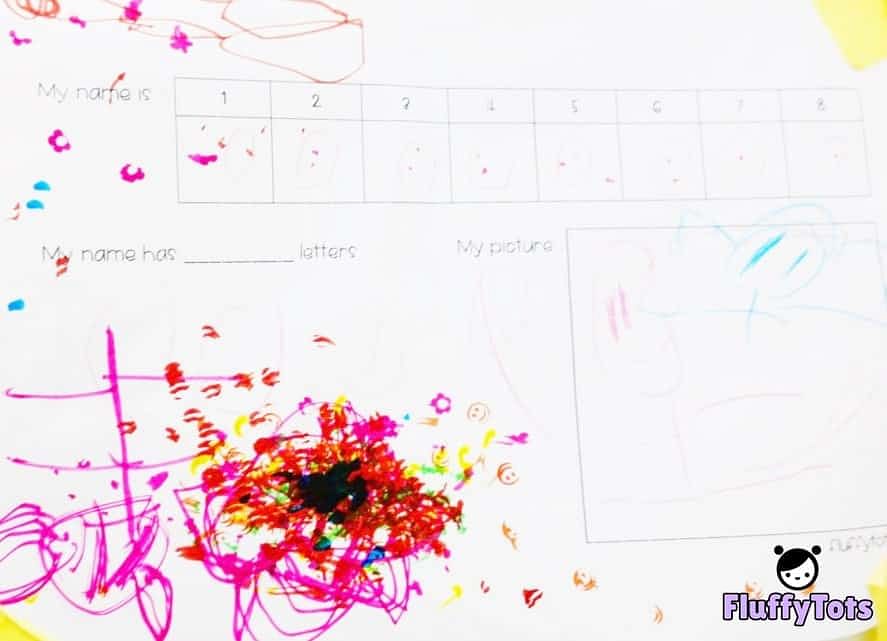 She was the one who initiate drawing pictures outside the given box.
I love seeing my children's creativity flow and grow. Thus, this activity is bookmarked to be one of our favorite busy activity.
Get Your Free Download
Although this activity is quite straightforward, I believe some of you might want to skip the time to create the printable and just want to go doing it with your kids.
Good news for you, you can get our copy for FREE, just click the Download Button below.