Preschool Farm Theme Printables
Do you love to sing the 'Old MacDonald had a farm' with your kids?
Same here!
Among the first animals that my kids love to read about, are the farm animals.
They make the easiest sounds such as 'moo' by the cows, 'baa' by the sheep, 'neigh' by the horse and more.
If you are looking for quick and easy setup Farm Animals printable activities, then you will definitely love our Farm Preschool Activity pack.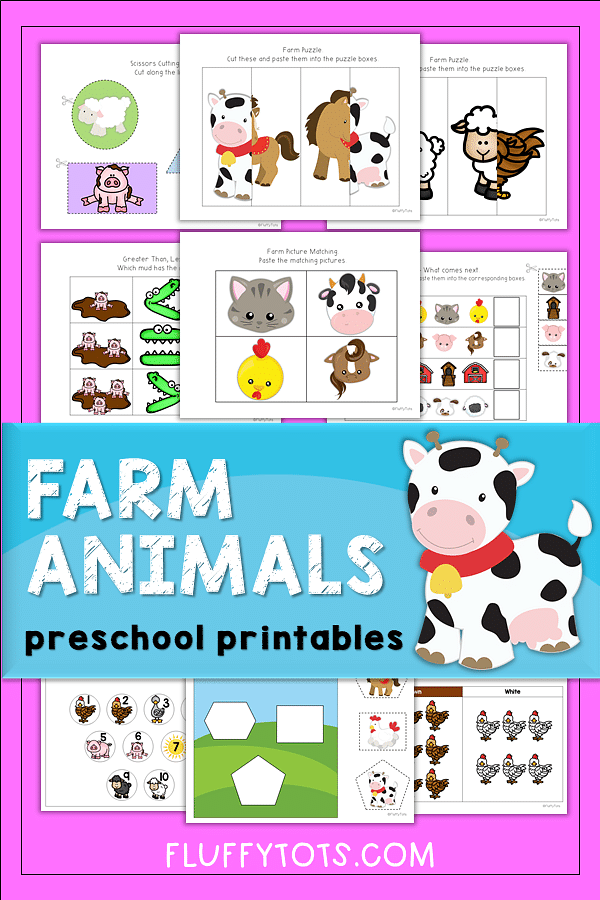 Just download and print, you will have your Farm activities for preschoolers in no time!
What is Farm Preschool Activity Pack?
This is a pack of printable activities with Farm theme, created for preschool and kindergarten kids.
There are loads of cut and paste activities involved, perfect for your kids to practice their scissors cutting and gluing skills.
This resource is jam-packed with exciting activities such as Farm puzzle, Farm sorting activities, Farm shape matching and more.
Easy to Use
Perfect for a busy teacher/mommy/caretaker like you, you don't have to gather home supplies the night before.
Quick and easy to prepare, all you need to do :
Download this activity packet (link at the bottom of this post)
Open the PDF file
[Optional] Check the Table of Content to see which activity might interest your kids for the day
Print the selected activities
That's all!
P.S: Please also note that this Farm Animals activity packet is only for single classroom and non-commercial use.
Other materials that you might need :
This post contains affiliate links for your convenience.
Kids Safety Scissors for your kids to cut their Arctic Animals activities
Glue for your little munchkins to paste their works accordingly
Crayons, well, let them draw their own version of penguins or seal on the worksheets
What Activities Included in this Farm Animals Printables pack?
There are currently 14 sets of exciting activities in this pack.
Let me share a sneak peek of the activities.
Activity #1 : Scissor Cutting Skills
This activity is about cutting along dotted lines using scissors.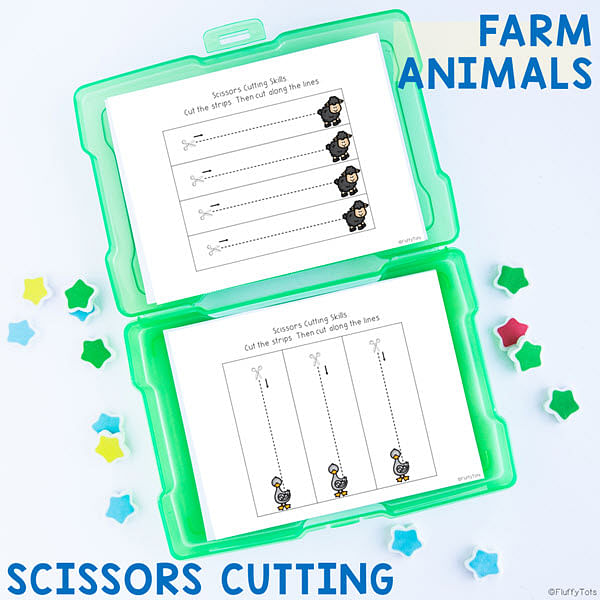 There are cutting lines, cutting shapes and cutting Farm animals faces printables.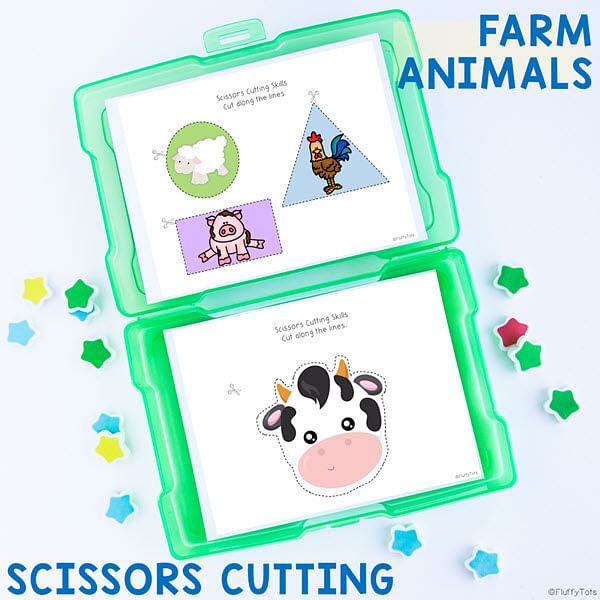 Activity #2 : Do-a-Dots
There are many ways to do this activity.
The usual way is to dot the dots using dot marker.
For my kids, they love to color in the dots using crayons.
Sometimes we use dot stickers to fill in the dots.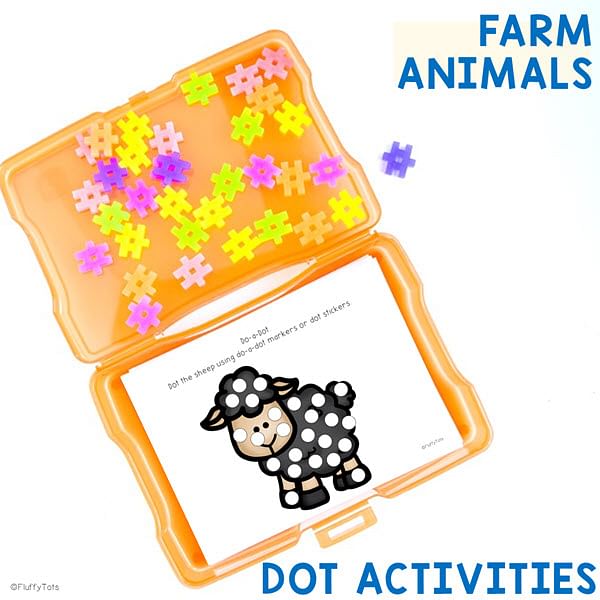 This activity helps kids to practice their eye-hand coordination, their hand grips on the dot markers/crayons/dot stickers and perfect for one-to-one correspondence skills.
Activity #3 : Odd Ones
This activity is about identifying same objects and different objects.
Find the farm animals that is different in the row, circle on the odd ones.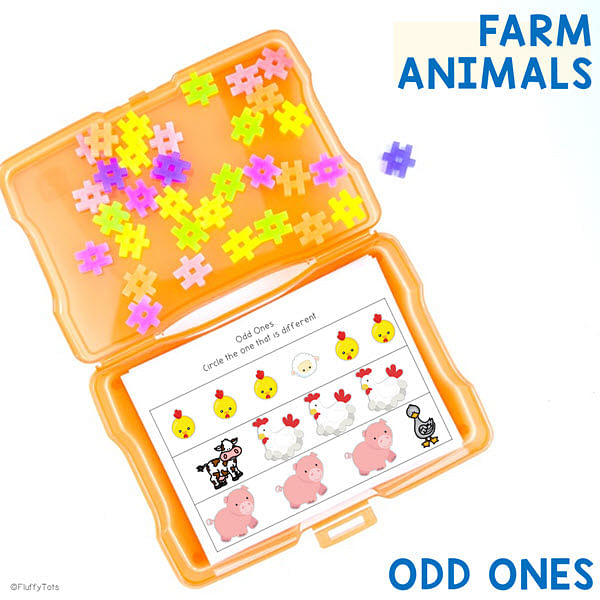 I noticed that the ability for little kids to differentiate same objects and different objects are important.
When they start to learn their numbers and letters, they will need to be able to differentiate number symbols.
Activity #4 : Puzzles
This activity is fun because your kids will be challenged to solve puzzles on their own!
Start with big 2-pieces puzzle like the one below.
I've also provided puzzle boxes to guide your little munchkins to paste their completed puzzles on, and also to avoid them from being overwhelmed as to where to paste the completed piece.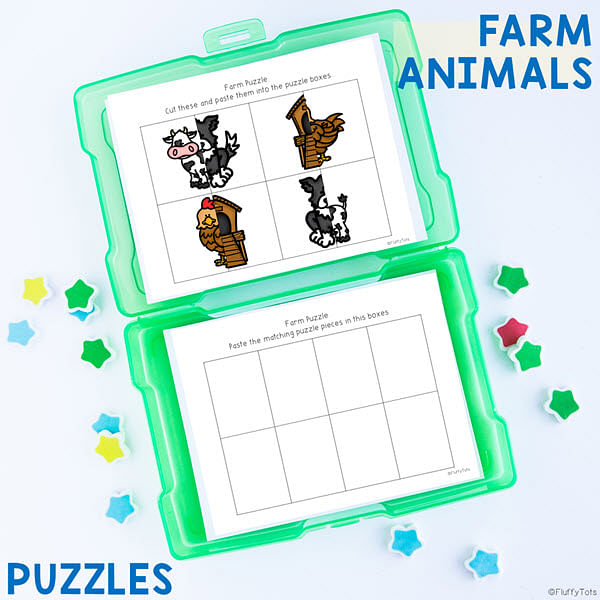 Activity #5 : Shadow Matching
Have you played shadow matching before?
It's challenging but exciting for little kids because they will need to match the animals to its own shadows.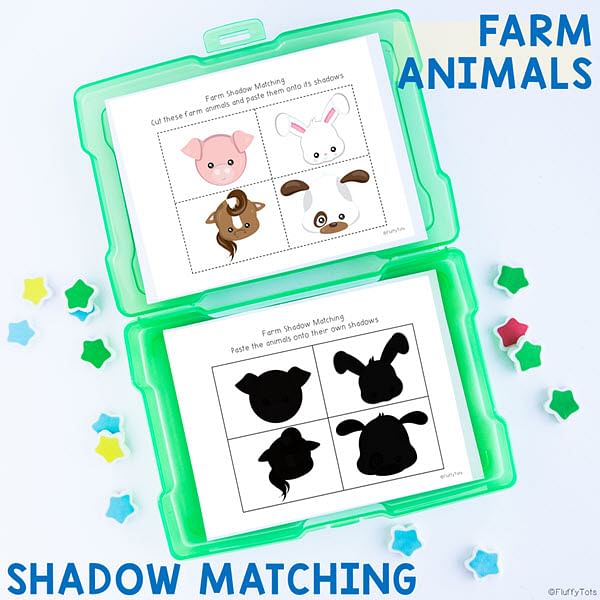 To do this activity, cut the Farm animals faces.
Then have your kids identify which shadow is belong to the corresponding picture.
Paste the pictures onto its own shadows.
Activity #6 : Picture Matching
Although this might look a very simple activity, this is actually the kids own daily activity – which is to find the matching socks or the matching pair of shoes.
In this set, kids need to cut all the Farm Animals and find-and-paste them to their matching pairs.
Activity #7 : Shape Matching
This activity works like a shape sorter.
Kids need to cut all the shapes and fit-and-paste it into the matching Farm Animals.
Among shapes included in this resource are circle, square, diamond and pentagon.
Sorting Activities
In preschool daily life, sorting would mean clean up your room and your toys.
They would learn which toys belong to which group, which type of cloth belongs to which drawer.
For instance their shirts belongs to the top drawers while their pants need to be put at the middle drawers.
In this Farm animals theme for preschoolers activities, we are learning to do sorting according to 3 types of things :
Sort by color
Sort by type
Sort by size
Activity #8 : Sort by Color
To do this activity, first, have your little munchkin cut all the farm animals.
Then, look at the sorting column and sort the farm animals accordingly.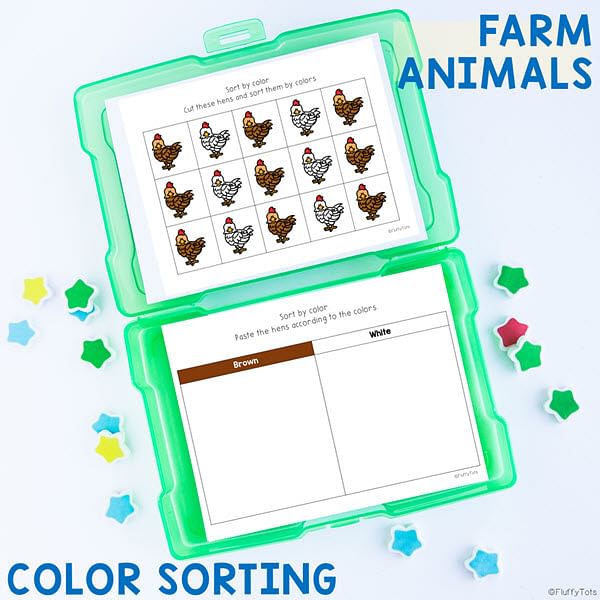 As you can see below are hens that are completely sorted according to their colors.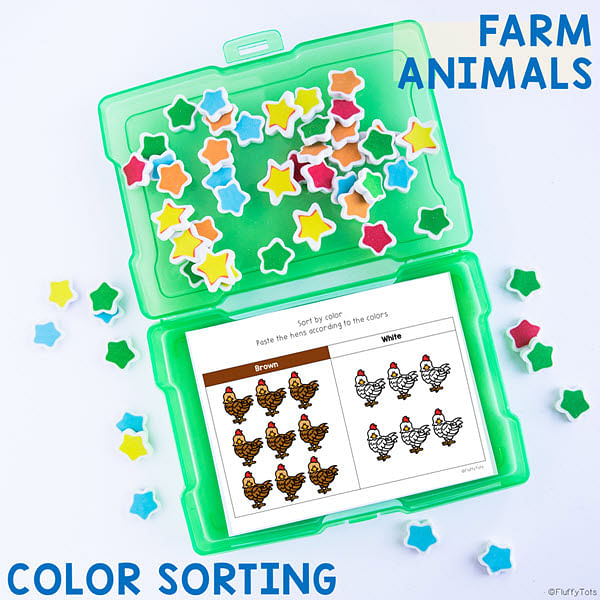 Color sorting helps your little ones to learn the name of colors.
Activity #9 : Sort by Type
This Farm theme printables activities is about sorting the Farm animals according to their types.
In real life, this helps little kids to sort their clothes, or shoes, or types of books.
To do this activity, first, have your little ones cut all the Farm animals.
Then, look at the sorting column.
Let them know that we want these Farm animals to go back to their house, so we have to sort them accordingly.
In this example, it's about putting chickens into their home (chicken column) and putting pigs into their home (pig column)
Below is how we sorted them.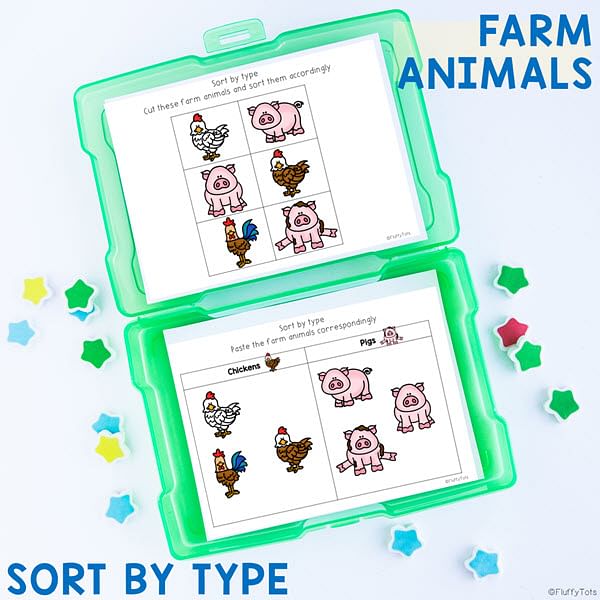 For a twist of fun, let your kids draw the barn at the chicken column or haystack at the pig column, just to help them imagine putting these Farm animals to sleep.
Activity #10 : Sort by Size
I used to assume that comparison is a topic a bit advanced for little kids, until I observed my own kids when they are comparing their things.
It's always about who got the bigger bag, or the bigger balloon.
This made me realize that little kids already know the concept of big and small.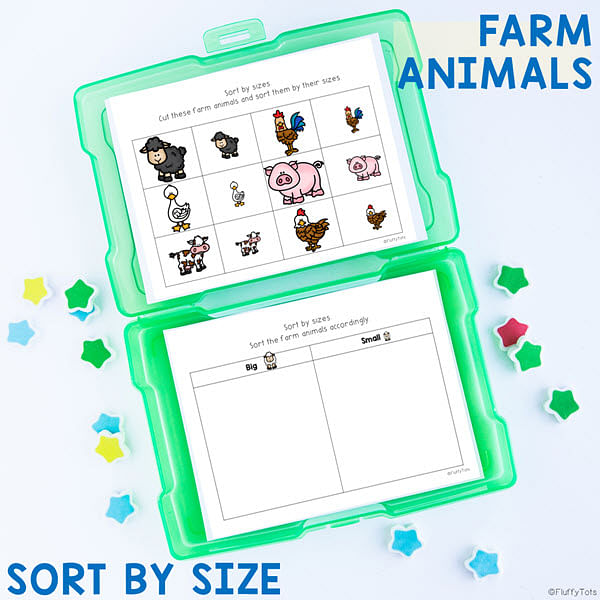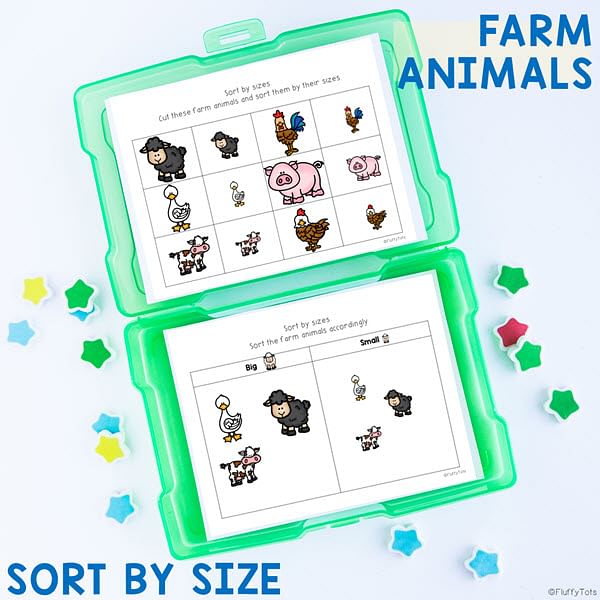 Activity #11 : Pattern
Pattern is the backbone of many things including counting and literacy.
For example, when I was teaching my older kids to read how the rhyming word 'cat' and 'sat', I can see that if we do more pattern activities, this would have 'click' easier for her.
Patterns don't just revolve around worksheet activities.
But if you are busy mom and teachers looking for easy pattern activities, just print this Farm Animals activity and let your kids do the cut, copy and paste.
By copying, your little kids are learning.
There's also 'complete the pattern' activity in this pack.
Math Activities
There are 2 math activities in this part.
Activity #12 : Number Matching
Let's put the Farm features at their own spot!
This activity is about number recognition 1-10.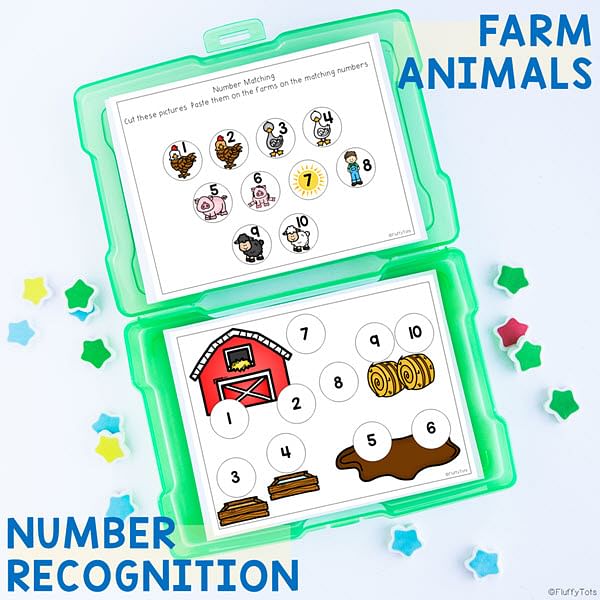 To do this activity, have your kids cut the Farm animals and the farmer boy; and paste them in their matching numbers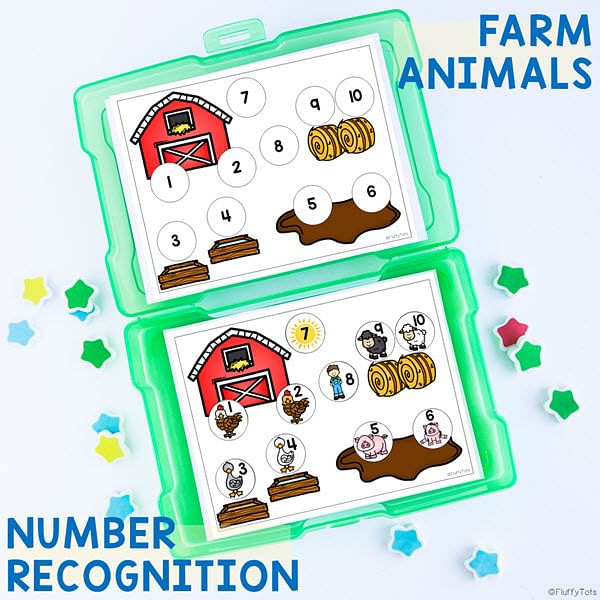 Activity #13 : Greater Than, Lesser Than
Ever hear your kids saying "Oh she has more than me!"?
Well, that's a great sign that your little munchkin already know the inequality concept.
In this activity, you will introduce the inequality gator as a symbol to show which group has more than, or less than.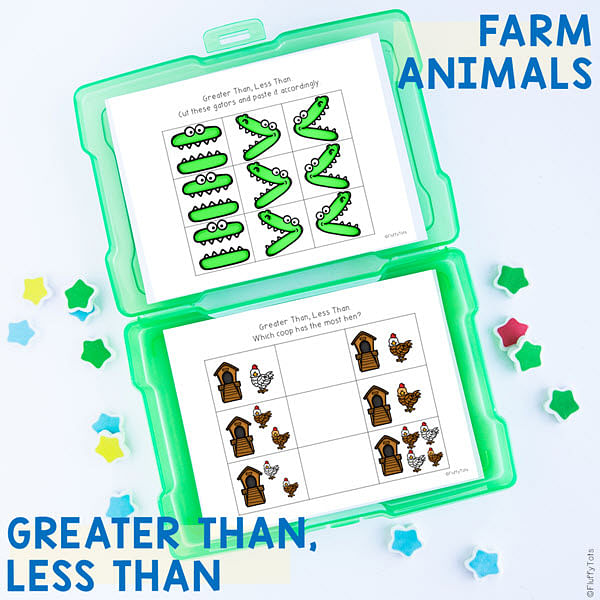 To do this activity, have your kids cut all the inequality gators.
Then let them know that the gator always wants to eat the group that has the more things.
The tips is, tell them the gators mouth would only open to eat the group with most Farm animals.
So they would know which gator to put.
Show them how to do it and later let them figure it out by themselves.
Letter Activity
The final activity in this packet is ABC Matching.
Since this pack is created with 3-4 years old in mind, I'm doing the activity to be matching lowercase letters to lowercase letters.
This is especially for preschool who just begin to learn about their alphabet letter.
Activity #14 : Letter Matching
As you can see below, there are Farm animals (and a barn) with letters and there is also Farm background with letters on it.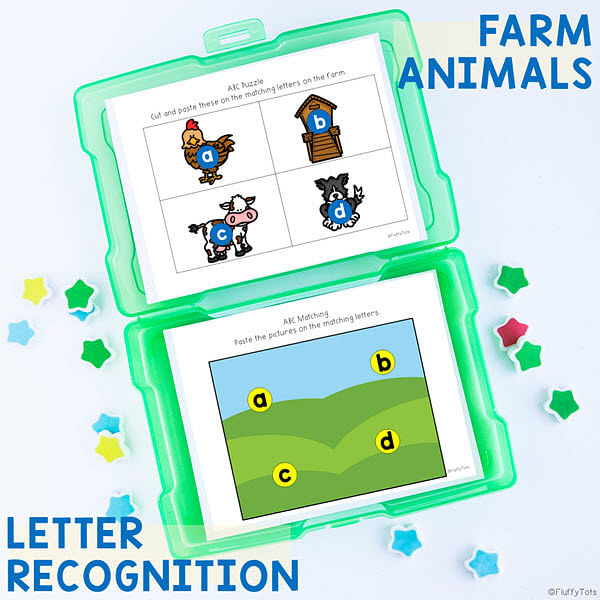 Have your little learners cut all the Farm animals and find its matching letters on the Farm background.
Next, paste them correspondingly like below.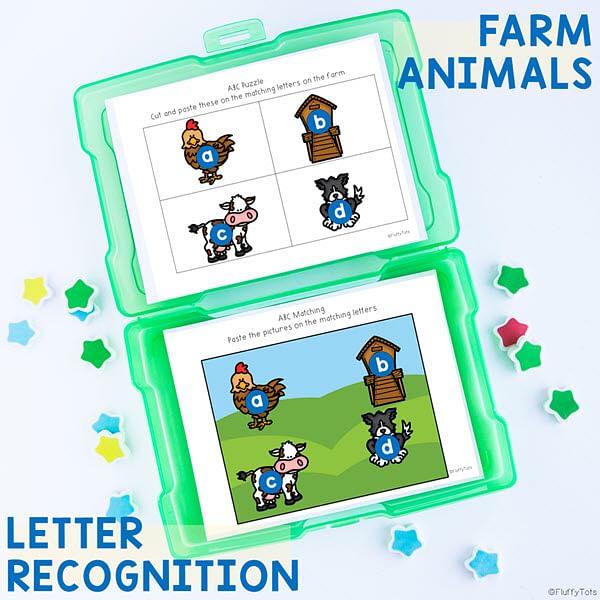 Ready for Farm Animals fun?
Farm Animals Instant Download
Try our sample of Farm Animals Activity packet by clicking on the download button below.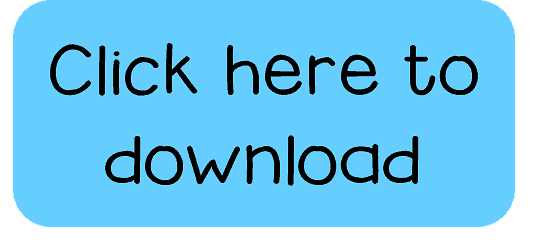 Have fun!
SHOP Farm Animals Activities BUNDLE