Earth Day Printables : 3R Activity for Kids
Are you are looking for simple Earth Day activities to introduce 3R concept to your kids?
Then, our Earth Day Printables for preschool is perfect for you.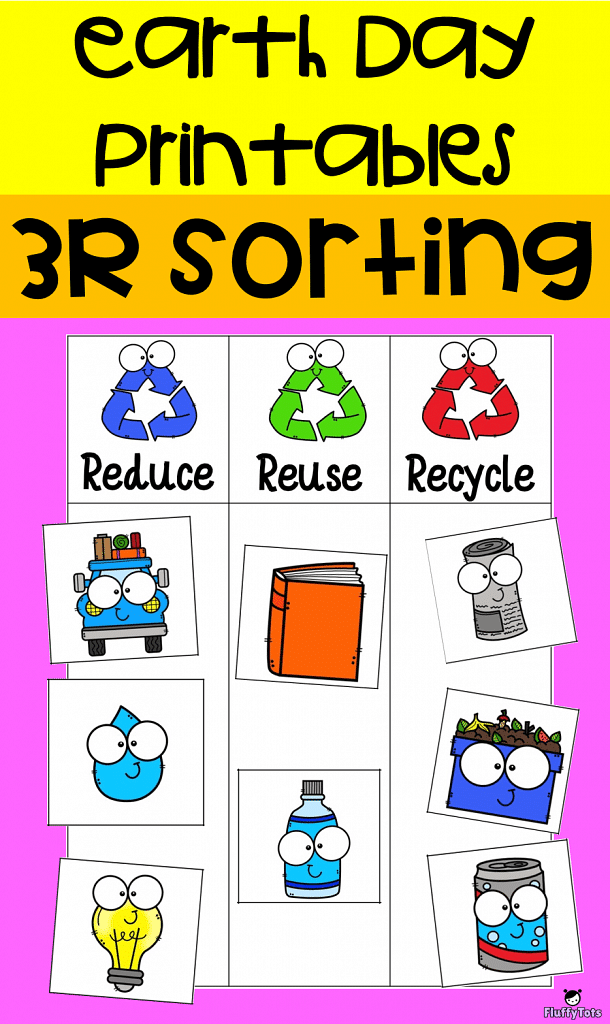 My kids always get curious about these 3R things, especially the reducing part.
One of my kids asked, "Why do we have to reduce the usage of water and electricity, when we can pay for the electricity bill?"
The answer is not about whether we can pay for it or not.
Protect the Earth – It is chains of events
It is because every time we light on the bulb or turning on the tap water, we are burning resources from the earth.
Those resources are such as fossil fuel and coal. To produce electricity and process water, those fossil fuels and coals need to be burned.
But unfortunately, burning them will indirectly release pollution into the air.
Polluted air will make Earth sad.
Air pollution such as acid rain, carbon dioxide, and toxic gases; will thin our atmosphere and make the Earth's climate a bit hotter.
When the Earth's temperature is hotter than usual, it will lead to the depleting of glacier and ice at the north pole.
This event will sadly affect other wildlife, such as making the Polar Bear lose its home-because Polar Bear live mainly on ice to hunt for a sea-lion.
This also would flood some parts of the world, such as Italy and Greenland.
Then there are other natural disasters that will follow.
Usually, to discuss this topic, I would bring some Earth books and show some pictures to my kids.
Preparing the Earth Day Printables Activity
To prepare this activity, you will need to :
1. Print the printables
2. Cut all the pictures

How to Use the Earth Day Printables
This printable can is perfect for Earth Day activities for kids.
First, just talk about sorting them.
Then, dive deeper into the concept of the sorting, about how do we determine which action belongs to which column.
Discuss together while reading Earth book. Show them some pictures. Create some awareness in them.
Lay the cut pictures onto a table and let them sort accordingly.
Let them paste which items need to be reduced, which items need to be recycle and which are great to be reused.
Be sure to click here to download your FREE Earth Day Sorting printables.
Have fun!
Shop Earth Day Fine Motor Packet
Looking for more Earth Day 3R sorting activities?
Check out our Earth Day Fine Motor packet; your kids will get to learn about compost, recycling according to the recycle bins and more!