The First Letters I Teach My Kids and Why It Makes Sense
When I first decided to teach reading in a fun way, I was a bit overwhelmed.
I was wondering what letter should I teach first?
Which option is the best, is it phonics or introduction to ABC?
I tried the ABC sequence but it fell flat with my kids.
They aren't really that interested in the letters.
Later I learned to start off the journey by teaching the letters that make their name.
Why not teach letters following the ABC sequence?
You might wonder why don't we introduce the letters in the ABC sequence?
It's because kids are the type that cares about themselves first.
Did you notice little babies are fascinated just by looking at their own toes and fingers?
The same thing with a toddler and preschool-aged kids.
They want to know about themselves more than their curiosity about other people.
So we use this fact to learn letters; to learn the letters in their name before any other letter that exists in the world.
What we did…
Her name is Maryam.
I'd print her picture and write her name. I'd then tell her that this is how her name is spelled.
The M.A.R.Y.A.M
For little kids, the most they can grab is just the first letter.
For my girl, it's the letter M.
Everytime she drew a little girl, she'd put an M by her.
It's always M here and there. We also have several activities just with that one letter.
Going slow to go fast…
My old self would think that this thing is slow.
But my current self knows that learning letters are a process.
It may take a little bit of time to get familiar with that one letter. But it'll be worth it; because once your kids are comfortable with that one letter, they'd ask for more letter activities.
In Maryam's case, while we're learning about the letter M, I've also never failed to keep on writing her name in full that includes all the other letters.
What are we learning for Letter M?
For this letter (and later for the other letter as well), we are doing the letter tracing, the letter dot sticker activities, and the letter cut and paste.
We learned what the letter M sounds like and what things start with the letter M.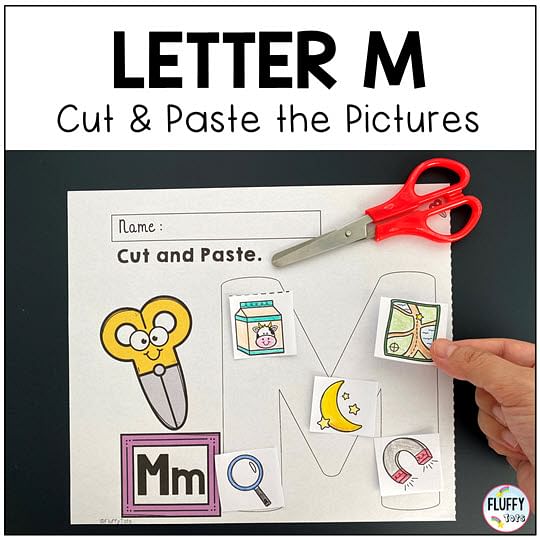 But the most exciting part is the letter hunt like below.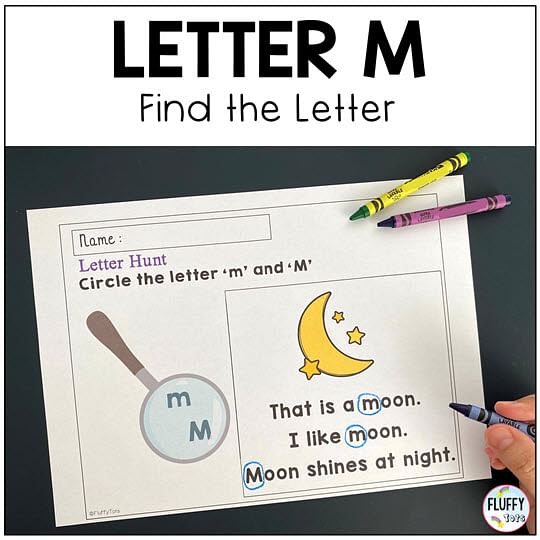 The backstory: I used to ask her to search for the letter M in her storybooks and circle them.

But her storybooks are getting many doodles that can't be erased.

So I created letter hunt activities for her.
You can shop your letter M activities here.
You can also find other letter activities for your kids here in my shop.
PS: If you're looking for a letter activity for your very beginning learner, I suggest that you try to take a peek at our letter craft printable activity.
I used to do this kind of activity first before we dive in to learn about specific letters.