Sight Word Reader 'I am' : FREE 8 Fun Pages for Preschoolers
Miss 6 is currently trying to read on her own. To support her effort, I made this Sight Word Reader 'I am'.
I noticed that both words are quite common in kids' books and everyday life, especially when we meet some one new.
We usually see the word 'I am' when someone is introducing themselves, or when we are introducing ourselves.
The kids' storybooks also usually introduce their characters using the 'I am' sight words.
Hence, I go for these sight word first for Miss 6 (Miss 5 turned 6 yesterday!)
Sight Word Reader 'I am'
This sight word reader has 2 mini books; a bunny book and a carrot book.
In these books, we repeat the sight word 'I' and 'am' for 4 times.
There are only 3 words per page.
For example, one of the word is : 'I am bunny' – I didn't put 'I am a bunny' because I want let Miss 6 to recognize the words 'I' and 'am' first.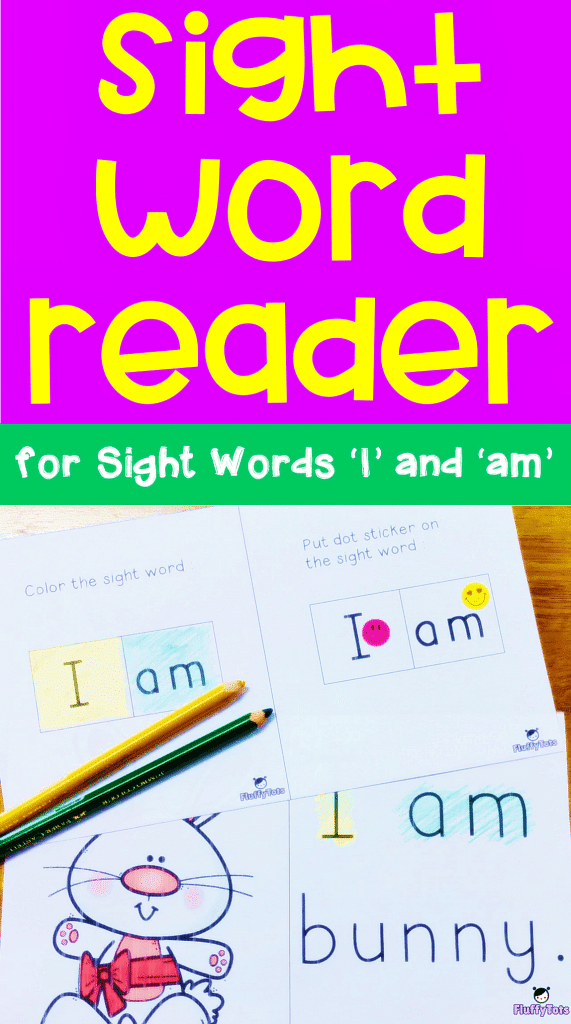 To make it more fun, we added games, which is to color by sight words, or do some dot activity to the sight words.
This dot activity include dot stickers activity or do-a-dot marker.
Or you can replace them with pompoms, cereals, gummy bears, bunny erasers, beads and more!
Prepping Sight Word Reader 'I am'
To prep for this Sight Word Reader 'I am', you need to have at least a printer to print this FREE Reader. (the download button is available at the bottom of this post)
Booklet or Printable?
You can make this Sight Word Reader 'I am' into a mini book or booklet, or you can just simply print it as an activity printable.
Both works fine.
If you wish to make it into a booklet, you might want to find a long stapler to staple at the center of the book.
Or you can bind the pages using ring binder or paper fastener.
Another option is, you can have both booklet and printables.
Just print 2 copies of this reader; one copy is to be converted into booklet, another copy into activity printable.
Set the color for the sight words
This Sight Reader 'I am' also has sight word activity with it, just to make it more fun and engaging.
At the front page, you would need to set the colors for sight word 'I' and sight word 'am'
You also have an option if you wish to use dot sticker, you would need to set which dot sticker is for which sight word.
How to Use Sight Word Reader 'I am'
Once you have done with prepping and decide the colors for both sight words, you are now ready.
Color by Sight Word
First, for preschoolers, we need to do some activity before capturing their attention to do the reading.
Thus, let them color the sight words they can find according to the color that you have set.
While at this, you can call the sight word together 'I' or 'am'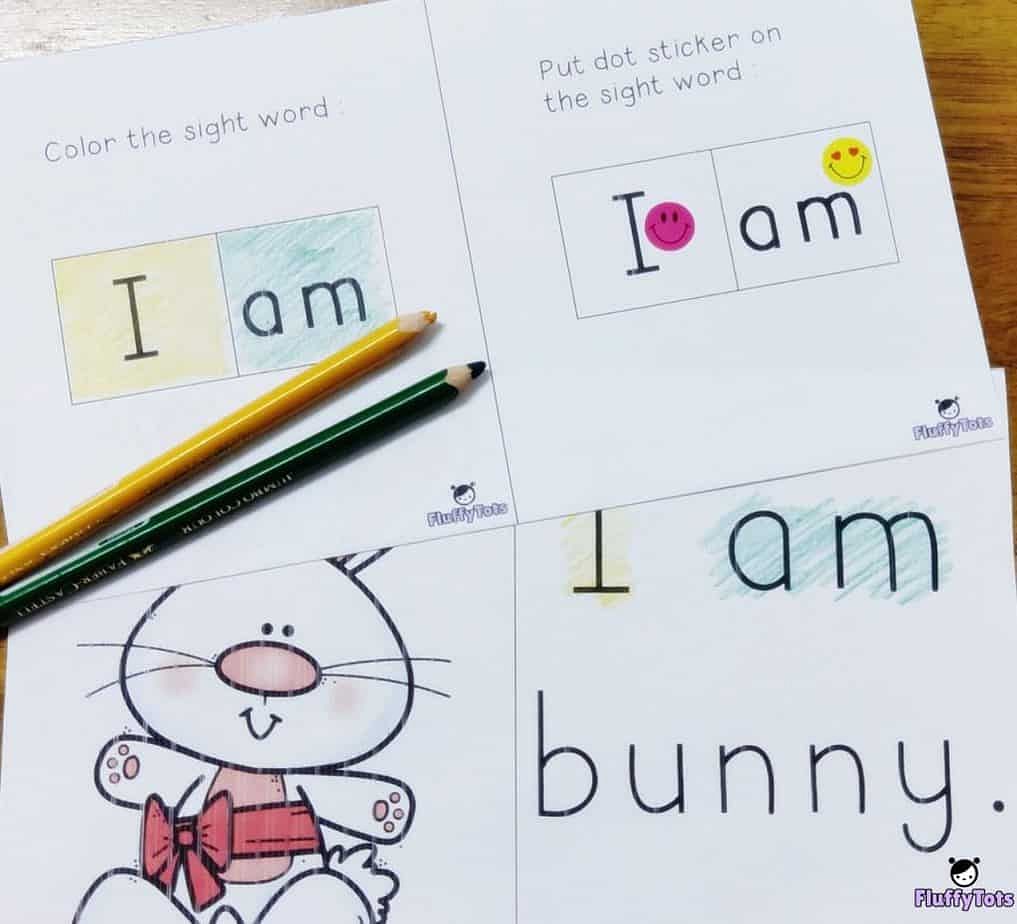 Dot by Sight Word
Next, you can ask your kids to peel some dot sticker and stick them to the sight words accordingly.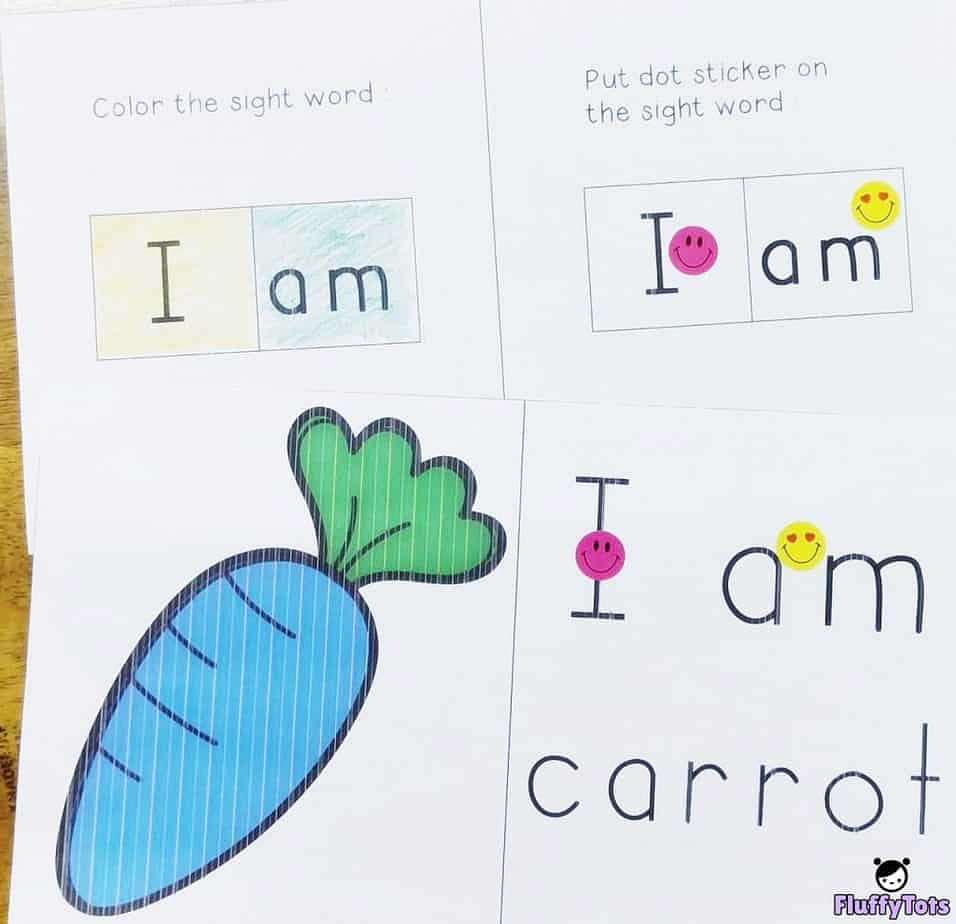 Only 3 Words per page
This Sight Word Reader 'I am' has only 3 words in a page.
And it is written big enough especially to cater preschooler's attention.
This minimum words on a page also would help your kids to remember the sight words better; the shape of the sight words, the pronunciation and how to write them.
Get Your Download
I hope our Sight Word Reader 'I am' can help your kids as well. Do let me know how it went once you have try it!
You can download this printable for FREE, just click the download button below to start downloading.
Have fun!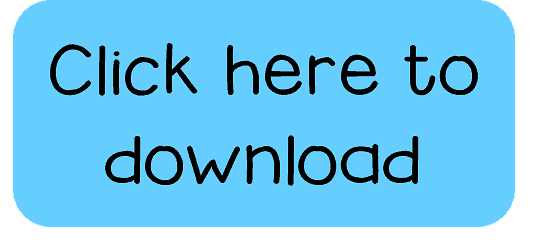 You might want to try other sight word activity as well. Pin them to save!