Kids Friendly Accommodation at Lofoten
At the sight of the view of the cabin hotel, our weariness from long hours flight and handling the kids' tantrums, all disperse into thin air.
What an amazing place!
The mountain, the snow and the sea all blended perfectly into one picturesque view. I could stand all day looking at the view if not considering that we need to check-in.
Our first lodging in Lofoten are two cabin houses at Anker Brygge in Svolvaer.
Our pax are 4 adults (including both my parents), 3 kids and 8-months old baby. The management only allow that one house can only accommodate 5 person, that includes our baby.
So even if we didn't bring my parents, we still need to book 2 houses.
But they don't charge children.
The interior
Anker Brygge's cabin hotel used the concept of fisherman's cabin or the local called it rorbuer. The home for guests inspired by local's fisherman cabin; painted in red and the interior looks a bit traditional.
Maryam our 5-years old once thought it's Santa's house, looking at the interior color and decor.
Each of the house has :
2 bedrooms, each has their own toilets.
One bedroom downstairs with king sized bed, and the other bedroom is upstairs with 2 single beds.
Living room with TV
Dining table that can be folded or expand
Kitchen that is complete with everything.
The kitchen has stove and blower, sink, microwave oven, coffee maker, dishwasher, fridge and freezer, dishware and utilities to cook.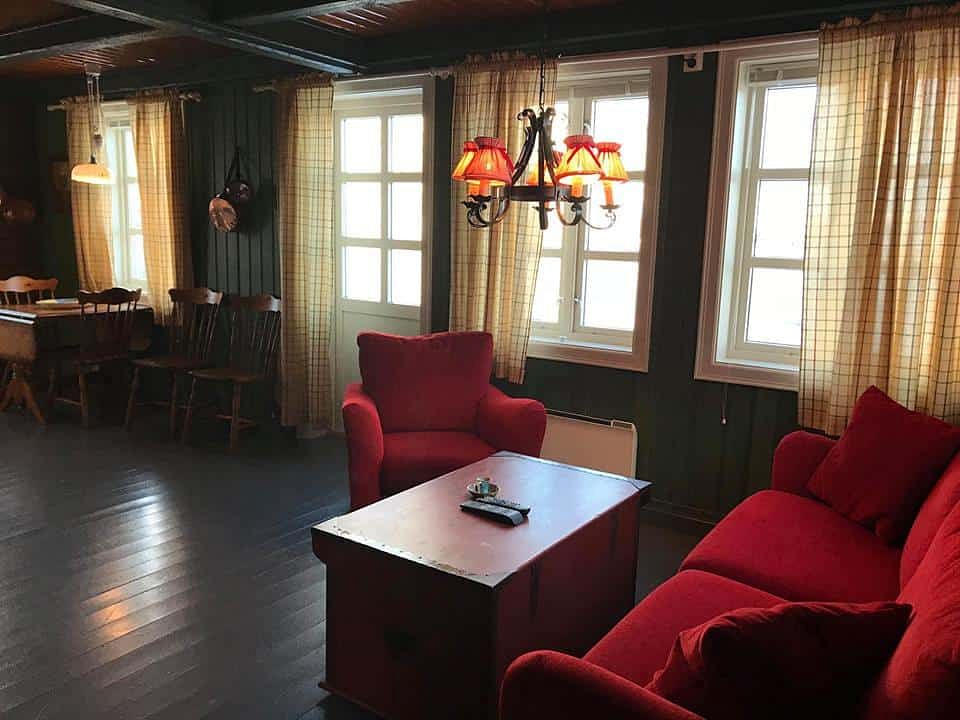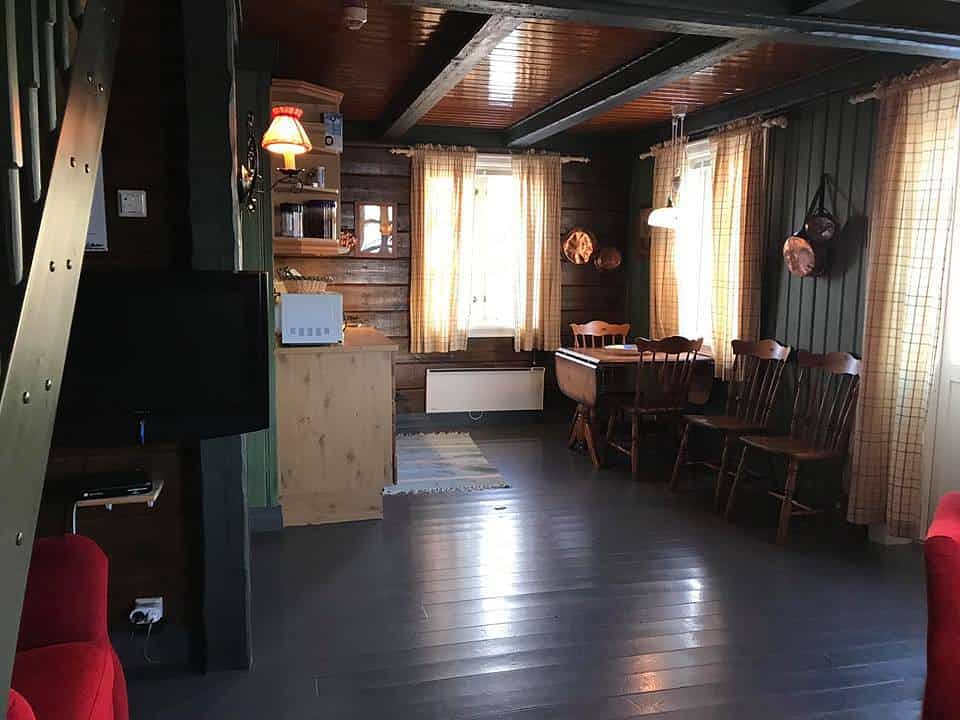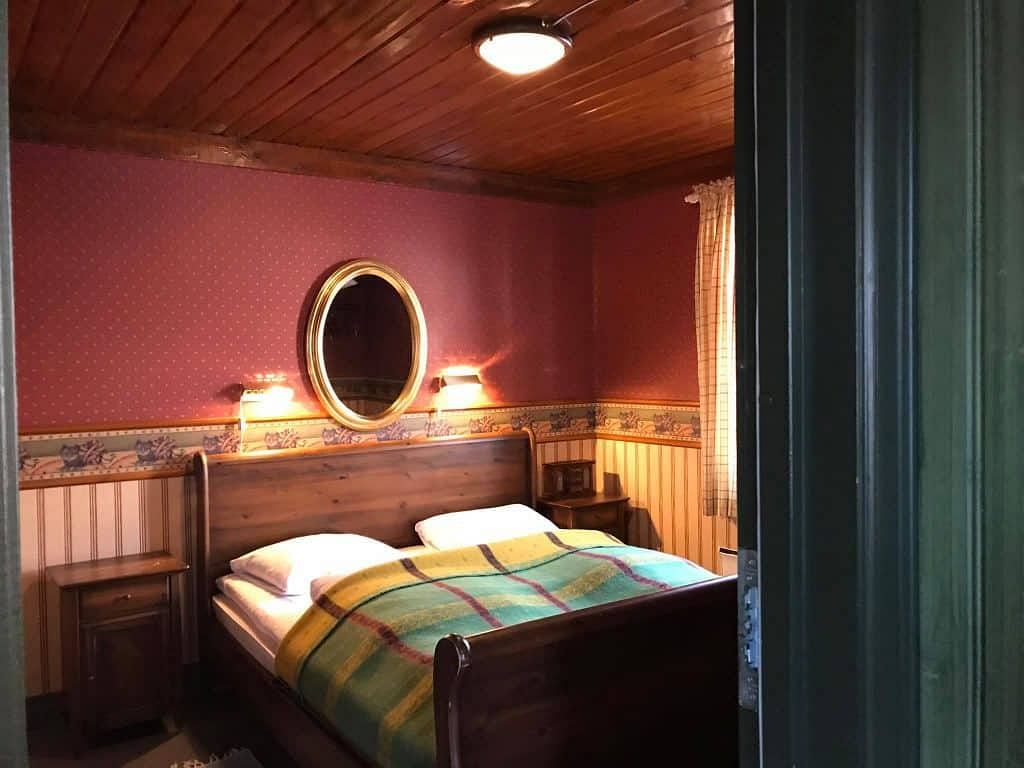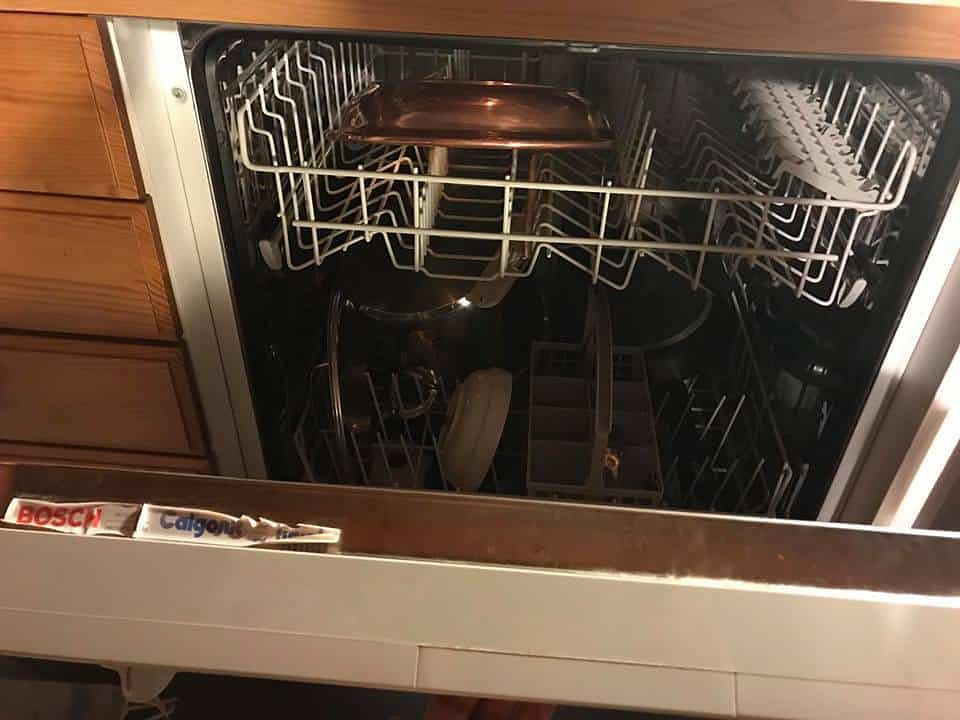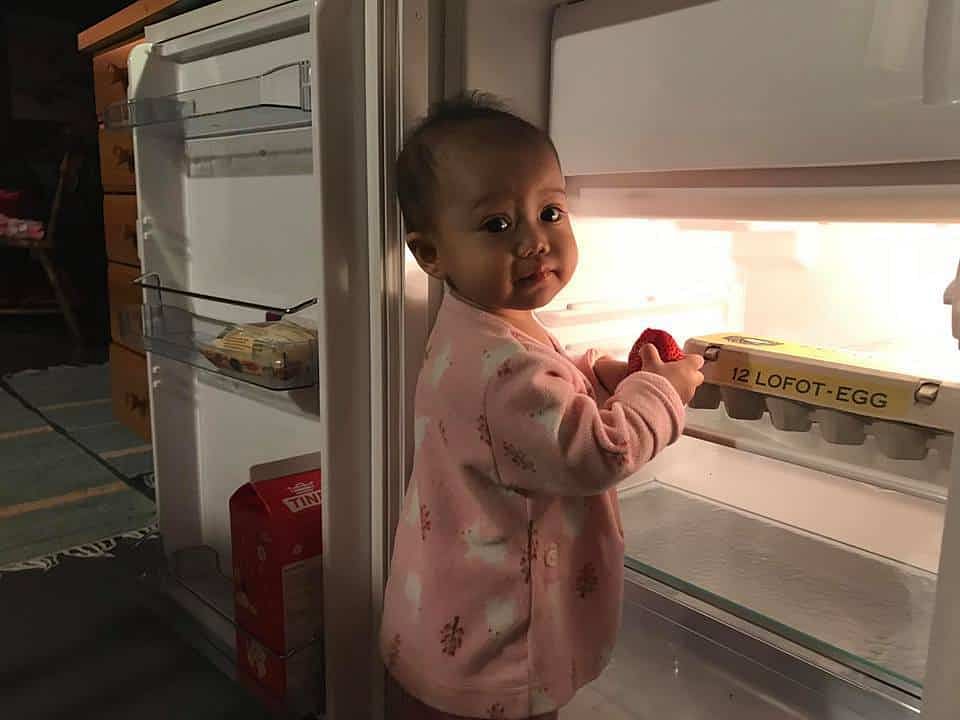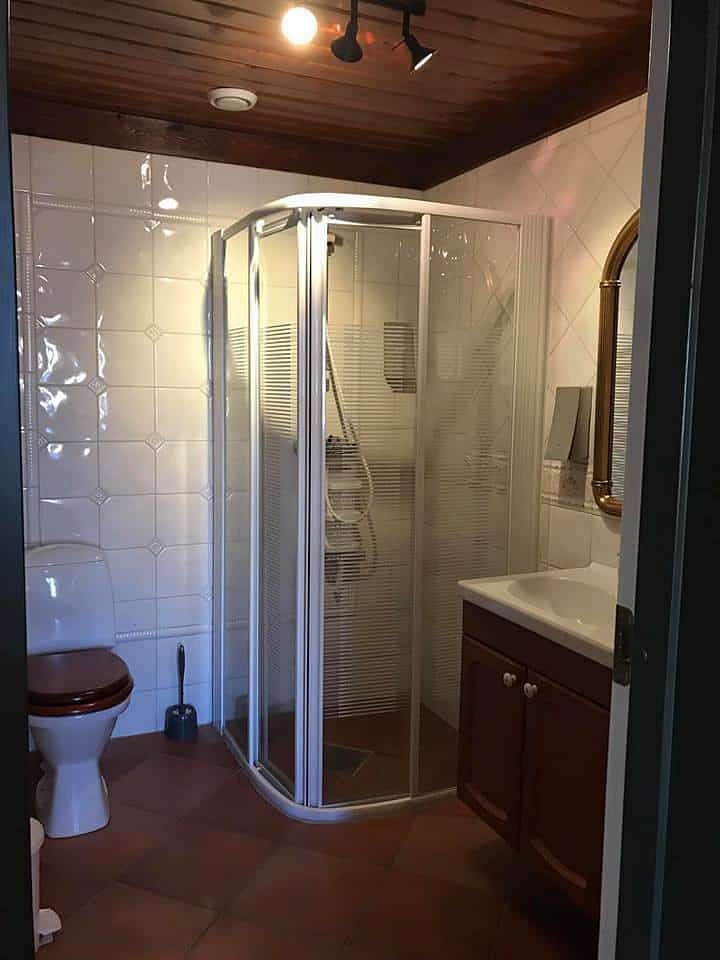 Pile of snow
From what I read, to visit Lofoten during winter, it's best to avoid December and January. Those are rainy and snowy months.
February and March is a ok month.
That's why even Svolvaer was not snowing, we still meet with sea of snow, it might be leftover from heavy snowfall previously on January or December.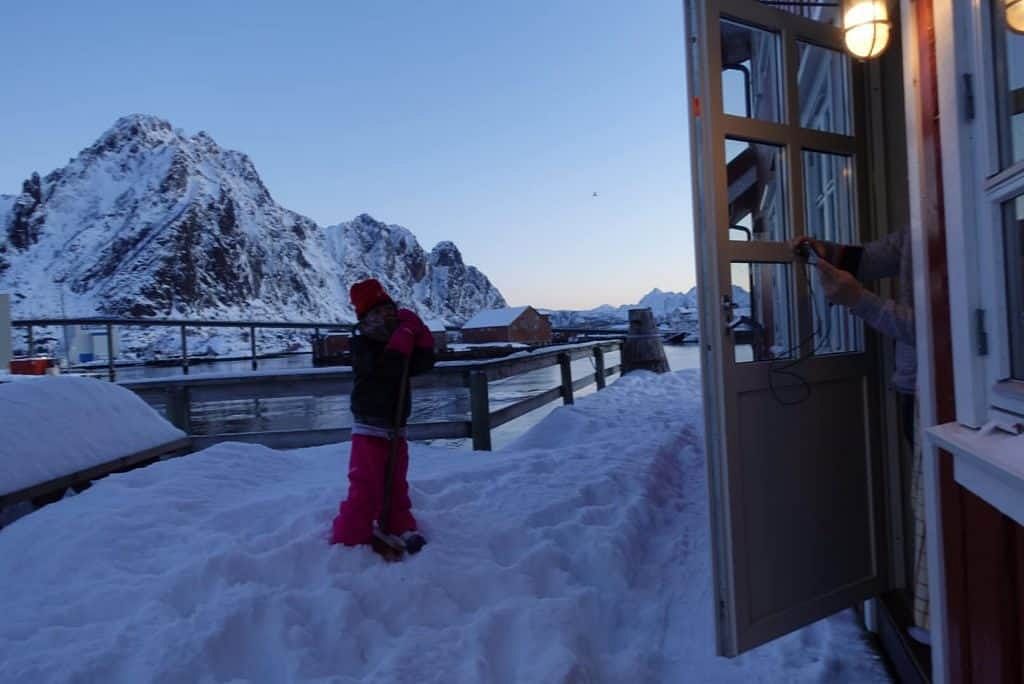 Our kids love to play with snow. We are from tropical country that's sunny, hot and warm every day, so getting snow is quite a big deal.
They played with snow right outside cabin house, on sidewalk; and even when we got to restaurant, they prefer to stay outside playing with the snow.
Complimentary Breakfast
We got complimentary breakfast at 7am every morning. But we cook for our lunch and dinner.
The complimentary breakfast has great selection for us. Although I am not healthy eater, but I found their breakfast meal was quite good.
There are scramble egg, half boiled eggs, wide selection of tasty cheese, waffle, a variety of jams, a handful of fish menu including smoked salmon, herring, cod fish and more.
Groceries
Groceries store are easily found here. Open your Google map and type something like shopping mall. The shopping mall clustered to each other.
It is located at about 8-10 minutes walk from Anker Brygge.
There are many groceries store with lots of choices. There are Kiwi Pris, Coop, Extra, REMA 1000 and AMFI Mall.
Their supermarket was like a heaven of food.
Baby's things are also easily found. We found our baby's diapers and baby wipes. There are also wide selection of baby's food and even breast pad.
We also found our girls' great snowboot at the AMFI Mall, at one of the shoe shop. They also have snowsuit shop, pharmacy and many more.
Restaurant
There are many restaurant here. But the price is quite hefty, even more pricey than meals at Switzerland.
For Muslims, there are 3 restaurants that offer halal meal, you need to ask the waiter first. The restaurants are Milano, Filini and Viva Italian.
Many Muslim refugees resides here. We already met Palestinians, Syrians and Somalis.
Blister Free Aurora
One of the big reason that we kept coming to Anker Brygge, is the location of the cabin hotel.
It is located right next to the mountain where the Aurora comes from. While occasionally people need to hunt aurora in extreme cold weather, Anker Brygge give us the experience that you do not have to hunt for the rare beautiful light, but it will come to you at it's own time dancing in the sky for hours.
From 3 nights we spent here, we managed to find Aurora for 2 of the nights. I still can believe our luck.
The Aurora will first come from the right side. Then it will become bigger and make an arch on top of the mountain. It looks like rainbow arch.
If your cabin house number 229 or 230, you can see the Aurora just from your house's bedroom.
We got the house 229 and 230 on our final nights. I just peek outside the window while baby Hajar and Hannah sleep soundly. And I still able to witness the aurora's dancing in the sky.
So beautiful. So incredible.
If you wish to watch Aurora with your family of young kids and toddler and baby, without embracing extreme cold weather, in the warmth of a home; I highly recommend you to stay at Anker Brygge cabin house.
It worth every penny.
The night wasn't too cold when the Aurora came. It was just at about -2C. If your kids or you feel cold, you can always step in the house and watch from the house's window, upstairs or downstairs.
Book with 10% discount
To book the cabin house, you can use this link and get 10% discount on your booking.
No more impossible for watching Aurora with the kids ❤️