How I Lesson Plan Our Homeschooling Learning (Mom of 6) : Simple Tips
I recently gave birth to baby number 6, and let me tell you, it's been quite an adventure.
A new baby means a new daily routine (not so much routine because a baby's behavior changes a lot in a week) And…, this also means less time for my other older kids…
But let's make it work.
So for my kids' learning activities, I used to go with the flow with no structured learning. But with a new baby, I find that I need to have an end goal, especially to ditch that mom's guilt.
So here it is, I'm writing to share with you how I lesson plan our homeschool. The kids are doing their free activities on the day (reading books, creating comics, playing by themselves, crafting games, etc.)
But at night, we'll be gathering together and do some printable activities.
Let's get started
First things first, I take a look at the standard curriculum. For math and literacy, I find Khan Academy to be a fantastic resource. It's a lifesaver, trust me!
Next up, I grab my Google Spreadsheet (gotta love technology!). I create tabs for each of my kids because.

Then, I get down to business. I fill in the months and organize what topics should be covered and when.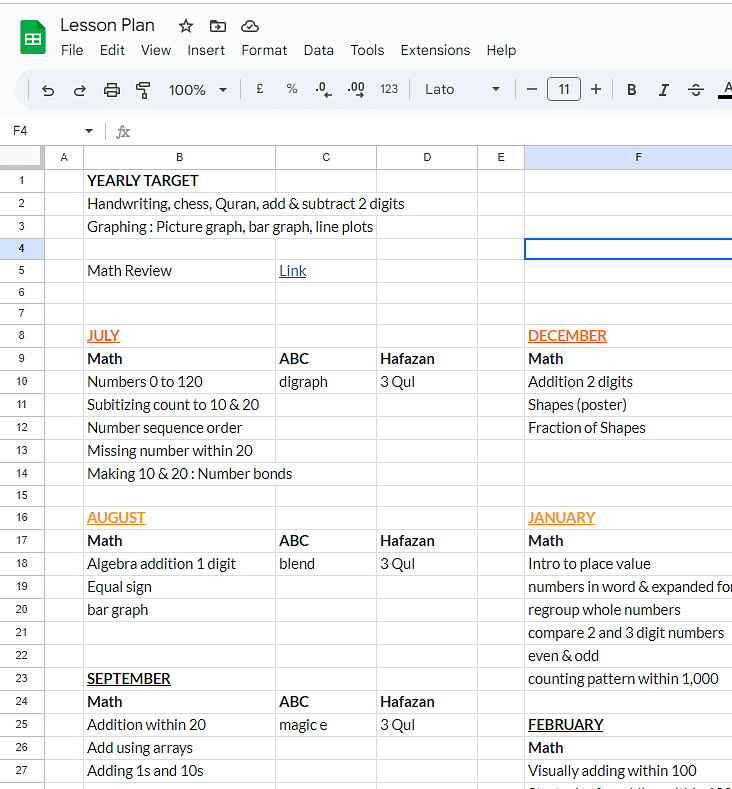 The best part?
With Google Spreadsheet, it's a piece of cake to cut, paste, and rearrange things. It's like magic!
Looking for resources
Now comes the fun part.
I hunt down the resources I need.
Pinterest is great for some freebies, but when I need more options and time is of the essence, I head over to TPT (that's Teachers Pay Teachers).
TPT got a treasure trove of resources and a wide range of practice materials. Can't beat that.
Review first
Now, for the first month of our "new homeschool year," I don't jump right into the deep end. Nope, I do a review of the previous year.
I'd find a packet that covers a little bit of everything and let my kids practice on their own. This helps me figure out their strengths and areas where they could use some extra support.
Based on this review, I make any necessary adjustments to my Google Spreadsheet. It's like a flexible planner that adapts to how my kids learn and have those "aha" moments.
So, how about you?
How do you usually plan your lessons?
Share your tips and tricks in the comments below. Let's help each other out!
Grab Your Lesson Plan Copy
Oh, and if you want to check out my super simple Google Spreadsheet, just make a copy here. It's a lifesaver, believe me.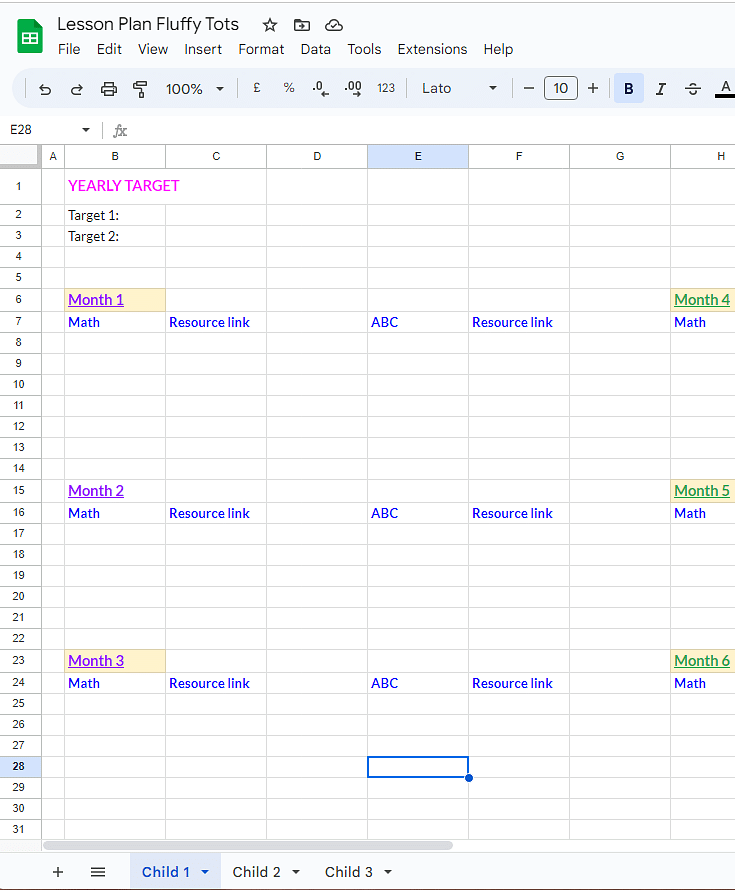 Have a blast, and happy teaching!